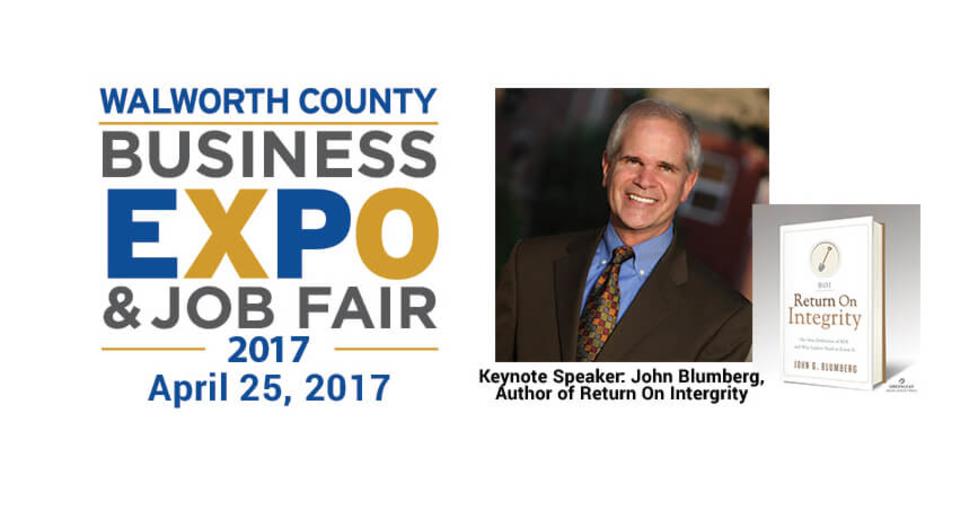 Business -to-Business Networking . . .  A Job Fair with New Opportunities . . .
And an Chance To Be Inspired By A Top Author
This is what the WALWORTH COUNTY BUSINESS EXPO & JOB FAIR is all about...
Come Explore New Job Opportunities or
Network with 100's of Business Professionals 
Beyond the introduction business email or phone call is the person you are trying to reach. Ultimately behind all of the products or services we offer is the connection we are trying to make with another human being. So what better place to do that then at a Top B2B Networking and Job Fair event. With hundreds of Walworth County Business Professionals and Job Opportunities waiting for your introduction, it would be foolish not to attend THIS EVENT.
More Then Just A Business Networking Bonanza and a Job Opportunity Fair...
A Chance To CONNECT & BE INSPIRED
The 2017 Walworth County Business

EXPO

and Job Fair
with Keynote Speaker John G. Blumberg on 
If you have never heard of Author of Return On Integrity, John G. Blumberg, speak then here is your chance.
"Someone once said that you cannot reach your true potential, unless you embrace your faults and learn from them. To lead, you must first serve and provide an example for others to follow.  In order to be an effective leader you must live and lead with integrity all the time, whether or not someone is watching." This is just some of what Author and Keynote Speaker, Return On Integrity's John G. Blumberg, will be speaking about at the 2017 Walworth County Business EXPO and Job Fair at the Grand Geneva Resort & Spa's Forum.  You're guaranteed to leave with a new insight of the world.
This event is open to the public on Tuesday, April 25 from 8 a.m. to Noon.
BRING YOUR RESUME OR BUSINESS CARDS 
Blumberg will present from 10 to 11 a.m., followed by his book signing from 11 to 11:45 a.m.
Admission is ONLY $5 OR FREE to all attendees that present their resume or complete the job application form.  For a complete list of exhibitors, click here.