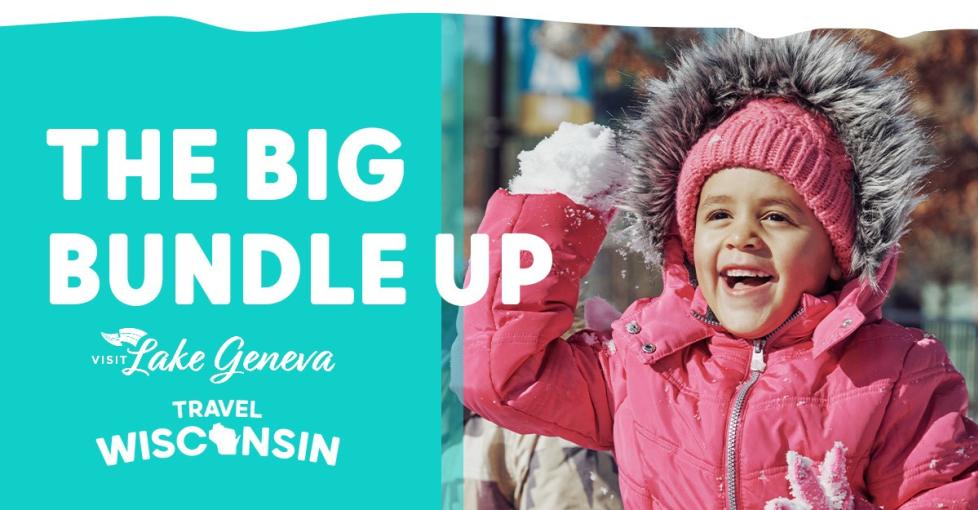 VISIT LAKE GENEVA COLLECTING WARM WINTER CLOTHING
DURING THE 2021 BIG BUNDLE UP CAMPAIGN
VISIT Lake Geneva is once again proud to serve as the local drop-off for The Big Bundle Up, an annual statewide campaign that collects new and gently used winter clothing items for donation back to the local community. This year's recipient of the donated items is the Walworth County Food & Diaper Bank, whose mission is to provide food and supplies in time of crisis. The organization serves more than 400 families per month thanks to donations from the community and the work of their all-volunteer staff.
Residents are invited to drop off new and gently used coats, sweaters, hats, mittens, gloves and other warm clothing items between now and January 7, 2022 at the Lake Geneva Visitor Information Center, 201 Wrigley Drive, Lake Geneva. The Visitor Center is open daily 10 a.m. to 5 p.m. For questions, contact VISIT Lake Geneva at 800-345-1020 or info@visitlakegeneva.com.
WHAT: The Big Bundle Up Winter Clothing Drive - collecting coats, sweaters, hats, mittens and other items to donate to those in need in our community this winter season.
WHEN:  November 15, 2021 through January 7, 2022
WHERE:  Drop off donations at the VISIT Lake Geneva Visitor Information Center, 201 Wrigley Drive, Lake Geneva (MAP)
About The Big Bundle Up
This is the 11th year for this statewide program, with nearly 200,000 clothing items collected to date by local visitor bureaus, chambers of commerce and Travel Wisconsin Welcome Centers around the state. The program was launched by VISIT Lake Geneva's President & CEO Stephanie Klett during her tenure as Secretary of the Wisconsin Department of Tourism. It grew out of what Klett dubbed "Mittengate" when then-tourism director for Michigan, George Zimmermann, expressed mild dislike of a Wisconsin advertising image that used a mitten to represent Wisconsin. Zimmermann suggested Wisconsin was co-opting Michigan's claim as the mitten-shaped state. Klett took the friendly spat with Michigan as an opportunity to bring attention to families in need of warm winter clothing (including mittens), by launching a statewide clothing drive and enlisting tourism entities around the state to serve as collection points.
"The outpouring of generosity for this program year after year is proof there is so much good in this world," said Klett. "I'm asking our Lake Geneva area residents to join us in getting in the true spirit of the season by helping our neighbors in need."
About the Walworth County Food & Diaper Bank
The Walworth County Food & Diaper Bank, a 100% volunteer driven organization, provides individuals and families nutritional supplemental food, diapers, and supplies during a time of crisis, in a cheerful, welcoming, nonjudgmental environment without regard to age, race, creed, color, national origin, physical or developmental disability. Visit their website HERE.