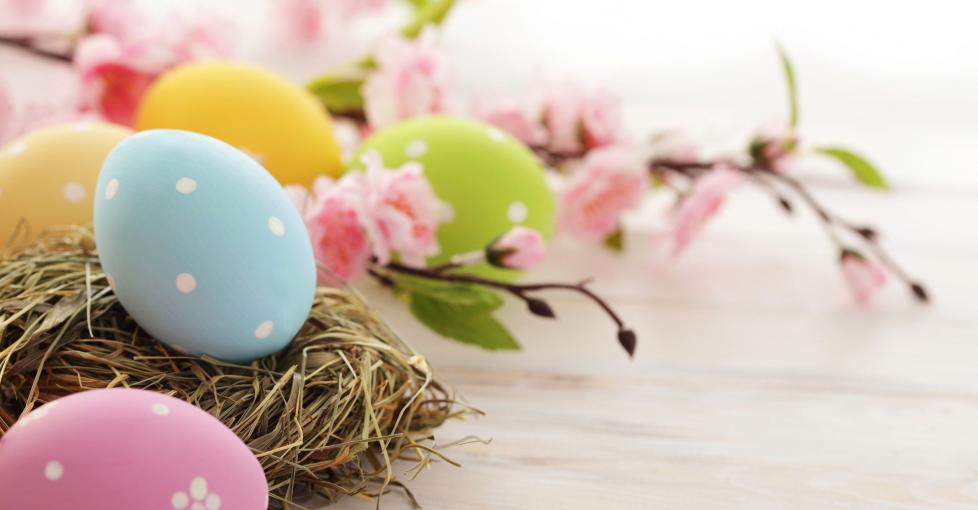 Easter celebrations may look a little different this year, as we remain at home and practice social distancing. But we know that good food and the company of family (those in your household and those you're connecting with virtually) can still make celebrating the season at home special.  Many of our Lake Geneva area restaurants and food shops are offering special Easter meals-to-go including brunch, dinner, desserts and treats. So, if you prefer to leave the cooking and baking to someone else this Easter, you'll love these tasty options.
The Abbey Resort
Fontana | (262) 275-1458 | Menu Details
Easter Brunch-to-Go from our kitchen to your table. Let us take the stress of shopping for and preparing a holiday meal off your shoulders so you can enjoy a peaceful Easter with your loved ones. We provide the food, you create the memories.
Fiddlesticks Bistro
Elkhorn | (262) 743-2233 | Menu Details  
Chef Jonathan Mellor is creating personal meals for families to ensure you have a Happy Easter for a Stay-at-Home Holiday. Choose from menus for 2 to 10 people and choice of entree. 
Geneva National Resort
Lake Geneva | (262) 245-7300 | Menu Details
Simplify your Easter dinner prep with a four-course celebratory meal prepared by Geneva National's culinary team. Featuring your choice of rosemary and apple cider brined pork loin or brown sugar honey ham plus delectable sides and dessert. *Order by 2pm Thursday 4/9 for pickup Sunday 4/12 (11am-1pm).
Gooseberries Market
Burlington | (262) 763-5955 | Menu Details
Choose from Easter ham or pork loin dinner packages or a brunch package featuring savory egg quiche. All packages come complete with delicious side dishes.
The Grandview Restaurant at The Geneva Inn
Lake Geneva | (262) 248-5680 | Menu Details
Spend Easter at home with our To-Go boxes compliments of Chef Chad at The Grandview. The dinner serves 4-6 people and 20% of all sales will go directly to supporting our staff. Pickup Saturday, April 11 (12pm-3pm) at The Geneva Inn. Orders must be received by Wednesday, April 8.
Hawk's View Golf Club
Lake Geneva | (262) 348-9900 | Menu Details 
Enjoy a delicious Easter meal complete with roasted turkey, pineapple brown sugar glazed ham, sides and apple pie for dessert. Per person pricing (adult/child) and Friday and Saturday pick up available.
Heart & Sol Café
Lake Geneva | (262) 812-4035 | Menu Details
Heart & Sol Cafe has your Easter dinner or brunch covered. Choose from complete glazed ham dinners, delicious side dishes, vegan dinner options, a breakfast casserole and mini carrot cake donuts. Order by 5pm Friday 4/10 for Saturday 4/11 pick up or delivery.
Kilwin's
Lake Geneva | Menu details
Kilwin's is offering its Easter goodies for a limited time only! hoose from one of two Easter Treat Bag packages featuring Kilwin's famous chocolate bunnies, bunny ears, cream eggs, and malted milk balls and of course, jelly beans! Order via email for curbside pickup 4/6-7 and 4/10-11 (10am-2pm).
Lake Geneva Country Meats
Lake Geneva | (262) 248-3339 | Menu Details    
Order one of Lake Geneva Country Meat's famous Easter hams for a memorable brunch or dinner. You can even order a side of buttery soft Parker House Rolls from their neighbors at Simple Bakery. *Orders must be placed by April 7 for pickup April 9-11.
Lake Geneva Pie Company
Lake Geneva | (262) 248-5100 | Menu Details
Pies, cookies, quiches and more are available for carryout and curbside pickup. Choose from a variety of their famous pies and special Easter cutout and sandwich cookies while supplies last.  
Lorelei Bittner's Bakery
Lake Geneva | (262) 248-2330 | Menu details   
Order your Easter must-haves up such as lamb cakes, egg cakes and hot cross buns variety of Bittner's Bakery pastries with a spring and Easter theme. Email orders to info@ bittnersbakery.com. Open for pickup Wednesday and Friday 7am to 5pm and Saturday 7am-3pm.
Pier 290
Williams Bay | (262) 245-2100 | Menu Details
Featuring slow roasted short rib with blackberry and bourbon demi glaze and glazed smoked ham with rosemary jus, along with delicious starters, savory sides, and dessert from Lake Geneva Pie Company. *Order by 12pm on Thursday 4/9 for pickup Saturday (cold) or Sunday (hot or cold).
Simple Café
Lake Geneva | (262) 248-3556 | Menu Details   
Choose from three special Easter Meal Baskets including Mini Brunch, Full Brunch and Dinner so you can celebrate at home without missing your Easter favorites. Pre-order and pickup Saturday 4/11 9am-4pm.
Something Sweet
Lake Geneva | (262) 812-4141 | Menu Details
We can make Easter baskets for you! Old fashioned candy, coloring boxes, bath salts and bombs, gourmet chocolates, or a mixture of any of it! Check out our website  and see some of our products for ideas and give us a call and we can customize a basket for you.
Sopra Bistro
Lake Geneva | (262) 249-0800 | Menu Details
Choose from special Easter Sunday Dinner-for-Four options including Rosemary & Garlic Roasted Leg of Lamb, Hickory Smoked & Glazed Ham and Lemon & Oregano Roasted Whole Chicken, all including delicious sides. Plus, enjoy their wine bottle list at 25% off and all glass pour bottles 50% off. Dinner-for-Four quantities are limited. Reserve by phone beginning Thursday 4/9.
*Please note this information is accurate as of this posting; contact individual businesses for ordering and pickup details.
If you're looking for everyday takeout options in the Lake Geneva area, click HERE for our Take Out & Eat Well restaurant listing.