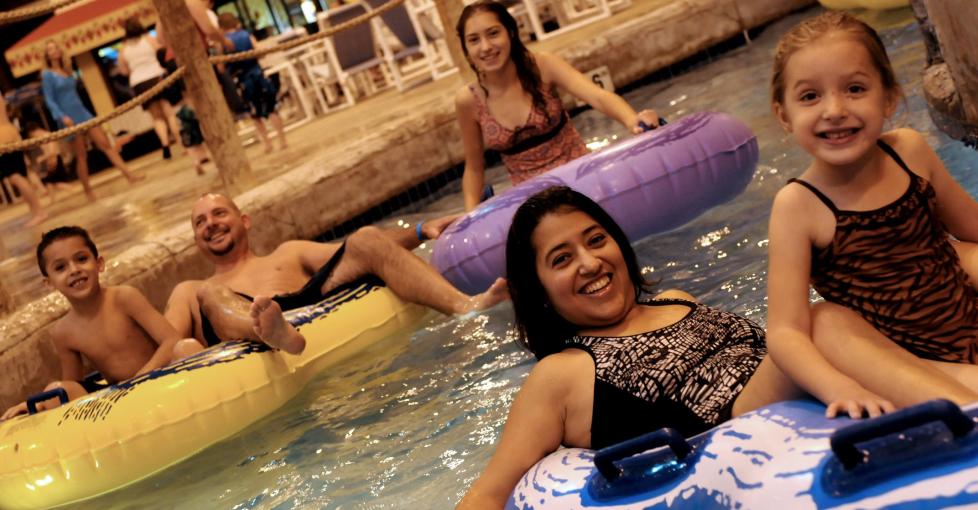 By the time March is here, many kids have spring fever. But if you didn't book a trip to Disney, no need to feel the pressure. A family friendly spring break getaway found in Lake Geneva, Wisconsin is a short drive away from Chicago and Milwaukee. So, don't trap the family in the house this spring break. Take advantage of the many easy on the budget outdoor adventure, indoor entertainment and even learning opportunities found in Lake Geneva.
Enjoy the Outdoors
Whether it's a free walk along the Geneva Lake Shore Path to take in close up views of multi-million-dollar estates built by wealthy Chicagoans after the Great Chicago Fire, horseback riding with Dan Patches Stables at Grand Geneva, or an adrenaline rushed zipline ride through the trees with Lake Geneva Canopy Tours, the Lake Geneva area makes it easy to get some fresh air.
If your spring break delivers winter weather, seize the opportunity to ski or snowboard at The Mountain Top at Grand Geneva or Wilmot. Both ski locations offer terrain to keep beginners and more experienced skiers outdoors. Snowshoeing is another fun option at $15 per day rental at Lake Geneva Canopy Tours.
Take it Indoors
Lake Geneva area hotels and resorts have plenty of indoor pools and amusement areas with Moose Mountain Falls waterpark at Timber Ridge Lodge at Grand Geneva being the biggest hit for kids of all ages. The waterpark boasts 50,000 square feet of water fun with two gigantic heated waterslides from a 35-foot tower and a lazy river that drifts more than 500 calm feet.
Live entertainment options are also great ways to take a break indoors. See magic and illusion with Tristan Crist's hourlong show that gets rave reviews. Just be sure to book tickets in advance to guarantee your seats. Horse lovers won't want to miss a show at The Dancing Horses Theatre. Up close equine beauty, elaborate costumes and choreography are presented in a 250-seat hall featuring 25 plus horses, most of them Arabians.
Extracurricular Learning
Interested in keeping the mind going during spring break? History buffs should go to the Geneva Lake Museum for a stroll down "Main Street" that allows you to peek inside historic stores, homes, a school room and more. If history is not for you, pick a room theme that sounds fun at the Lake Geneva Clue Room to decode the clues, solve the puzzle and make your escape.
Shop and Dine
Take time to shop the walkable downtown. ClearWater Outdoor has gear, clothing and footwear to help you enjoy the outdoors. Bob's Beach Shack t-shirts, hats, and accessories are incredibly affordable. Allison Wonderland specialties include dolls, pretend play, dress-up and kids crafts. Gifts for every occasion are found at the Cornerstone Shop & Gallery.
When it's time to eat, consider family friendly casual restaurants including Gino's East, Mars Resort, Oakfire and Sprecher's or restaurants set in resorts. Most important, enjoy anytime special treats found at Constant Cravings, Lake Geneva Pie Co. and Kilwins.
Lake Geneva's luxury resorts, boutique hotels, B&Bs, and motels are ready for your spring weeklong or weekend break with special packages. For help planning your spring break, call VISIT Lake Geneva at (800) 345-1020 or visit www.visitlakegeneva.com.
# # #
About Lake Geneva
Situated on the shores of Geneva Lake in southeast Wisconsin, the Lake Geneva area is a four-season recreation, resort and meeting destination easily accessed from Chicago and Milwaukee. Steeped in rich history, the area is known for its beautiful estates built by Chicago notables after the Great Chicago Fire. Many of these early mansions, and newer modern homes, can be viewed by walking along the areas one-of-a-kind, 21-mile Geneva Lake Shore Path.
Those who escape to the Lake Geneva area find pristine surroundings in every season and a wealth of leisure activities including three season golfing, on the water options, spas, boutique shopping, events and entertainment. From luxury resorts to quaint bed and breakfasts and plenty of dining choices, there are options to fit the needs of every type of visitor. Plan your visit by calling (800) 345-1020, visiting www.VisitLakeGeneva.com or by downloading the VISIT Lake Geneva app.