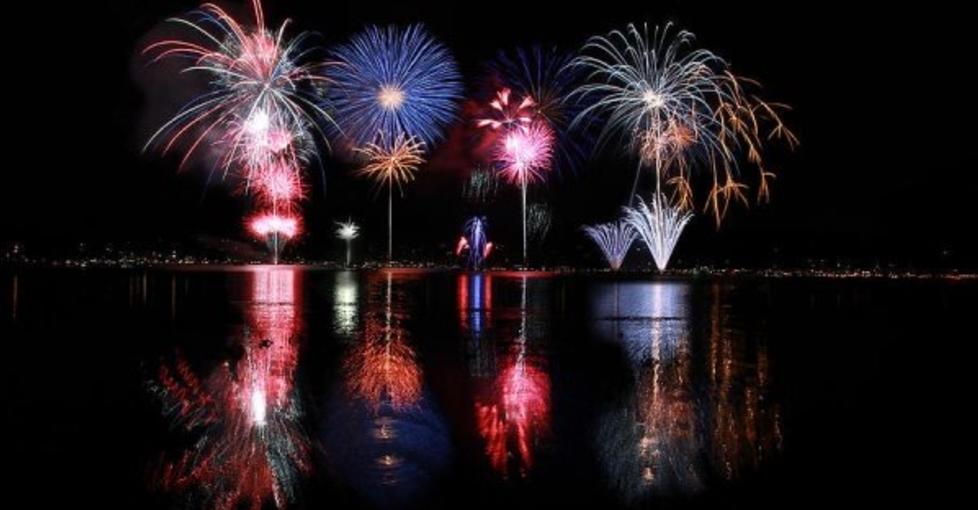 ELKHORN - STAR SPANGLED CELEBRATION I JUNE 28 
Start your holiday weekend with a BANG! Friday, June 28 begining at 5 p.m., enjoy an evening in Elkhorn's beautiful Sunset Park (200-324 Devendorf St) with music performed in the historic bandshell by the Holton Band. Hungry? Food and snacks such as hot dogs, walking tacos, burgers, popcorn, chips, ice cream and soda are available for purchase from the Elkhorn Chamber, Elkhorn 4-H and Elkhorn FFA. Bring a blanket or chair, family and friends, and have some summer fun with activities for the kids, music, food and a spectacular fireworks show at dusk!
TWIN LAKES - LIBERTYFEST PARADE AND FIREWORKS I JUNE 29 
Celebrate Independence Day at the Libertyfest parade at 11am. **New Route** St. John's Church parking lot to Lance Dr. Gather in Lance Park (55 Lance Dr) at 4pm for food, beverages and DJ Keith while you wait for the Aquanut show at 7:30pm and the fireworks at dusk.
TOWN OF DELAVAN - INDEPENDENCE DAY CELEBRATION WITH FIREWORKS I JUNE 29 
Kick off the Independence Day celebrations on Saturday, June 29th, 2019 at Community Park (1220 South Shore Drive) with the Town of Delavan. Festivities start at 4pm. There will be food and beer tents, Live Music by BCT from 6-11pm and Fireworks at Dusk (around 9:00pm). Free admission!
LAKE GENEVA COUNTRY CLUB FIREWORKS I JULY 3
Enjoy spectacular fireworks from the Lake Geneva Country Club on Tuesday, July 3rd 2019 at dusk. View from the shores or water. 
GRAND GENEVA - INDEPENDENCE DAY PICNIC AND FIREWORKS I JULY 3
In the mood for fireworks? Combined with 1,300 stunning acres of Wisconsin countryside, Grand Geneva's fireworks show on July 3 is the best in the state! Outdoor family-friendly games and entertainment fill the lakeside of the resort, starting at 5pm. Jump around for some inflatable fun, get your face painted, or caricature drawn. Temporary tattoo and balloon artists, plus midway games turn our Grand Picnic into the event of the year. Grand Geneva has once again partnered with Lake Geneva Food Pantry by asking everyone to donate two non-perishable food items to help local community members in need. Starting at dusk, the sky over Grand Geneva explodes for the Independence Day fireworks show. Enjoy the American Legion Post 24's presentation of the 21 gun salute and singing of our National Anthem before the show.
EAST TROY- 4TH OF JULY FESTIVAL AND PARADE I JULY 4-7
Ring in the nation's birthday with the East Troy Lions Club Fourth of July Celebration. The Lions are bringing back the Independence Day staple to the East Troy community for the 82nd year. The festival will run Thursday, July 4 through Sunday, July 7 at the East Troy Amusement Park, 3072 Graydon Ave., next to the East Troy Lions Public Library. The events kick off Thursday with a cornhole tournament, and there will be a huge carnival on the midway with special all-you-can-ride wrist bands available daily, as well as pony rides, monkey trailer, petting zoo and face painting. There's also the largest Beer Tent in Southeast Wisconsin featuring live music daily and multiple food stands all four days. Saturday will feature a "Luck of the Draw" dart tournament, wrist wrestling event, and fireworks display at dark. Sunday will feature Kiddie Pedal Tractor Pulls and The area's largest parade. The parade draws hundreds of participants and attracts crowds of spectators along the route. It will begin at the corner of Main and West streets and travel east to the Village Square, north on Division Street, west on Elm Street, south on Beulah Avenue and west on Graydon Avenue. 
GENEVA NATIONAL - JULY 4TH FIREWORKS & FANFARE I JULY 4
Celebrate Independence Day at the Geneva National Golf Course on Thursday, July 4. Open to the public, the red, white & barbecue starts heating up at 5pm, with hot-off-the-grill brats, hamburgers, hot dogs and chicken available for purchase under the festive pavilion tent on the driving range. Refreshing drinks – including soda, beer and wine by the glass – will be offered as well. Little patriots will be pumped up by the assortment of jumbo inflatables and carnival games, and all will celebrate with live music in the Pavilion. Geneva National hosts their own fireworks over Lake Como, so settle in at dusk for a bright night show. BYOB: Bring your own blankets. 
THE RIDGE HOTEL - RIDGEAPALOOZA + FIREWORKS I JULY 4
The backyard lounge at The Ridge Hotel will be hopping with drinks, quick  bites, great scenery, a 12-foot-fire feature, and live music. Music kicks off at 3 p.m. with theThe Big Al Wetzel Band followed at 6 p.m. by Hello Dave, who will bring it home until the Geneva National fireworks of Lake Como begin. Always a spectacular show, Geneva National's fireworks are the best in the area and perfectly viewed from the backyard veranda. Come save your seat and savor the music!
CITY OF DELAVAN - "LET FREEDOM RING" 4TH OF JULY CELEBRATION AND PARADE I JULY 4
The City of Delavan will host their annual "Let Freedom Ring" 4th of July celebration on July 4. The event begins at 7am on July 4th, 2019 with a pancake breakfast at The Firehouse (811 Ann St), followed by the parade at 3:00. There will be family and kids activities from 4-7 at Veteran's Park (69 W Walworth Ave), food and drink tents, and Live Music. The Fireworks display will begin at 9:30 pm.
LAKE GENEVA - 4TH OF JULY PARADE AND COSTUME CONTEST I JULY 4
Calling all kids! It's time to decorate your bikes, wagon and scooters with red, white and blue and don your patriotic clothes. The Frank Kresen American Legion Post 24 Ladies Auxiliary are hosting their annual Independence Day parade and costume contest on July 4 at 10 a.m. Participants should gather at Eastview Elementary School (535 Sage St) at 9:30 a.m. The parade route will travel on Dodge Street from the Eastview parking lot north on Center and then up Henry to the Legion Hall. Following the judging, popsicles will be served. In the event of rain, the parade will be canceled. 
FONTANA - 4TH OF JULY FIREWORKS I JULY 4
The Village of Fontana hosts the annual Independence Day Fireworks display each year on July 4 at dusk at the lakefront. The fireworks shoot off from a barge off Fontana Beach. Viewing in Reid Park (Reid St) along the lake or on the water. 
BURLINGTON FIRE DEPARTMENT DANCE & FIREWORKS I JULY 4
Celebrate the Fourth in Burlington's Echo Park (595 Milwaukee Ave.), starting at 2 p.m. with a Baggo tournament, live music by the Lunch Money Bullies (7 to 10:30 p.m.), beer, soda and food. Tickets are $2, including an entry for the cash raffle. Plenty of music, food and fun for all. The fireworks will begin at dusk over the ChocolateFest grounds on Maryland Avenue. 
BROWNS LAKE VENETIAN FEST FIREWORKS I JULY 6
Browns Lake Venetian Fest kicks off Saturday, July 6 at 9:00am with a kayak excursion. Food and beer tent opens at Fischer Park at 3:30pm. Aquaducks Ski Show begins at 4:00pm with a Boat Parade. Live music at Fischer Park from 5:30-9:30pm. Fireworks begin at 9:30pm. 
LAKE GENEVA VENETIAN FESTIVAL FIREWORKS I AUGUST 18
The Annual Lake Geneva Jaycees Fireworks display begins promptly at DUSK (Sundown) on August 18th. Fireworks are shot off in Geneva Bay, downtown Lake Geneva and can be viewed from Library Park, the Lake Front, Riviera Beach, and Flat Iron Park in downtown Lake Geneva. Consider making Donation to the Fireworks Display.