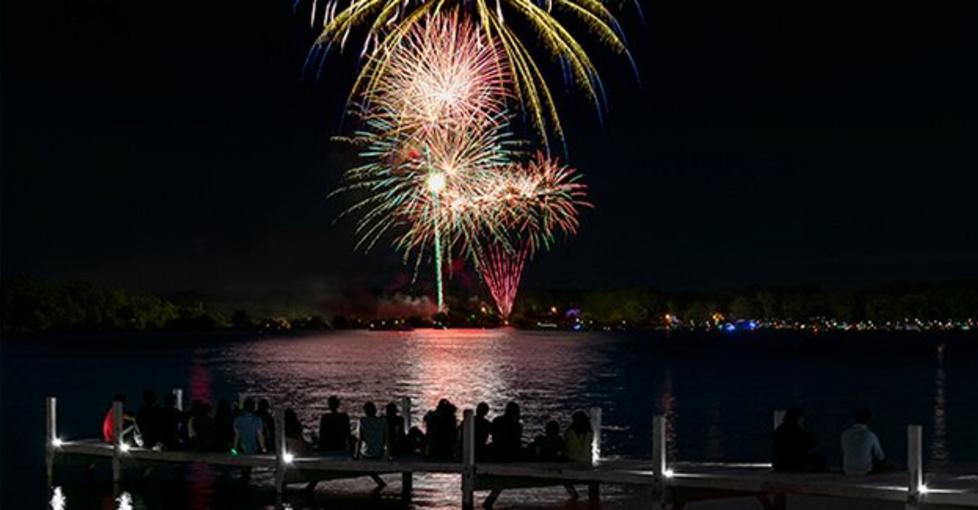 ELKHORN - Star Spangled Celebration I JUNE 29 
Start your holiday weekend with a BANG! Join us Friday, June 29 Begining at 5 p.m. and enjoy an evening in Elkhorn's beautiful Sunset Park with music performed in our historic bandshell by the Holton Band. Hungry? Food and snacks such as hot dogs, walking tacos, burgers, popcorn, chips, ice cream and soda are available for purchase from the Elkhorn Chamber, Elkhorn 4-H and Elkhorn FFA. Bring a blanket or chair, family and friends, and have some summer fun with activities for the kids, music, food and a spectacular fireworks show at dusk!
EAST TROY- 4TH OF JULY FESTIVAL AND PARADE I JUNE 29
The East Troy Lions Club will host their annual Independence Day Celebration from Thursday, June 29 through Sunday, July 1 at the village "Amusement Park" in East Troy. There will be a huge carnival on the midway with special all-you-can-ride wrist bands available daily. There's also the largest Beer Tent in Southeast Wisconsin featuring live music daily and multiple food stands all four days. Fireworks are scheduled for Friday at dark with the Kiddie Parade, truck and tractor pulls, car show, and softball tournament set for Saturday. The parade will start at 1 p.m. on Sunday. Village "Amusement Park" 3090 Graydon Avenue, East Troy, WI 5312
DELAVAN - INDEPENDENCE DAY CELEBRATION WITH FIREWORKS I JUNE 30 
Kick off the Independence Day celebrations on Saturday, June 30 with the Town of Delavan. Festivities start at 4 p.m.  
Featuring: Fireworks, Food and drinks Free kid's inflatable slide and bounce house. Strolling Jazz/Dixieland New Orleans style music
Dine on the lawn along Delavan Lake near The Hut outside the Great Room at Lake Lawn Resort, and stick around for the Town of Delavan Fireworks over the lake, which begin at dusk.
GENEVA NATIONAL - FIREWORKS AND BBQ I JULY 3

Celebrate Independence Day at the Geneva National Golf Course on Tuesday, July 3. Open to the public, Geneva National Resort & Club's red, white & barbecue starts heating up at 5 p.m., with hot-off-the grill brats, hamburgers, hot dogs and chicken available for purchase under our festive pavilion tent on the driving range. Refreshing drinks – including soda, beer and wine by the glass – will be offered as well. Little patriots will be pumped up by our assortment of jumbo inflatables and carnival games, and all will celebrate with live music by Platinum in the Pavilion.
GRAND GENEVA - FIREWORKS I JULY 3
The Grand Geneva Fireworks Show will start around 9:30 p.m. each Sunday evening.  Join Grand Geneva for our annual Independence Day Picnic and Fireworks show on the lakeside of the resort. Bring your family and friends for a day of fun! We'll have lots of games + activities plus a big Grand picnic featuring foodie favorites such as hot dogs, hamburgers and corn on the cob.
The UW Marching Band will perform as Bucky Badger struts his stuff on the golf course. End the night with our Grand Fireworks Display, as the sky explodes with a pyrotechnics display of beautiful colors and loud booms. 
Please bring two non-perishable food items with you for admission to be donated to Lake Geneva Area Food Pantry.
THE RIDGE HOTEL - RIDGEAPALOOZA FIREWORKS I JULY 3
The backyard BAR 55 at The Ridge Hotel will be hopping as we cook up brats, dogs, burgers and chicken. Music kicks off at 3 p.m. with the Eskimo's Brothers Band followed at 6 p.m. by the Big Al Wetzel band, who will bring it home until the Geneva National fireworks of Lake Como begin. Always a spectacular show, Geneva National's fireworks are the best in the area and perfectly viewed from our backyard. Come save your seat and savor the music!
DELAVAN - "Let Freedom Ring" 4th of July Celebration and Parade I JULY 4
DELAVAN: "Let Freedom Ring" 4th of July celebration. The event begins at 7 am on July 4th, 2018 with a pancake followed by the Carp-O-Rama and the parade at 3:00. There will be family and kids activities from 4-7 at Veteran's Park, food and drink tents, and Live Music. The Fireworks display will begin at 9:30 pm.
Lake Geneva - 4th of July Parade and Costume Contest I JULY 4
Calling all kids! It's time to decorate your bikes, wagon and scooters with red, white and blue and don your patriotic clothes. The Frank Kresen American Legion Post 24 Ladies Auxiliary are hosting their annual Independence Day parade and costume contest on July 4 at 10 a.m. Participants should gather at Eastview Elementary School at 9:30 a.m. The parade route will travel on Dodge Street from the Eastview parking lot north on Center and then up Henry to the Legion Hall. Following the judging, popsicles will be served. In the event of rain, the parade will be canceled.  Eastview School, 535 Sage Street, Lake Geneva, WI 53147
FONTANA - 4th of July FIREWORKS I JULY 4
Enjoy the Fontana area fireworks display at 9 p.m. from Fontana Beach waterfront.
Venetian Festival Fireworks & Cruise on the Lake Geneva Cruise Line I AUgust 19
Enjoy the Venetian Festival Fireworks Display and Boat Parade aboard the Lake Geneva Cruise Lines Grand Belle on Sunday, August 19. The Venetian Festival fireworks will light up the sky on Sunday, August 19 at 9 p.m.