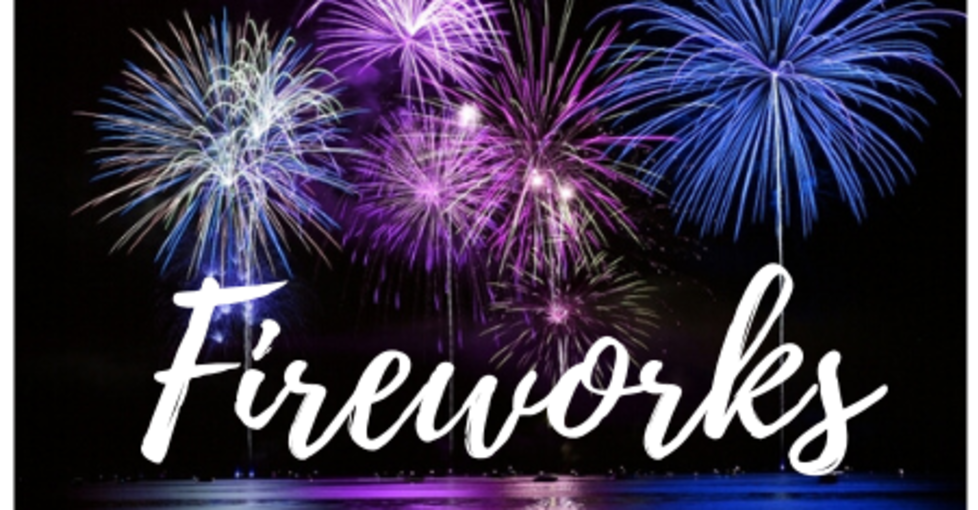 Lake Geneva Area Fireworks: Summer 2021
With Independence Day fast approaching, you'll be happy to know there are a number of fireworks shows to help you celebrate with a bang!  Here's a look at where you can find fireworks around the Lake Geneva region not just on the 4th of July, but all summer long! Read on and be sure to check each event's website for up to date details.
SATURDAY, JUNE 26
Town of Delavan Independence Day Celebration
Saturday, June 26 | 4pm – 11pm
Delavan Community Park | 1220 S. Shore Dr, Delavan, WI (MAP)
Featuring food trucks and live music beginning at 4pm. Fireworks at dusk. Hosted by Delavan Friends of the Park.
Website
Lake Lawn Queen Fireworks Cruise
Saturday, June 26 | 7:30pm – 10:30pm
Lake Lawn Resort on Delavan Lake | 2400 E. Geneva St., Delavan (MAP)
Enjoy this tropical-themed cruise featuring music, fireworks and more!
Website
FRIDAY, JULY 2
City of Elkhorn Fireworks
Friday, July 2 | 7:30pm – 10pm
Sunset Park | 200 Devendorf Street, Elkhorn (MAP)
Enjoy a concert in the park by Holton Band at 7:30pm followed by fireworks at dusk.
Website
Geneva National Resort Fish Boil & Fireworks*
Friday, July 2 | 6pm
Geneva National Clubhouse | 1221 Geneva National Avenue South, Lake Geneva (MAP)
Gather round the fire for a traditional Wisconsin Whitefish Boil, live music and fireworks.
(*) Ticketed event open to overnight guests, GN members and community residents only.
Website
SATURDAY, JULY 3
Lake Geneva Country Club Fireworks
Saturday, July 3 | Dusk
Geneva Lake (MAP)
Club open to members only, however fireworks can be viewed from around Geneva Lake at dusk.
Lake Geneva Cruise Line Fireworks Tours
Saturday, July 3 | 8pm – 10pm
Riviera Docks | 812 Wrigley Dr., Lake Geneva (MAP)
Choose from a variety of cruises to view fireworks shows over Geneva Lake.
Website
SUNDAY, JULY 4
City of Delavan Independence Day Fireworks
Sunday, July 4 | 9pm – 10pm
Congdon Park | 1424 Hobbs Dr., Delavan (MAP)
Join the City of Delavan in a celebration of freedom. Fireworks will begin shortly after dusk.
Website
Grand Geneva Resort & Spa Fireworks*
Sunday, July 4 | 9:15pm
7036 Grand Geneva Way, Lake Geneva, WI (MAP)
Every Sunday between Memorial Day and Labor Day Grand Geneva guests will be treated to a Sunday evening fireworks show.
*Open to guests of Grand Geneva Resort. See website for overnight accommodations.
Website
SATURDAY, JULY 24
Driehaus Family Fireworks
Saturday, July 24 | 9:30pm
Geneva Lake (MAP)
A fireworks display over Geneva Lake in honor of the late Richard Driehaus. Lake Geneva's WLKG 96.1 FM will broadcast a live soundtrack along with the fireworks.
SATURDAY, AUGUST 14
Corn & Brat Fest Fireworks Show
Saturday, August 14 | Dusk
Edgewater Park, Williams Bay (MAP)
A fireworks show will be held as part of the Williams Bay Lions Club Corn & Brat Fest (Aug. 13-15) along with food, drink, raffles and live music.
Website
SUNDAY, AUGUST 22
Lake Geneva Jaycees Fireworks Display
Sunday, August 22 | Dusk
Venetian Festival at Geneva Lake (MAP)
Fireworks can be viewed from Library Park, the Lake Geneva lakefront, Riviera Beach, and Flat Iron Park in Downtown Lake Geneva.
Website
SATURDAY, AUGUST 28
Village of Fontana Fireworks
Saturday, August 28
Fontana Beach (MAP)
Fireworks display rescheduled from 4th of July. For more details, visit the Village of Fontana website.