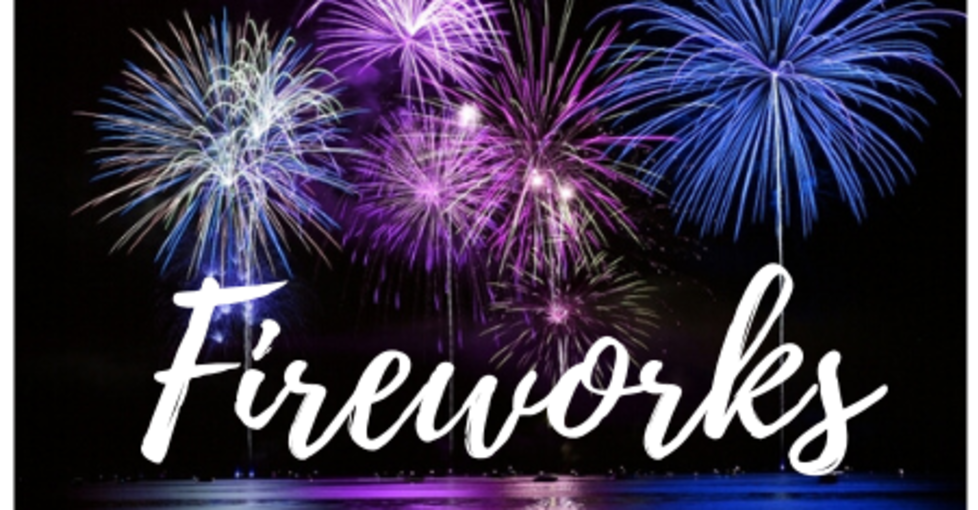 Lake Geneva Area Fireworks: Summer 2022
With Independence Day fast approaching, you'll be happy to know there are a number of fireworks shows to help you celebrate with a bang!  Here's a look at where you can find fireworks around the Lake Geneva region not just on the 4th of July, but all summer long! Read on and be sure to check each event's website for up to date details.
SUNDAY, JUNE 26
*Town of Delavan Independence Day Celebration
Sunday, June 26 | 4pm – 11pm
Delavan Community Park | 1220 S. Shore Dr, Delavan, WI (MAP)
Featuring food trucks and live music beginning at 4pm. Fireworks at dusk. Hosted by Delavan Friends of the Park.
Website
*Lake Lawn Queen Fireworks Cruise
Sunday, June 26 | 7:30pm – 10:30pm
Lake Lawn Resort on Delavan Lake | 2400 E. Geneva St., Delavan (MAP)
Enjoy this tropical-themed cruise featuring music, fireworks and more!
Website
**Updated from Saturday June 25 due to rain date. 
FRIDAY, JULY 1
City of Elkhorn Fireworks
Friday, July 1 | 7:30pm – 10pm
Sunset Park | 200 Devendorf Street, Elkhorn (MAP)
Enjoy a concert in the park by Holton Band at 7:30pm followed by fireworks at dusk.
Website
SUNDAY, JULY 3
Lake Geneva Country Club Fireworks
Sunday, July 3 | Dusk
Geneva Lake (MAP)
Club open to members only, however fireworks can be viewed from around Geneva Lake at dusk.
Grand Geneva Resort & Spa Fireworks*
Sunday, July 3 | 9:15pm
7036 Grand Geneva Way, Lake Geneva, WI (MAP)
Every Sunday between Memorial Day and Labor Day Grand Geneva guests will be treated to a Sunday evening fireworks show.
*Open to visitors enjoying Grand Geneva amenities. Shop, dine, golf, and stay and relax this holiday weekend!
Website
Lake Geneva Cruise Line Fireworks Tour
Monday, July 3 | 8:00pm – 10:00pm
Riviera Docks | 812 Wrigley Dr., Lake Geneva (MAP)
Choose a specialty cruise to view fireworks shows over Geneva Lake from Fontana.
Website
MONDAY, JULY 4
City of Delavan Independence Day Fireworks
Monday, July 4 | 9pm – 10pm
Congdon Park | 1424 Hobbs Dr., Delavan (MAP)
Join the City of Delavan in a celebration of freedom. Fireworks will begin shortly after dusk.
Website
Village of Fontana Fireworks
Monday, July 4 | Dusk
Fontana Beach (MAP)
Fireworks display for 4th of July. For more details, visit the Village of Fontana website.
Lake Geneva Cruise Line Fireworks Tour
Monday, July 4 | 7:30pm – 10:30pm
Riviera Docks | 812 Wrigley Dr., Lake Geneva (MAP)
Choose a specialty dinner cruise to view fireworks shows over Geneva Lake from Fontana.
Website
Geneva National Corn & Brat Roast & Fireworks*
Monday, July 4 | 6pm
Geneva National Clubhouse | 1221 Geneva National Avenue South, Lake Geneva (MAP)
Gather round the fire for a traditional Wisconsin Whitefish Boil, live music and fireworks.
(*) Ticketed event open to overnight guests, GN members and community residents only.
Website
Grand Geneva Resort & Spa 4th of July Celebration*
Monday, July 4 | Event throughout the evening
7036 Grand Geneva Way, Lake Geneva, WI (MAP)
Join the Grand celebration this 4th of July! After a day of relaxing at the spa or soaking up the sun on the golf course, let the celebration continue with a delicious meal. Dine al fresco at your favorite Grand Geneva venue as you enjoy the beautiful lakeside views and await the dazzling fireworks display. Once you reserve your dinner table, it's yours for the entire night! That means you can enjoy yourself all evening without the worry of finding a new spot to watch the fireworks. 
(*)Reservations are required and are open to both resort guests and the public. A reservation number for an overnight stay, dinner reservation, tee time or spa appointment, and a photo ID will be required to gain access to the resort campus on July 4th.  
Website
SATURDAY, AUGUST 13
Corn & Brat Fest Fireworks Show
Saturday, August 13 | Dusk
Edgewater Park, Williams Bay (MAP)
A fireworks show will be held as part of the Williams Bay Lions Club Corn & Brat Fest (Aug. 12-14) along with food, drink, raffles and live music.
Website
SUNDAY, AUGUST 21
Lake Geneva Jaycees Fireworks Display
Sunday, August 21 | Dusk
Venetian Festival at Geneva Lake (MAP)
Fireworks can be viewed from Library Park, the Lake Geneva lakefront, Riviera Beach, and Flat Iron Park in Downtown Lake Geneva.
Website
Lake Geneva Cruise Line Fireworks Tour
Monday, August 21 | 7:00pm – 9:30pm
Riviera Docks | 812 Wrigley Dr., Lake Geneva (MAP)
Choose a specialty cruise for the lighted boat parade and fireworks show over Geneva Lake.
Website