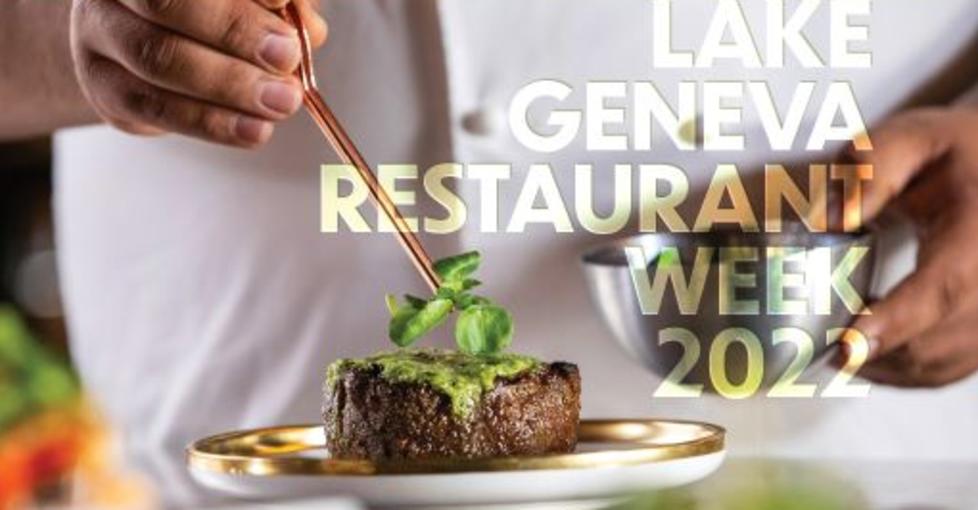 Chef Simon Cumming with Sopra
Today's dining scene is more than just a plate of food. It is an experience; it is the culmination of creativity and skills that take years to master. This week's chef spotlight we are showcasing Chef Simon Cumming, Executive Chef and owner of Sopra, an American Bistro. But do not let the term "American" fool you; Chef Simon's cuisine transcends the typical American palette, plays with the senses, and delivers sensational international cuisine.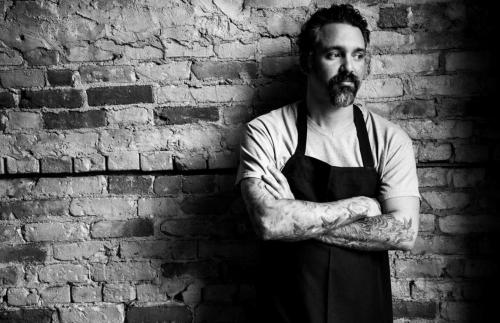 It comes to no surprise that you'll see influences from around the world when you dine at Sopra. Chef Simon was born in Dublin and lived in London, Tokyo, Portland, and Chicago before moving to Lake Geneva to open his restaurant. He also attended the International Culinary School of Phoenix and started his career working for Pazzo Cucina Italiana in downtown Naples, Florida. And once returning to Chicago in 2001 he worked at Wave at the W Hotel alongside famed chef Jason Paskewitz. Through the mentorship of Chef Jason Paskewitz, he learned classical French cooking techniques and how to successfully run a restaurant.
Q: What made you decide to open a restaurant in Lake Geneva?
A: A couple of reasons…It was partly because of family. My dad decided to retire out here and visiting the area felt like home plus I felt like I needed more time to focus on family. Also, Chicago is a very different vibe. It's more competitive and can sometimes strain creativity with the fast-paced environment. And then obviously the real estate market is a bit harder there so owning my own place just made sense outside of the city. It's great that you can come to a tourist town like this, which is more laid back, but can also feed the crowds that come from Chicago and around the world.
Q: Has coming to Lake Geneva changed the way you cook?  
A: Yes and no. You'll still see the influence of French cooking techniques because that was how I was trained, but I have a deep knowledge of nature and the outdoors that feeds into my cooking. I love to create dishes from natural, simple ingredients to highlight flavors and being in this area inspires a lot of creativity.
Q: What kind of concept did you want for your restaurant?
A:  Honestly, I want to push comfort zones when you have a dining experience with us. I love putting exotic items on the menu and showing how transformative these dishes are. I put camel on feature and once people tried it, oh my god, they fell in love with the flavor. If you look at my restaurant week menu, you'll see I have some classics remastered beautifully such as my venison bourguignon but then I am throwing in something completely unexpected such as the Thai inspired python (Yes, he means snake!).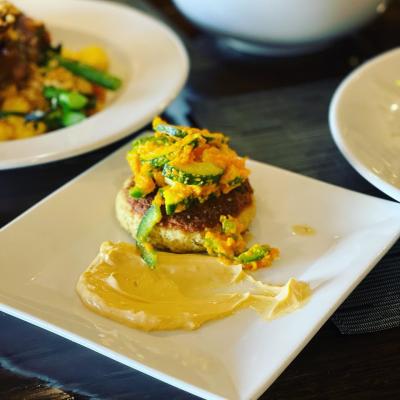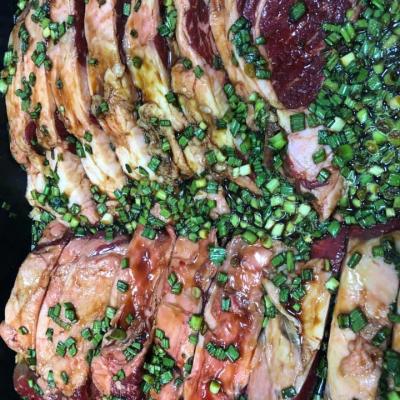 Q: Wow, that is some unexpected dishes. How do you come up with these menus?
A: (Laughing) Well it usually involves a lot of vacations. We are foodies so we follow the meals, find how they transform local ingredients, but also consider how the meal makes you feel while eating it. We take a lot of inspiration back from those trips and try to build something that will fit us. It's a lot of trial and error, but we love playing with different ideas. It helps that we have had our kitchen staff consistent since day one so we can really collaborate together knowing each other's skill sets.
Q: So ,what are some of the fan favorites here?
A: Oh, we do a really nice 9-hour braised lamb with fresh rosemary and saffron that's grilled and served with potato gnocchi. Then around the holidays we have a 19oz Korean BBQ Ribeye; it's a prime cut steak marinated for at least 24 hours in saki, soy sauce, and palm sugar with seasonings, then grilled with a fritto onion (think tempura batter) and served with a baby arugula salad tossed in a lemon vinaigrette with siracha aioli.
Q: With such unique dishes, how do you shop ingredients?
A: I really put an emphasis on the quality of my raw ingredients. I shop local when I can. My pheasant and lamb come from Janesville and Pin Oak Farms. For the more unique items I am constantly sourcing and reassessing where I buy from to keep ingredients the freshest possible. I change my menu so that it is seasonally driven by the Midwestern seasons. We'll actually be announcing our next menu in May.
Q: What would you say is your 3 favorite ingredients or tools for cooking?
A: First would be rosemary. Love how it builds flavor in proteins especially in a slow cooking process. My guys probably hate me for this but I love my food mill for mashing potatoes by hand because honestly it just tastes better than any other method. And then I have to have European butter! It's richness and flavor is the first step to building any quality dish.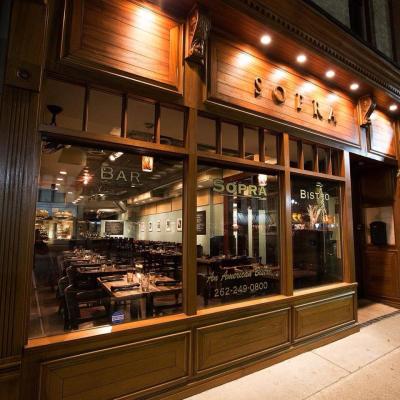 So, if adventure and bold flavors are what feed your soul, Sopra is definitely going to be the place to try this Restaurant Week. Look for his restaurant week menu and more by visiting us here!