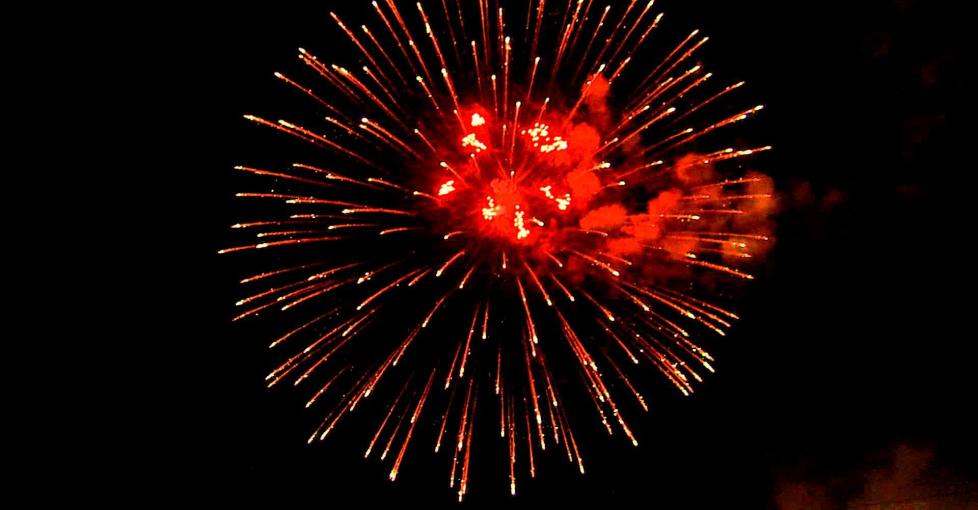 Whether you're looking for a weekend getaway with your girlfriends, a romantic rendezvous or a family vacation, Lake Geneva is a smart choice. Located less than two hours north of Chicago in Wisconsin, Lake Geneva, known as a popular summer lake destination for families who want to get away from the city, is also a hotspot all year-round for fun and entertaining annual festivals and events. Lake Geneva hosts dozens of events each year, but here are some of the most popular festivals that you just might want to put on your calendar and start planning a trip around.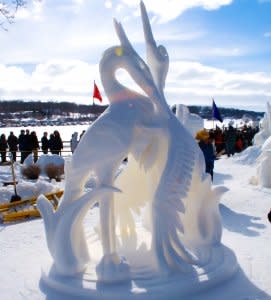 Winterfest, February 
There's a lot you can do every February in Lake Geneva at the annual Winterfest event, including attending the U.S. National Snow Sculpting Competition, one of the largest snow-sculpting contests in the country. Winterfest takes place ovehttp://lakegenevaevents.com/r the course of 10 days at various locations in and around Lake Geneva. You can browse through the impressive snow sculpture collections and watch a live crowning of best snow sculptures in Driehaus Plaza and Flat Iron Park. Local restaurants, shops, hotels and resorts also plan special events to take place during Winterfest. These events include magic shows, ice skating, a winter carnival, chili cook-off competition, helicopter rides, dog-sled racing and more. With so much to do, Winterfest is an event that's popular for both visitors and locals.
Read More: Top 22 Things to Do at Winterfest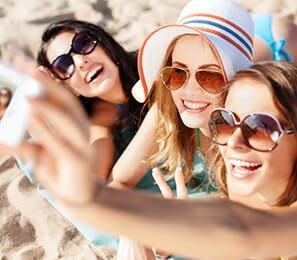 Women's Weekend, April/May 
Every spring, hundreds of women gather together in Lake Geneva during the Women's Weekend event. Sponsored by the Rotary Club of Lake Geneva, the weekend includes multiple workshops hosted in various locations, covering topics like necklace-making, wine tasting, cooking courses, high tea and more. When night falls, several parties take place throughout town, including Disco at the Lake and a pub-crawl. Keep an eye out for the various hotel, shopping and dining package deals that come with registration for Women's Weekend.
Read More: Local Spas and Salons in Lake Geneva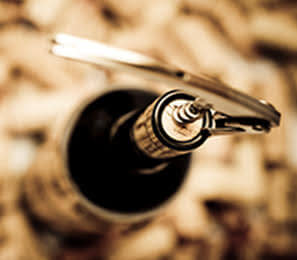 Lake Geneva Festival of Wine at Grand Geneva, April
Calling all wine lovers, from social drinkers to sommeliers, to partake in an entire weekend of entertainment and tastings.  Start your stay with a special Friday night wine dinner at one of Grand Geneva's three premier restaurants: Geneva ChopHouse, Ristorante Brissago or Grand Café.  Saturday offers a host of informative seminars and activities and the main event, the Grand Tasting.  Room packages are available.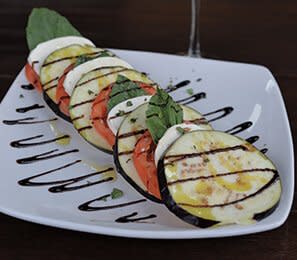 Restaurant Week, June 
Restaurant Week is a 10-day annual event filled with delicious meals and high-quality dining experiences at affordable prices. During the event, a collection of local restaurants serves pre-set, three-course meals at ranging from 15-$35 per person. Several of the restaurants like Sopra, Pier 290, and The Red Geranium Restaurant serve fresh seafood, steaks, appetizers, desserts and wines. You'll also find multiple hotels and resorts offering deals to out-of-towners during Restaurant Week.
Read More: Check Out All of Lake Geneva's Local Restaurants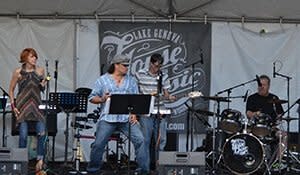 Concerts in the Park, July-August 
Every Thursday from 6 to 8 p.m. during the summer, Flat Iron Park hosts Concerts in the Park featuring different musicians. This family-friendly weekly event offers 2-hours of wonderful music ranging from bluegrass to alternative rock, to jazz.  Bring your lawn chairs, picnic blankets and friends for an evening of entertainment with a lakeside view.
Read More:  Check Out All of Lake Geneva's Entertainment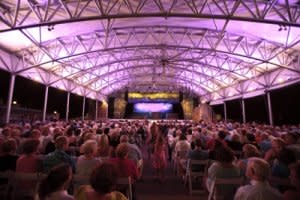 Music by the Lake, June-August
In Williams Bay, George Williams College of Aurora University becomes one of the area's most popular destinations for Music by the Lake. During the spring, event organizers release a performance schedule for bands and entertainers set to take the stage during the summer for Music by the Lake. Buy reserved seats in the Ferro Pavilion, or bring a picnic dinner and sit on the lawn. The lawn seating opens 90 minutes prior to each show, and space is reserved on a first come, first-serve basis. Those who buy lawn seats can bring small picnic tables, chairs, blankets, coolers, and their own food and drink (including alcohol) to enjoy during the concert.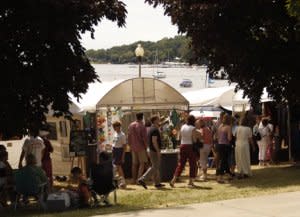 Art in the Park, August 
For more than 35 years, Flat Iron Park has welcomed artists to display their best pieces during Lake Geneva's Art in the Park. Bright white tents line the park, filled with works of art and artisan wares including pottery, jewelry, glassworks, beads, mixed media, sculptures and paintings. There's also a silent auction and live judging of some of the best works. A designated children's area allows kids to create fun, take-home art projects. This event is hosted by Geneva Lake Arts Foundation.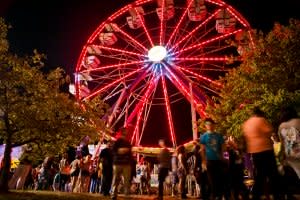 Venetian Festival, August 
Sponsored by the Jaycees, the Venetian Festival is a decades-old tradition in Lake Geneva. Library Park plays host to rows of craft tents for guests to browse on Sat. and Sun, 10 a.m.- 5 p.m., with Flat Iron and Seminary Parks serve as the main location for a kid-friendly carnival with fun games and rides. The festival also includes a waterski show, lighted boat parade and fireworks. The festival has several sponsors like Harley Davidson, J&M Display, and Piggly Wiggly. Adults can stop by the Beer Tent to relax over a drink and watch the fireworks display over the lake.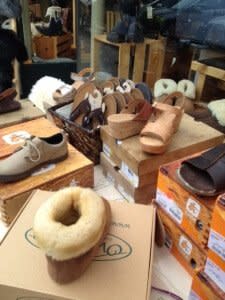 Maxwell Street Days, August 
Lake Geneva Maxwell Street Days—named after the "Father of Lake Geneva," Dr. Philip Maxwell—is a two-day shopping event for downtown Lake Geneva merchants. It's a sidewalk sale, and the largest of its kind in Lake Geneva. Local retailers put out tables full of deeply discounted merchandise throughout downtown. It's a great time to explore the area, meet local merchants and eat at some of the area's local restaurants. Hosted by the Business Improvement District.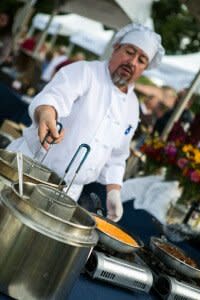 Taste of Lake Geneva, September 
Get a taste of some of the best cuisine that Lake Geneva has to offer every fall during Taste of Lake Geneva. This annual event in Flat Iron Park features small plates and samples from some of the best local dining establishments. Menus include some of the restaurants' most popular items, with a wine and beer stands set up at the event as well. Live music adds to the block-party atmosphere, but it's a very family-friendly event. Hosted by the Business Improvement District.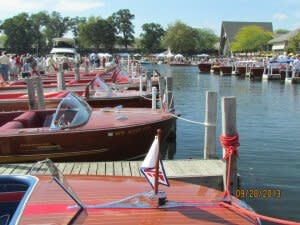 Antique & Classic Boat Show, September 
Geneva Lakes Antique & Classic Boat Show is a two-day event held in the harbor at The Abbey Resort. The display includes an impressive collection of antique boats in mint condition and classic models from around the world. Some of the boats date back as early as 1900, and the event also includes education and information about the evolution of marine vessels. Additionally, you'll find by the harbor, local and regional artisans selling their best works. The event also includes a boat parade and live judging at The People's Choice awards.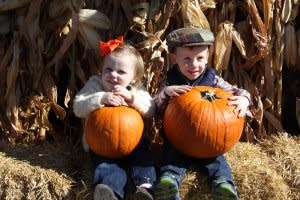 Oktoberfest, October 
Oktoberfest is the biggest fall event of the year in downtown Lake Geneva. This family-friendly event features live music, craft vendors and fare from local restaurants. Children are invited to go for pony rides, wagon hayrides, join a fun bouncy experience at the inflatable castle, and more. Oktoberfest is a chance to indulge in seasonal treats like caramel apple popcorn and warm cider.  Hosted by the Business Improvement District.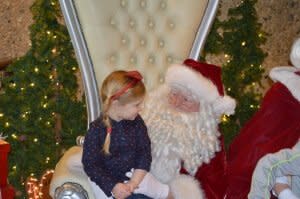 Holiday Events, November/December
The family-friendly destination of Lake Geneva gets very popular around the holidays. The list of popular things to do during the holidays continues to grow every year and includes events like Holiday Open House, Christmas in the Country, Electric Christmas Parade, Festival of Lights,  and many more.