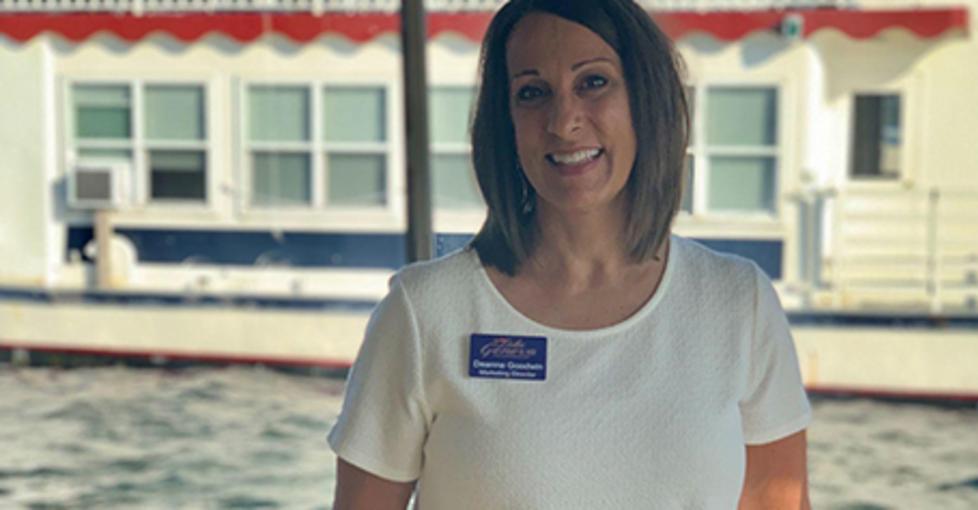 Just as Lake Geneva, Wis. is popping up on more and more national travel lists, two seasoned tourism professionals join the team at the area chamber of commerce and visitor bureau to keep the momentum going. Stephanie Klett, president and CEO of VISIT Lake Geneva, the community's Chamber of Commerce and official Visitor & Convention Bureau, announced Deanna Goodwin as the new director of marketing, communications and development, with Kathleen Clothier accepting the position of partnership manager.
Goodwin is a familiar name and highly respected professional within tourism circles, having served 20 years as the director of marketing for the Kenosha Area Convention & Visitors Bureau. Her skill at strategic planning, research, branding, content development, advertising, public relations, events, partnerships and promotions comes into play immediately and seamlessly at VISIT Lake Geneva. Prior to her work for Kenosha tourism, Goodwin held public relations, marketing and business development positions at companies in the healthcare and business sectors. Goodwin attended the University of Wisconsin-Milwaukee and served as a volunteer on a long list of business improvement boards and festival organizations in Kenosha.
Clothier will lead the charge in growing the partner base for VISIT Lake Geneva while taking great care in maintaining relationships of current members in her role as partnership manager. The organization's strategic sales plan falls within Clothier's duties as well, as does partner education on events, activities and marketing opportunities. Clothier is a recent MBA graduate of Upper Iowa University, Fayette, Iowa, with a degree in administration and organizational development. She earned her undergraduate degree in interpersonal communications from the University of Wisconsin-Whitewater. Prior to joining VISIT Lake Geneva, Clothier was a franchise development coordinator for Toppers Pizza world headquarters in Whitewater and, before that, a development specialist with Blackhawk Technical College in Janesville. She also served with Community Action, Inc., a non-profit organization whose mission is to fight poverty in Rock and Walworth Counties.
"It's with incredible excitement we welcome both to VISIT Lake Geneva and the timing couldn't be more perfect as the organization is picking up steam in positioning this destination as one of the gems in the country," said Klett. She was referring to Lake Geneva recently being voted the country's "Best Small Town for Adventure" in a "10Best" poll from USA TODAY, and being named one of "The 20 Best Little Lake Towns in America" in a June story on MSN.com. Travel writers are now singing the praises of the pristine waters of the lake and the mansions that line the shore path, world-class golf courses, upscale spas, downtown boutiques and foodie-worthy cuisine, earning the community the nickname "Newport of the West."
"Deanna and Kathleen, along with the rest of the staff, are turning this organization into a 'tourism de force' for the area," added Klett. "Lake Geneva deserves the best and that's what we gain with our two newest employees."
About VISIT Lake Geneva
VISIT Lake Geneva, the community's Chamber of Commerce and official Visitor & Convention Bureau, works to share the wonders of Lake Geneva, Wisconsin with travelers from far and wide in search of natural beauty with a feel of the seaside, a place where family traditions can be made, and genuine warmth that makes them feel welcome time and time again.  The central storyline of Lake Geneva, admired as the "Newport of the Midwest," revolves around pristine Geneva Lake, the historic mansions that circle it, and the many resorts, restaurants and boutiques that give the community a seacoast-style appeal all its own. For more, log on to www.VisitLakeGeneva.com.
# # #
VISIT LAKE GENEVA · 201 Wrigley Drive · Lake Geneva, WI 53147
800.345.1020 · www.VisitLakeGeneva.com