The City of Lake Geneva invites you to celebrate Lake Geneva Day! Visit the newly renovated Riviera Ballroom and first floor shops from 10am to 8pm during this free Open House. A re-dedication ceremony will take place at 4pm in the second level Riviera Ballroom.
Riviera Open House
The Riviera | 812 Wrigley Dr.
Thursday, July 15, 2021
10am -8pm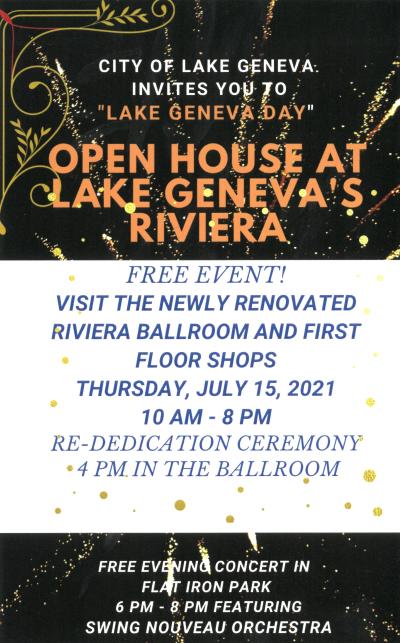 In honor of the Riviera Open House, enjoy Concerts in the Park in nearby Flat Iron Park from 6pm to 8pm featuring the famed swing band, Swing Nouveau. Also catch free swing dance demonstrations from 5pm-6pm!
NOTE: In case of inclement weather, all Concerts in the Park activities (swing dance demos, concert and food vendors) will move to The Riviera Ballroom, 812 Wrigley Drive.