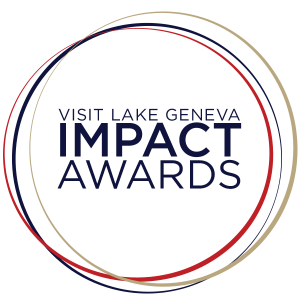 2020 Impact Award Winners
The holidays look different this year and, so too, our lives, that much is indisputable. Yet the kindness of people in the Lake Geneva area remains as unfailing as ever in its ability to change lives as well.  Each year about this time VISIT Lake Geneva presents its Impact Awards to deserving individuals and businesses in the community, a tradition that dates back to 1974. The awards honor those who have made positive and significant impacts on the quality of life in the area as nominated by their peers and voted on by the board of directors of VISIT Lake Geneva. Now more than ever, their stories bring good cheer and remind us that brighter days are always just around the corner.
Stu Herzog Outstanding Citizen Award - MICHAEL PLOCH
This year's Stu Herzog Outstanding Citizen Award, given to the individual who represents the Lake Geneva region at its very best and consistently makes a positive difference, goes to Michael Ploch. Many know him as the go-to guy for help in growing their business and strengthening the community in his role as a senior vice president and commercial lender for Community State Bank.
Ploch has lived in the Lake Geneva area for 63 years, raising seven children here with wife Jamie and now enjoying five grandchildren, calling the grandkids "a beautiful dimension of life."
He was actually born in Chicago, just six months old when his parents moved the family to Lake Geneva were his father's family farmed. He is the oldest in a large family and that pecking order instilled in him early on qualities that he still calls on today. "When you're the oldest, your siblings look up to you and that helped me to become a good ear to listen to people and to lead with a kind heart," said Ploch. "You develop an empathy to see what you can do to help."
He's forthright in noting that being a good listener can mean being both the voice of encouragement as well as the voice of reason, with both styles ultimately helping business owners be successful. "I put myself in their position and look for ways to help them in any way I can, that's being a good neighbor and a good person," said Ploch.
And help he has. For example, Ploch led the charge to distribute $50 million in payment protection plan loans to local businesses as the pandemic's grip tightened. "Business owners were scared and so they were relieved to know the bank was here to help them."
He also contributes to the community by volunteering on boards of the YMCA, the Lake Geneva Economic Development Corporation, and the Geneva Lake Museum. "The community is only as strong as the people who volunteer their time and talent and I've always said, don't complain, instead get involved to make it better, and the more people involved the lighter the work and the better world for all of us."
Ploch has been in banking for 40+ years now and over those decades has come to call customers his friends. "It's more than just a business relationship, they're looking to me for advice and guidance and I hope they respect me and trust me over time." He added, "And if I don't have an answer, I'll try to find someone or something that can help."
When queried about some of the best changes in the community he's seen in the last few years, Ploch happily pointed out success in attracting quality industries that bring with them better wages as well as the new buildings that have beautified once blighted neighborhoods. On his wish list is growth in cultural offerings with the renovated Riviera building a venue that is bound to dazzle.
With all that on his plate, Ploch laughed when asked what he likes to do in his free time. "I do enjoy gardening, I love to golf and read," said Ploch. In the same breath he added, "The true rock star in our family is my wife and there is no way I could it without her support."
The interview wrapped up with this nice bit of advice from Ploch: "We're lucky to travel, yet I always enjoy coming back home, and I encourage residents to be a tourist in your own town, it's a treat we never take for granted."
Rising Star Award - THE CANDLE MERCANTILE
Friends since high school and both corporate escapees, Liz Doyle and Leigh Ann Myers are the creative force behind The Candle Mercantile, this year's recipient of the Rising Star Award. To be considered for this honor, a business must have made a substantial impact in their profession, with the catch being that the impact needs to be demonstrated in five years or less. Doyle and Myers did that one better, moving from completing a business plan for a candle-making experience in Lake Geneva in February 2019 to opening their doors less than five months later.
"This was a new challenge for both of us, but everything came into place and we found our skills complement each other so well," said Doyle.
This shop in the heart of downtown Lake Geneva is one-of-a-kind, although the owners never say never to the potential of a second location. Customers choose favorite scents from some 90 different offerings lining the walls as the first step in making their own unique candle. To add to the atmosphere, customers can enjoy wine and beer paired with a charcuterie tray from Lake Geneva Country Meats.
Even with the pandemic pause, they managed to grow their business, a testament to the quality of their product. "Even during quarantine, people were looking to create a cozy environment at home," said Doyle. Myers added, "We sold a lot of lavender candles during those few months of our store being closed." There is also a nostalgia factor with the scents. "We hear customers say all the time, 'Oh this me reminds me of my grandmother' or someone else in their lives," shared Doyle.  Myers mentioned it's not unusual for customers to tear up as memories flood in.
Both commented how reassuring it's been to see their customers, a mix of residents and visitors, enthusiastically support local businesses. And given it takes 90 minutes for the candle to set, the owners have ample opportunity to send people to different shops and restaurants in the community. "All the businesses in town do well in supporting each other," said Meyers.
The owners' love of all things Lake Geneva is evident in two more ways, the first being their signature Lake Geneva Candle. They held a contest asking customers to select scents they think best define the area. The winning combination is a mix of balsam fir, summer lawn, and lemongrass. The second is their Candles for a Cause program, with the proceeds from select candles going to a different charity each month. 
Hospitality Award - THE BOTTLE SHOP
Imagine, if you will, the perfect evening. A wonderful hostess, a great bottle or two of wine, easy conversation, and a wish that time would stand still. If that sums it up for you, then you'll want to make The Bottle Shop a regular stop. Why? Because that narrative perfectly describes the warmth that owner Beth Tumas brings to her business and why she's been bestowed with this year's Hospitality Award for exemplary customer service and care.
Tumas became the shop owner five years ago. She jumped in fearlessly, even though she never owned a business before, bringing with her a different kind of background in the wine industry. "I always wanted to be my own boss, I like making people happy and providing a fun experience," began Tumas. "When I came to Lake Geneva I worked for a wine distributor and loved my job, so when the gentleman who previously owned this shop asked if I wanted to buy it, I said 'yes' and haven't looked back since."
Tumas' customer service philosophy is wonderfully straightforward. "I want my shop to be a place I'd want to hang out in, a place where people are comfortable and want for nothing, a low-stress experience so people want to come back."
So how does she know when she's getting that philosophy just right? "When people stay, when they refer people, when they come back, and when they write a good review, then I know we're succeeding," said Tumas. "I love when visitors tell me The Bottle Shop is their first stop when they come into town and their last stop when they leave, and I'm just so grateful people like my shop."
While providing customers with a great wine-centric experience, whether that's choosing from a selection of some 800 different wines or sipping a selection in the open-air, dog-friendly courtyard, may be at the core of her hospitality, Tumas and her team don't stop there. "We're a resort town, so people often want to know where to go for dinner, and we'll make a recommendation based on what they like and even help them with the reservation," said Tumas.
There is also no such thing as "glass half empty" here. "We want to make sure our customers are comfortable in every way, which means we don't want them to have to ask for something, and that means no glass is half empty for long," laughed Tumas. It's that kind of cozy, comfortable, unpretentious vibe that lends itself to making friends of strangers as they strike up a conversation over glasses of wine here.
Tumas had another important insight on the ripple effect of hospitality. "When visitors have a good experience here, they want to try other things in the community." When it comes to hiring, Tumas looks locally for employees. "My staff cares about this business as much as I do - not every business owner can say that – and that comes through in a big way in the hospitality experience."
Of course, a pleasant chat with Tumas wouldn't be complete without a wine recommendation and she was happy to oblige. "Go with both a red and a white, don't choose one over the other," she suggested. "For the red, try the Austin Hope Cabernet, for the white, the Macon-Charnay." Two down, and about 798 bottles to go.   
Community Betterment (tie) - INSPIRED COFFEE
When is a mug of coffee more than just a cup o' joe? When it's made and served to you at Lake's Geneva's Inspired Coffee, a new kind of coffee shop that employs and celebrates people with intellectual, developmental and physical disabilities. While open just six months, Inspired Coffee earned the Community Betterment Award, which puts the spotlight on a person, business or organization that enhances and improves the quality of life in the Lake Geneva region.
Leading this coffee-making, community-building enterprise is one terrific trio: general manager Jessie Bongiorno, along with Erik Barber, president, and Merik Fell, director of development, of Inspired Ministries, the organization that's been helping those with disabilities in Walworth County for 70 years and the creator of this concept.
In an interesting business concept twist, employees here are coached and trained with the ultimate goal to prepare them for employment at other businesses in the community - think launching pad, not landing pad. There's a 12-month training program to get trainees ready to spread their wings. Bongiorno and Barber have both been amazed at how much the employees have blossomed in such a short time.
"At the beginning, trainees were still in their shell and now they're moving up in their skill levels, excelling and growing, and we're so proud of them," said Bongiorno. Barber added to that sentiment, noting, "Trainees understand they work differently and they are very patient in helping each other and that empathy is also helping them to build confidence."
Bongiorno said the positive feedback from the community means a great deal to the trainees. "Our employees engage with the customers and customers come back for that."
When asked for a specific example of the extraordinary growth of employees, Bongiorno didn't stop at just one. "Every day there is a little moment of something remarkable happening," she said. "One employee, for example, who was very shy and had trouble reading, presented an idea for how to help her memorize the menu using visual cues, and that self-advocating was huge and it will encourage her to continue that in her next job." Bongiorno continued, "Another employee is taking on multiple roles, and yet she still always makes a point to greet every customer, and there are so many stories like that."
Along with the top-notch customer service, Bongiorno points out that they are a coffee shop, and that the product has to be good to get people in the door." We are all a bit of coffee snobs here, so that's what we start with, with coffee being the first connection and the experience drawing them back."
Barber built on that point. "People would rather go to place that is doing good, plus get a good cup of coffee, and we're providing that here in Lake Geneva." He also shared that he's been contacted by people from other communities who'd like to start something like this in their hometowns and he's happy to share the plan. "That's exciting to me, how our spark of an idea that started three or four years ago is inspiring others now too."
The coming year looks to be one of new milestones for the trainees, with Bongiorno looking to transition employees to work at other businesses in the community and supporting them on that journey. "That will put our mission out into the community in an even bigger way," said Bongiorno.
By the way, if you're looking for a good experience/tasty coffee combo to warm the soul this holiday season, Bongiorno says she can vouch for the Peppermint Fudge Mocha at Inspired Coffee.
Community Betterment - STEPHANIE KLETT
It doesn't happen too often, but every once in a blue moon there is a tie for an Impact Award, and what better category for a tie than Community Betterment. This year, the award also goes to Stephanie Klett, president and CEO of VISIT Lake Geneva, the community's Chamber of Commerce and official Visitor & Convention Bureau.
Klett has spent her entire professional career promoting Wisconsin tourism, most recently serving as Tourism Secretary in the governor's cabinet before accepting the position with Lake Geneva. So she knows a thing or two about what makes tourism and quality of life inextricably linked.
"You can't separate the two," said Klett. "Lake Geneva is tourism, plain and simple, with the tourism economy elevating the quality of life for residents, providing jobs for thousands of people, and contributing to the tax base that supports services critical to a thriving community." While that's the dollars and cents of it, Klett said the other part of that equation is how tourism creates incredible experiences and lifelong memories for visitors, and how that's more important than ever during these unusual times.
While Klett was certainly familiar with Lake Geneva, having grown up in nearby Beloit and also singing the community's praises as longtime host of the popular TV series, "Discover Wisconsin," she said there were still lots of surprises for her as she settled into her new position. "This is such a deeply motivating place," she said. "The range of businesses, the eclectic quality, the big ideas and big personalities all came as pleasant surprises to me."
Given that, Klett called this award the highest compliment, fully sharing the accolade with her team. "The VISIT Lake Geneva staff goes above and beyond, particularly the Visitor Center ambassadors who love this region and share that passion with every person who comes through the door."
It's not just visitors to whom the team is talking up Lake Geneva. Klett scored a major coup in getting The TODAY Show to cover the record-breaking Winterfest 2020. "That positive press keeps us invigorated and it doesn't just happen overnight."
While national coverage can't be beat, Klett also believes in keeping Lake Geneva top-of-mind with Wisconsin residents. To stay "in the know" with travel trends in the rest of the state, Klett accepted a board position with the Wisconsin Chamber of Commerce Executives, marking the first time in a century that Lake Geneva has a place at the table with this influential organization.
With the award being for betterment, Klett reflected on where she likes to devote her energy in pursuit of bettering the community. "I think it's working with our partner businesses, bringing people together to explore the 'what ifs'" and then making those possibilities happen, there's nothing better than that feeling."
Other partners Klett relies on to better the community include the VISIT Lake Geneva board of directors, which she called "the best I've worked with in my professional career," and important local groups including the business improvement district. "If we're going to go forward and win, we have to go forward together."
One last question posed to Klett read, "If you could ask residents to promote one or two attributes of the community, what would those be?" Here's her answer: "First, shop local, with our stores offering special items and a personal touch and that is so often missing in retail these days. And two, let visitors know we love having them here, how we're welcoming to all, and how we plan to host them in the most wonderful way."