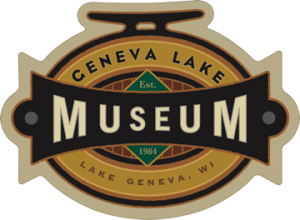 GENEVA LAKE MUSEUM
Lake Geneva, WI
Website | Phone: (262) 248-6060
Mission:  The Geneva Lake Museum discovers and preserves the rich history that exists throughout Geneva Lake and the surrounding communities. The exhibits within the walls are time capsules that capture every essence of Geneva Lake and its people; people with amazing stories that unravel with every scene and every word led by our knowledgeable guides. These stories wait for people young and old who have the ears eager to listen, the eyes that are ready to be awakened and the open mind waiting to learn.
Community Resources:  We have several examples of community engagement, as follows:
Tactile exhibit format: Many of our exhibits are open (no barriers, traffic -ropes or glass cases) which allows visitors to actually touch items within the exhibit and enter exhibit vignettes.
Tuesday @ 2: Hour long programs (on Tuesday) presented by local historians about Geneva area topics. Members attend at no charge, other guests pay $5 to attend. Typically many attendees are local seniors. COVID compliance currently limits attendance to 100 guests per program.
School tours: Schools schedule groups of primary and middle-school students for ''walk­ through" guided tours. Group sizes range from 10- 30.
"I Spy" for kids: pre-school children are given an "I Spy" sheet and clipboard. The task for the children is to match the pictures on the sheet with things they see in the Museum exhibits.
Most Urgent Needs:  One of the urgent needs that was evident during the pandemic was development of outside space to host museum events and classes to allow social distancing. The museum has space outside that needs basic upgrades and landscaping to allow better functionality. In addition to this structural upgrade, the museum would like to establish closer connection with the educational network in SE Wisconsin by establishing paid internships at the museum.