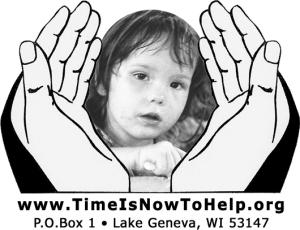 THE TIME IS NOW TO HELP
Lake Geneva, WI
Website | Phone: (262) 249-7000
Mission - The Time Is Now exists solely for the purpose of alleviating the suffering of those who find themselves facing economic hardship. The Time Is Now's continuing goal is to make sure every cent donated is utilized to provide goods and services, such as food, clothing, utilities, toiletries, automobile assistance, and shelter assistance to help the extremely poverty-stricken children, senior citizens, disabled, veterans and families live more comfortably, improve their quality of life, and remove their pain and suffering. 100% of donations are used to provide assistance by paying for rent, emergency shelter in motels, utilities, food, clothing, car repairs, gas, handicapped assistance, home repairs and much more to people suffering due to poverty. The Time is Now to Help has been providing poverty relief for the past 32 years. 
Community Resources - People in need of assistance write a letter or email to our charity sharing how they need help and why. They are contacted by our founder Sal Dimiceli, Sr. He reviews their budgets, helps to find solutions, provides volunteers when needed for home repairs or food deliveries and provides payments directly to landlords, utility companies, car loans, etc. Every week in newspapers throughout SE Wisconsin we write a column sharing one of these letters and the solutions that were provided by The Time is Now to Help. For the past 18 years this column has been published in the Lake Geneva Regional News and other local papers. We provide assistance to over 500 people each year in the Lake Geneva area so many residents have been touched by The Time is Now.
Most Urgent Need - The most requested assistance continues to be rent/shelter, transportation assistance, utilities and food. Funds for providing this assistance is always needed and appreciated. We are always in need of donated vehicles that are in good working order.