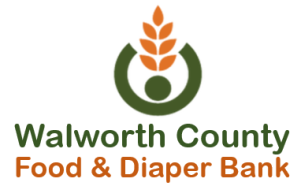 WALWORTH COUNTY FOOD AND DIAPER BANK
Elkhorn, WI
Website | Phone: (272) 723-4488
Distribution of emergency food, diapers, incontinence supplies and feminine hygiene products to all residents of Walworth County who are in need.
Mission - Our Mission is to provide the people of Walworth County nutritional supplemental food, diapers and feminine hygiene during a time of crisis, in a cheerful, welcoming, nonjudgmental environment without regard to age, race, creed, color, national origin, sexual orientation, physical or developmental disability.  Established in 2009 with the help of the scouts and their parents and wagons, the food pantry began serving all of those in need in Walworth County. Twelve years later, we are now operating the largest food pantry in the county serving over 4200 people each year from our 6,000 square foot facility. In August 2020 we hired our first and only paid employee as a part of the long-term succession plan for sustainability. In addition to food, we also provide a 2-week supply of disposable baby diapers, period supplies and incontinence supplies for those who need them. Our foods include fresh produce, frozen meats, canned goods, dry goods (cereals, pasta, and rice), juice, dairy including milk as well as fresh breads and rolls. All residents of Walworth County living at or below 300% of the Federal Poverty Level are welcome to come once each month (or more often if the need arises).
Community Resources - Food insecurity can happen to anyone and we have been there as a safety net for the past 12 years. In the case of the pandemic, many families were caught unprepared for the crisis and the need to rely on the kindness of others. Our relationships with Feeding America and Hunger Task Force and our local farm partners assisted us in purchasing food for more families than ever before in our history. In 2018 we became the only member of the National Diaper Bank Network in Walworth County with the ability to provide disposable diapers for babies and in 2019 was accepted as a member in the national Alliance for Period Supplies enabling us to provide these critical items to families in need in the community. Without clean disposable diapers, babies cannot go to daycare and parents cannot go to work. Girls and women living in poverty miss an average of 4 days of work or school each month without adequate feminine hygiene products. Seniors and disabled people fear leaving their homes without adequate incontinence supplies. In 2020 we distributed almost 1 Million pounds of food, 150,000 baby diapers, 88,000 incontinence items and 148,000 feminine hygiene products to those who could no longer afford to purchase them. Thanks to Petco and donor families we were also able to provide pet food to 380 families with dogs and cats.  (Pets are family, too!)
Most Urgent Need - We are grateful to all of our volunteers, donors, families, local businesses, United Way and family foundations who fund all of our efforts and make all of this happen. We have no debt and very little overhead. With very dollar received we can purchase 10 meals for those in need. We rely completely on funding from the generosity of our community. Funding is always our most urgent need.