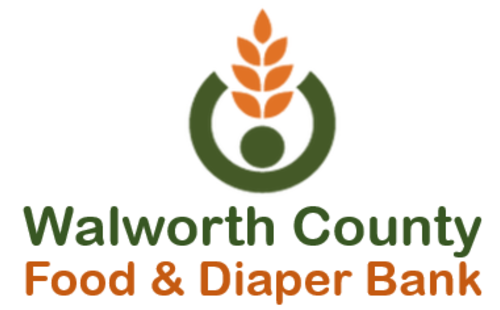 WALWORTH COUNTY FOOD AND DIAPER BANK
Elkhorn, WI
Website | Phone: (272) 723-4488
Mission – Our mission is to provide the people of Walworth County nutritional supplemental food, diapers, and feminine hygiene products during a time of crisis, in a cheerful, welcoming, nonjudgmental environment without regard to age, race creed, color, national origin, sexual orientation, physical or developmental disability. Walworth County Food & Diaper Bank (WCFP) leads the fight against hunger in Walworth County. WCFP serves the hungry in our diverse community that includes the working poor, unemployed, disabled, and a minority community with a growing Hispanic population. WCFP is unique among its peers. All food pantries do good work. Few achieve the size, scale and scope of services offered by the Walworth County Food Pantry. WCFP serves Walworth County as a Feeding America Partner Drop Site, providing food distribution services to all nine Walworth County food pantries, including the homeless shelter. In addition, WCFP manages distribution of the Hunger Task Force Senior Stock Box Program for the entire county. As a matter of culture, WCFP touches the lives of those we serve with a spirit of grace, dignity, and genuine caring in a welcoming atmosphere.
Community Resources – WCFP food distribution serves an average of 1,200 clients per month with over 30,000 contacts per year, distributing an average of 58,000 pounds of food per month. In addition to food, the working poor need disposable diapers for their children to go to daycare. Working women and school aged girls need feminine hygiene products to maintain an active daily life. Seniors need incontinence supplies to maintain a dignified quality of life. WCFP is the only pantry in Walworth County affiliated with the National Diaper Bank Network. In other service innovations, WCFP meets client needs for feminine hygiene products and incontinence supplies. All of our services and products are always provided for free, treating all who come with dignity and confidentiality.
Most urgent needs – The Covid 19 pandemic impacted the Walworth County Food Pantry & Diaper Bank creating a mission critical area of serious ongoing financial stress. WCFP was forced to terminate our food recovery program. Food recovery was a program done in partnership with participating retailers including Walmart, Aldi's, Quick Trip, and other Walworth County area retailers. These retailers donated perfectly good food items, including produce, dairy, meat, and bakery that no longer met retail standards for shelf-freshness, providing on average, forty thousand pounds of food per month. Employee safety protocols adopted by our retail partners rendered the program unable to continue. Food recovery accounted for more than two thirds of WCFP fifty-eight-thousand-pound average monthly food distribution with the balance provided by various government programs. Without food recovery, our food supply fundamentally changed. We had to make up the short fall. While WCFP leverages the efficiency of every dollar of food purchasing power sevenfold, loss of the food recovery program measured in sheer volume is a substantial and ongoing challenge. Today, with food cost rising, WCFP's trailing annual food budget ranges from $80-90k.