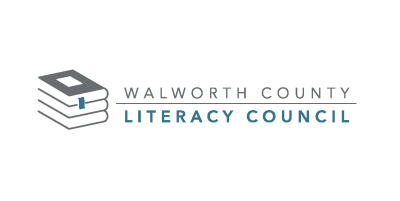 WALWORTH COUNTY LITERACY COUNCIL
Elkhorn, WI
Website | Phone: (262) 475-9180
 Adult education. Basic reading, writing and math, English as a Second Language, Citizenship, GED preparation and Jail Literacy.
Mission - Walworth County Literacy Council (WCLC) is a non-profit organization dedicated to improving the quality of life for residents of Walworth County by raising awareness of literacy needs in the community and by providing adult student-centered, volunteer-delivered instruction. WCLC provides educational programs to adult residents to help them improve their reading, writing, mathematical and language skills; acclimate to a new culture; achieve financial security; and develop a productive relationship with their families and members of the community. All WCLC services are free of charge.
Community Resources - In 2012, knowing a little bit of English, Josefina Sanchez started as a student with Walworth County Literacy Council (WCLC). Josefina acknowledges that as a result of adult literacy, she has been able to help her three children with their schoolwork and communicate better with her children's teachers. With her improved English and encouragement by her tutor, Josefina has been tutoring WCLC beginner English students since 2015. Along with hard work and determination, Josefina and her husband attribute the success of their family business (Greenscapes Landscaping of Walworth) to better communication on the phone and email with customers, as well as learning about business practices which have grown their customer base. Josefina serves as Chief of the Election Committee in Walworth and since 2020 serves on the Board of Directors at WCLC. She feels that without adult literacy she and her family would not have the opportunities they do now.
Most Urgent Need - Annually, WCLC provides 150 students with adult literacy services at no charge. During an economic downturn, as we are experiencing now, adult learners seek out educational opportunities. Over 3 million adults linger on literacy council waiting lists nationwide; WCLC is no exception to this fact. Financial support for programming is critical in order to meet the educational and employment goals of individuals. Walworth County benefits economically when its residents are empowered and able to contribute to the economy.