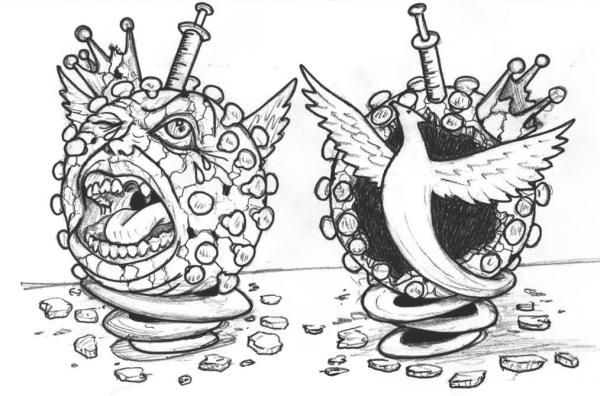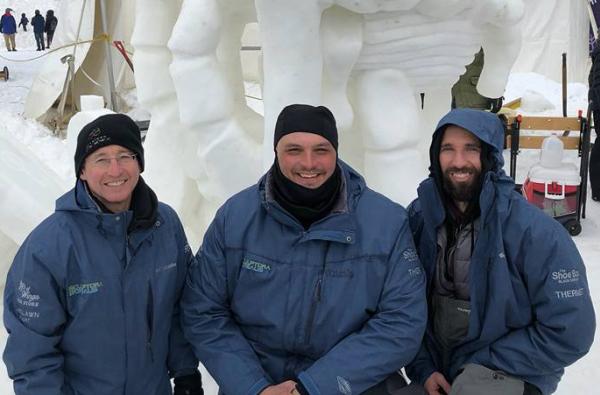 Team Name: Sculptora Borealis
Sculpture Title: Inoculation
Artist Statement: We are all in this together. We all yearn for the moment when we can put our fears to rest and go back to our normal lives. This sculpture celebrates the end of the pandemic and the birth of a new era.
Team Members:
Joshua Jakubowski (Captain) - Joshua has been sculpting ice and snow for about five years and has been a part of two State Snow Sculpting Championships in 2017 and 2018, one National Snow Sculpting Championship in 2018, and a third place finish at the Breckenridge International Snow Sculpting Championship in 2020. Joshua is a product designer from Port Washington and loves to design and build custom furniture in his spare time. He also enjoys outdoor activities including hunting, camping, backpacking and spending time with his family and friends. Joshua graduated as a Badger in 2002 and played football on the winning Rose Bowl teams from the late 90's and graduated as a UW-Stout Blue Devil in 2011 with his BFA in Industrial Design.
Robert Lechtenberg - Bob has been competitively ice sculpting since 2005, and snow sculpting since 2017, but has been making things with snow nearly all of his life. Bob is an IT project manager consultant by profession which keeps him in an office most of the day, but he will take any time he can get to spend with his family or escape to the outdoors, doing things like waterskiing, snow skiing, rock climbing, hiking, golfing, and home projects.
Michael Lechtenberg - Besides Ice and Snow carving, which he has been doing since 2006, Mike likes wood carving, photography, and water activities (swimming, waterskiing, rafting, etc.). Mike is also the president of the Society of St Vincent de Paul at St John Vianney Parish, Brookfield, WI.
Team Wisconsin 2 is Proudly Sponsored by: