2022 Parking & Shuttle Service
DIRECTIONS
Winterfest Lake Geneva takes place in Downtown Lake Geneva, Wisconsin at Riviera Plaza and Flat Iron Park along the shores of Geneva Lake. (MAP)
PARKING
Parking in the lakefront and surrounding Downtown area is metered at a cost of $2 per hour beginning February 1. Parking options include metered stalls and municipal lots, and residential streets as signed. Pay for parking at nearby kiosks using credit/debit card or coins or use the convenient ParkMobile app. Overnight parking is not permitted between 2am and 6am. Click HERE for information about City of Lake Geneva parking.
HANDICAP PARKING
Vehicles properly displaying a valid handicap placard or handicap license plate can park FREE at any designated handicap parking stall or metered stall without paying the meter. Not applicable unless the physically disabled person is present in the vehicle.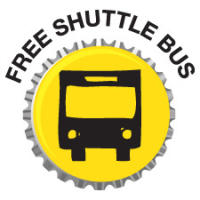 FREE SHUTTLE BUS SERVICE
No need to worry about finding a parking spot or waiting in traffic when you ride the FREE Winterfest Shuttle Bus courtesy of the City of Lake Geneva.  Shuttles pick up and drop off approximately every 20 minutes between stops.
Winterfest Shuttle Schedule:  Saturday and Sunday, February 5 and 6 from 8am to 8pm
Shuttle Pickup Locations:
1.  Park-n-Ride | Sheridan Springs Rd. and Edwards Blvd. (North of Hwy 50) (MAP)
2.  Home Depot | 550 N. Edwards Blvd. (North of Hwy 50) (MAP)
Drop Off Location:
1.  U.S. Bank | 303 Center St., Downtown Lake Geneva (MAP)