No weekend in the Lake Geneva area would be complete without trying one of our Fish Fry Fridays. Wisconsin fish fries are a culinary tradition offered year round paying homage to our Wisconsin history and fresh water lakes. Whether seeking beer battered, deep fried, or even fresh caught and broiled, our restaurants offer something for every taste. Below is a guide to some of the best fish fries around!
Where to Enjoy a Fish Fry in the Lake Geneva Area 
The Abbey Resort – Waterfront
269 Fontana Blvd, Fontana | (262) 275-1458
Enjoy our signature Fish & Chips including three pieces of walleye in our signature Spotted Cow beer batter. Each entrée is served with coleslaw, plank cut fries, and fresh lemon. The signature beer battered walleye is served daily. VIEW MENU
The Baker House
327 Wrigley Drive, Lake Geneva | (262) 248-4700
Dine with a view at the historic Baker House! Fresh Icelandic cod is served deep fried with house remoulade and fries. Available Fridays. VIEW MENU
Barrique Bistro & Wine Bar
835 Wrigley Drive, Lake Geneva | (262) 248-1948
Seafood Specials are available all-day Friday... no limits... no coupons needed. Each tasty dish is served in our regular entrée size portion at a reduced price. All seafood is shipped in fresh and is finished with our house-made sauces. And in keeping with our Fresh, Made-To-Order menu, our kitchen at Barrique Bistro & Wine Bar remains a "Fried Free Zone!" VIEW MENU
Bay Cooks
Choice of baked or fried, beer battered shrimp with cocktail sauce, three-piece fish, 2 potato pancakes, apple sauce, coleslaw, tartar cause, corn break muffin. Fridays only. VIEW MENU
Champs Sports Bar & Grill 
747 W Main Street, Lake Geneva | (262) 248-6008
Enjoy lightly breaded walleye, Icelandic cod, and fantail shrimp served with coleslaw and French fries every Friday at the three-time award recipient of Best of Lake Geneva for sports bar, live entertainment, and beer garden. VIEW MENU
Crafted Italia 
W4240 WI-50, Lake Geneva | (262) 248-3832
Known for taking an artisan approach by sourcing premium ingredients from sustainable local farms and putting a modern touch on your favorite Italian classics. Now offering a Friday fish fry with two pieces of baked or fried cod, one potato pancake or crafted seasoned fries, coleslaw, and house-crafted applesauce. VIEW MENU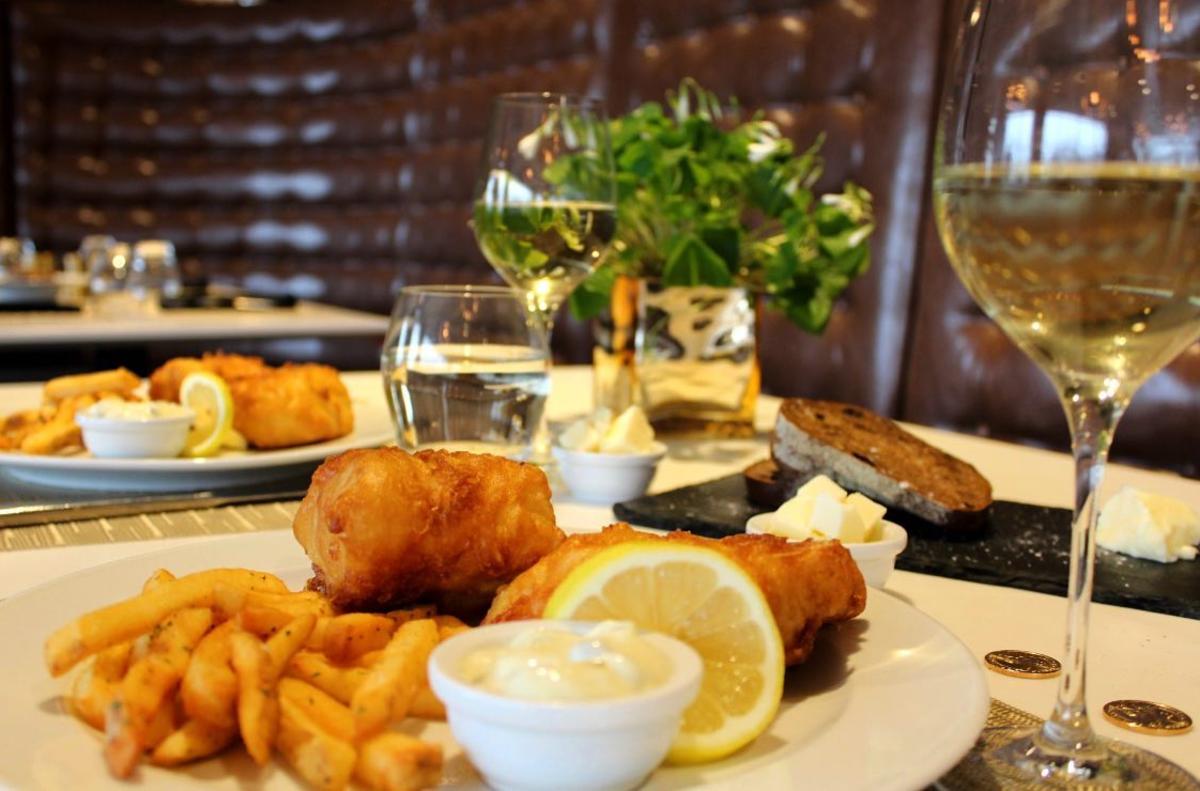 Crandall's Restaurant 
10441 IL-47, Hebron, IL | (815) 648-2609
All-you-can-eat fried Icelandic cod served with fresh baked rolls, homemade coleslaw, and choice of French fries, mashed potatoes, or homemade potato pancakes. All-you-can-eat broasted chicken and fried fish combination is also available. VIEW MENU
Evergreen Country Club
N6246 Hwy 12/67, Elkhorn | (262) 723-5722
Consistently voted the Lakes Area's Best Fish Fry, Evergreen offers an all-you-can-eat family-style fish fry with hand-battered, deep fried or broiled cod. Fish fry includes homemade potato pancakes with applesauce, French fries, corn fritters, breadsticks, and creamy coleslaw. VIEW MENU
The Fireside Dinner Theatre
1131 Janesville Avenue, Fort Atkinson | (800) 477-9505
Featuring a special Friday night fish and chicken menu with a choice of Beer Battered Atlantic Cod, Steamed Atlantic Cod with a peppercorn cream sauce, Shrimp Tempura, or Buttermilk Marinated Southern Fried Baked Chicken. All meals are served with a special recipe coleslaw, choice of potato (German potato pancakes, Baked, Yukon Gold wedges, or French fries), steamed farm fresh vegetables, and fresh breads from our Artisan Bakery. VIEW MENU
Foley's Irish Woods Restaurant 
W3905 State Road 50, Lake Geneva | (262) 245-6966
Enjoy haddock fillets marinated in Harp lager and then hand battered and delicately fried. Served with fresh, thick cut potatoes, fried granny smith apple slices with cinnamon and brown sugar, homemade tartar sauce, and malt vinegar or tartar sauce. VIEW MENU
The Getaway Restaurant  
4190 West End Road, Lake Geneva | (262) 686-3456
A Classic Wisconsin fish fry is served on Fridays only with your choice of lightly breaded and fried or baked cod. Includes choice of soup or salad and choice of potato, risotto, or vegetable of the day. Other seafood options available daily. VIEW MENU
Gordy's Boat House Bar & Restaurant
Beer battered perch filets, French fries, coleslaw, tartar sauce, fresh lemon. Served nightly. Accessible by boat with valet boat parking available in season. VIEW MENU
Grand Geneva Resort – Grand Café
7036 Grand Geneva Way, Lake Geneva | (262) 249-4788
Calling all seafood lovers! Our all-new mouthwatering fish fry features fresh and crispy cod and perch paired with latkes, slaw and whole grain remoulade for the perfect Friday night meal. Satisfy your sweet tooth by ending your meal with pies made by our in-house pastry team. VIEW MENU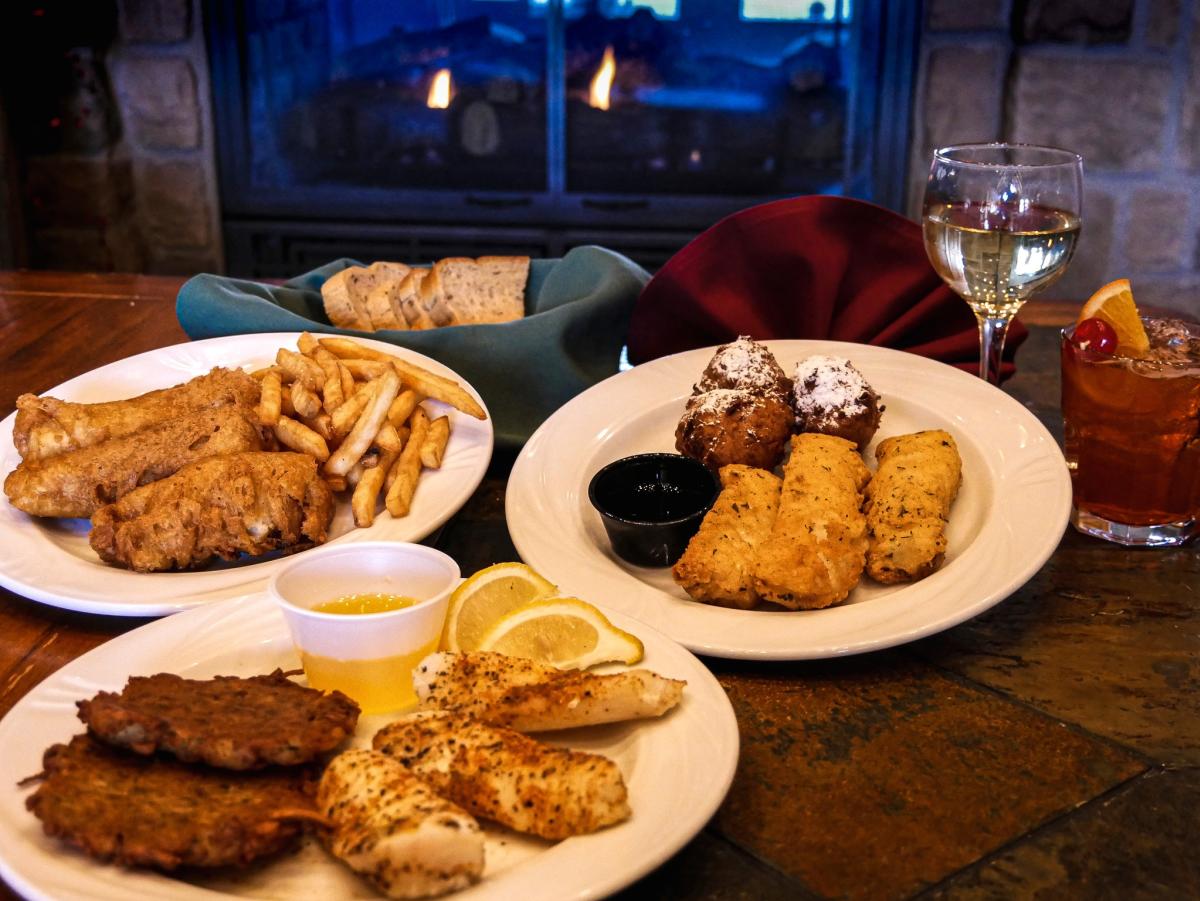 Hawk's View Golf Club Friday Fish Fry
7377 Krueger Road, Lake Geneva | (262) 348-9900
Voted "favorite" fish fry in Best of Geneva Lakes in 2022 and won second place in the 2021 "Best of Walworth County" for Fish Fry! Enjoy fresh Icelandic Cod prepared deep-fried, beer battered, or baked that is served with your choice of homemade potato pancakes with apple sauce, corn fritters with maple syrup, or French fries. All entrées include coleslaw, tartar sauce, and a lemon wedge. VIEW MENU

Lake City Social
111 Center Street, Lake Geneva | (608) 253-9109
Fish fry features battered and deep-fried cod served with tartar sauce, house made coleslaw and your choice of side. Available all week long with a discounted price on Friday's. VIEW MENU

Lake Lawn Resort - The Lookout Bar & Eatery 
2400 E. Geneva Street, Delavan | (262) 728-7950
Voted Walworth County's Best Friday Night Fish Fry. Fish fry features Spotted Cow battered cod served with hush puppies, house made apple sauce, coleslaw, crusted roll with butter, and house made chips. VIEW MENU
Legends Food & Spirits
Choose from their signature recipe breaded or broiled cod or fresh Walleye pan or deep fried. All fish includes homemade coleslaw & marble rye bread with your choice of side: homemade potato pancakes or French fries. VIEW MENU
Lucke's Cantina
Traditional Wisconsin fish fry with choice of Ocean Perch or Walleye available Wed. & Fri. only. Add one of their many specialty margaritas for a south of the border twist. VIEW MENU

Mars Resort 
W4098 S Shore Drive, Lake Geneva | (262) 245-5689
Looking for a variety? Fried bluegill, lake perch, walleye, and cod are available Wednesdays and Fridays. Cod is offered both fried and broiled. All fish fries are served with lemon, butter, tartar sauce, choice of soup, salad, or coleslaw, and choice of potato, vegetable, or corn fritters. VIEW MENU

Next Door Pub & Pizzeria 
411 Interchange North, Lake Geneva | (262) 248-9551  
This local favorite serves hand breaded lake perched or Yuengling beer battered cod fillets paired with fries, homemade coleslaw, and pub tartar sauce. Fish fry served daily. VIEW MENU

Pier 290
1 Liechty Drive, Williams Bay | (262) 245-2100
A lakefront dining experience with pan fried walleye that is lightly flour dusted for a delicate crispy coating and served with roasted potatoes and seasonal vegetables. Served daily for those craving a true Wisconsin staple! VIEW MENU

Popeye's on Lake Geneva
811 Wrigley Drive, Lake Geneva | (262) 248-4381  
Enjoy dinner with a view of the lake! Popeye's is well known for serving premium quality cod that is hand breaded and golden fried, delicately broiled, or a combination of the two! Served with seasoned fries, house made crispy potato pancake, creamy coleslaw, applesauce and hushpuppies. You get it all! VIEW MENU
Speedos Harborside
Traditional Wisconsin fish fry with a choice of Cod or Walleye with potato pancakes or French fries. Served until 8pm on Fridays. VIEW MENU

turf. Smokehouse, Geneva National Resort
1221 Geneva National Avenue South, Lake Geneva | (262) 245-7300
This classic fish fry offers two pieces of baked or fried cod, homemade potato pancakes or French fries, creamy coleslaw, house-baked apples, and tartar sauce. Available on Fridays only  VIEW MENU

Turtle Lake Tap & Grill 
N6513 Anderson Drive, Delavan | (262)-458-0342
Fish fry offerings include cod, perch, or jumbo shrimp! Dinners served with choice of chips, fries, or potato pancakes. Includes house-made coleslaw, tartar sauce, dinner roll, butter, lemon & choice of applesauce or sour cream. VIEW MENU
Please Note: Hours, menus and other details are subject to change. Please call or see restaurant website for the most current information.