Welcome MPI Great Lakes Education Summit Guests
VISIT Lake Geneva is thrilled to welcome you to Lake Geneva, Wisconsin and hope you enjoy your stay. If you're planning to arrive a few days before the start of the MPI Great Lakes Education Summit, we're happy to provide you with the following list of recommended activities and events to enjoy.
MPI GLES GRAPES & GRAIN TOUR
Saturday, November 12 | 1pm – 6pm
Join your fellow GLES attendees on this exclusive sampling tour to five of the Lake Geneva area's finest breweries, wineries and distilleries. 
$115 per person
Includes transportation and tastings at each stop along the way
Departs and returns at Grand Geneva Resort 
Click HERE for more information and to register.
---
DINING
These area restaurants are open on Sunday for those arriving to the conference early and looking for a distinctive dining experience!  (*) Denotes Downtown Lake Geneva location.
240 West at The Abbey Resort | 269 Fontana Blvd., Fontana | Sunday Brunch 9am-1pm - Dinner 5pm-9:30pm 
Arandas Mexican Grill | 322 S. 7th St., Delavan | Sunday 10am-11pm
Baker House* | 327 Wrigley Dr., Lake Geneva | Sundays – Brunch Only 9:30am to 2:30pm
Barrique Bistro & Wine Bar* | 855 Wrigley Dr. Lake Geneva | Sunday 11am-8pm
Cafe Calamari | 10 E Geneva St., Williams Bay | Sunday 5pm to 9pm
Champs Sports Bar & Grill* | 747 W Main St., Lake Geneva | Sunday 10:30am – 2am
Chuck's Lakeshore Inn | 352 Lake St., Fontana | Sunday 11am – 9pm
Crafted Italia at The Ridge Hotel | W4240 WI-50, Lake Geneva | Sunday 4pm-9pm
Flat Iron Tap* | 150 Center St., Lake Geneva | Sunday 11am to 9pm
Foley's Irish Woods | W3905 State HWY 50, Lake Geneva | Sunday 5pm – 9pm
Gino's East* | 300 Wrigley Dr., Lake Geneva | Sundays 12pm – 9pm
Grand Café at Grand Geneva Resort | 7036 Grand Geneva Way, Lake Geneva | Sunday Buffet 7:30am-11:30am, Lunch 12pm-3pm
Harpoon Willie's | 8 E Geneva St., Williams Bay | Sunday 11am-9pm
Hunt Club Steakhouse | 555 Hunt Club Ct. Lake Geneva | Sunday 4:30pm-9:00pm
Lake City Social* | 111 Center St., Lake Geneva | Sunday 11am-9pm
Lookout Bar & Eatery at Lake Lawn Resort | 2400 Geneva St., Delavan | Sunday 8am-10pm
Lucke's Cantina | 220 Elkhorn Rd., Williams Bay | Sunday 8am-9pm
Magpie's Den & Pen* | 642 W. Main St., Lake Geneva | Sunday 11am-2am 
Mars Resort | W4098 S Shore Dr., Lake Geneva | Sunday 11am-9pm
Next Door Pub & Pizzeria | 411 Interchange North, Lake Geneva | Sunday 12pm-9pm
Oakfire Pizza* | 831 Wrigley Dr. Lake Geneva | Sunday 11am-8pm
Pier 290 | 1 Liechty Dr., Williams Bay | Sunday 10:30am-8pm, Brunch 10:30am-1pm
Popeye's on Lake Geneva* | 811 Wrigley Dr., Lake Geneva | Sunday 11:30am-8pm
Sabai Sabai* | 306 Center St., Lake Geneva | Sunday 12pm-2:15pm & 3:30pm-8:15pm
Smokey's BBQ House at Timber Ridge Lodge & Waterpark | 7020 Grand Geneva Way | Sunday Breakfast 7:45am-11am
Sopra Bistro* | 724 W Main St., Lake Geneva | Sunday 5pm-9pm
Speedo's Harborside Pub & Grill* | 100 Broad St., Lake Geneva | Sunday 8am-8pm
Turf Smokehouse at Geneva National Resort | 1221 Geneva National Ave. South, Lake Geneva | Sunday 7am-9pm
Ristorante Brissago at Grand Geneva Resort | 7036 Grand Geneva Way, Lake Geneva | Sunday 5pm-9pm
Turtle Lake Tap & Grill | N6513 Anderson Dr., Delavan | Sunday 11am-9pm
Tuscan Tavern & Grill* | 430 Broad St. Lake Geneva | Sunday 11am-9pm
The Waterfront at The Abbey Resort | 269 Fontana Blvd., Fontana | Sunday 11am-10pm
Zaab Corner Bistro* | 501 Broad St., Lake Geneva | Sunday 4:00pm – 8:30pm
---
OUTDOOR ACTIVITIES
ADVENTURE CENTER AT GRAND GENEVA RESORT
Get up, get out and move about at The Adventure Center, Grand Geneva's hub for all things active. Meet us for mountain biking, hiking, disc golf, sand volleyball, slacklining, archery, picnicking and other fall adventure! More >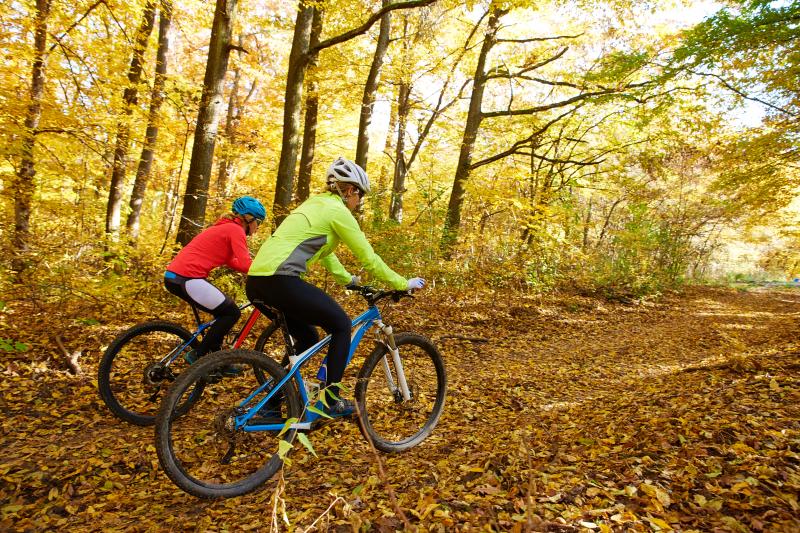 DAN PATCH STABLES AT GRAND GENEVA
Trail Rides are offered year round during regular hours by reservation. Our trail guides and gentle horses will allow you to see the beauty of the Wisconsin Countryside in a whole new way! More >
LAKE GENEVA SCOOTER TOURS
Discover breathtaking views, rolling hills, rustic roads, and lakeside rides all while experiencing the joy of riding a scooter. We provide you with maps of our favorite scooter-friendly back roads to get you out of town and into the scenic spots, or join one of the guided scooter tours and just sit back, relax, and enjoy the ride. Also try our new E-bikes! More >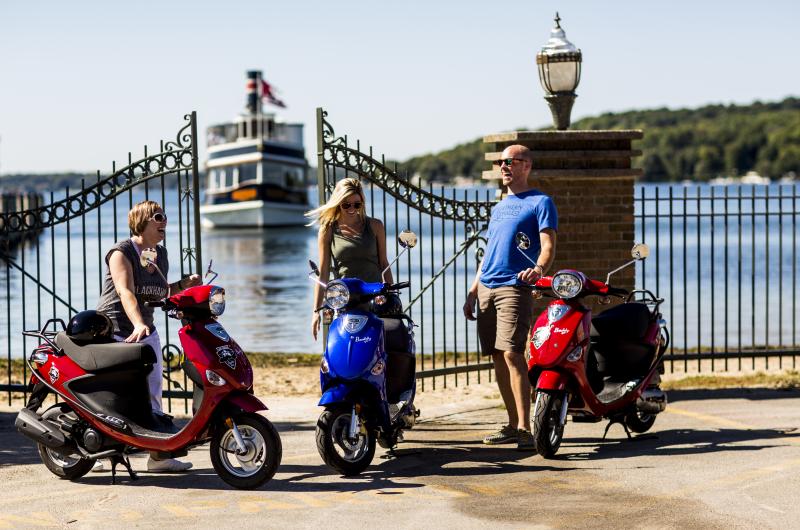 GENEVA LAKE SHORE PATH
The Shore Path around Geneva Lake offers an up-close view of historic estates and stunning homes with beautifully landscaped yards and gardens. Enjoy some of the best fall color watching from any segment of the shore path. The shoreline of Geneva Lake is approximately 21 miles and several convenient access points around the lake allow you to enjoy the path in smaller segments as time allows. More >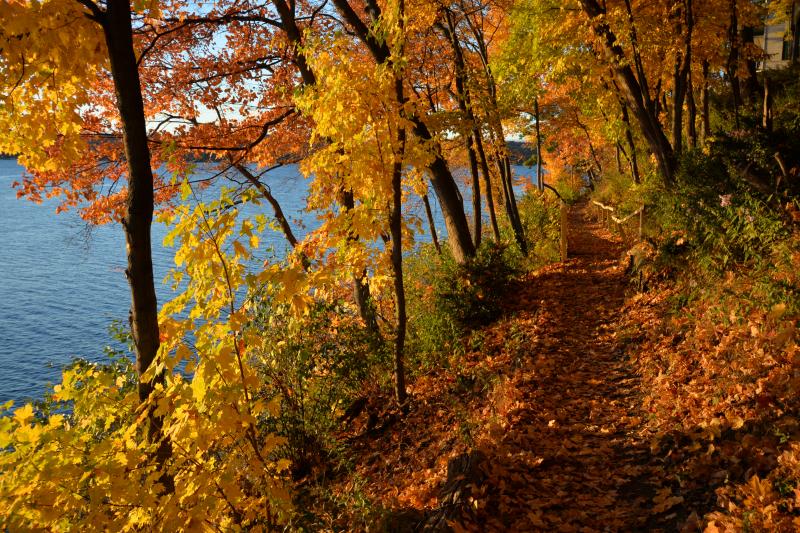 KISHWAUKETOE NATURE CONSERVANCY
Enjoy a hike or run along four miles of trails in this 231-acre nature conservancy. Kishwauketoe is home to a variety of ecosystems including prairie, oak woods, kettle, meadow, deciduous forest, an arboretum, and two creeks. Observe the different plant communities and discover where and why they change. A boardwalk and tower enhance viewing. More >
LAKE GENEVA ZIPLINES & ADVENTURES
(November schedule pending)
Zipline tours, High Ropes Excursions, hiking and mountain biking trails, customized team building programs – Lake Geneva Ziplines and Adventures has experiences for everyone! More >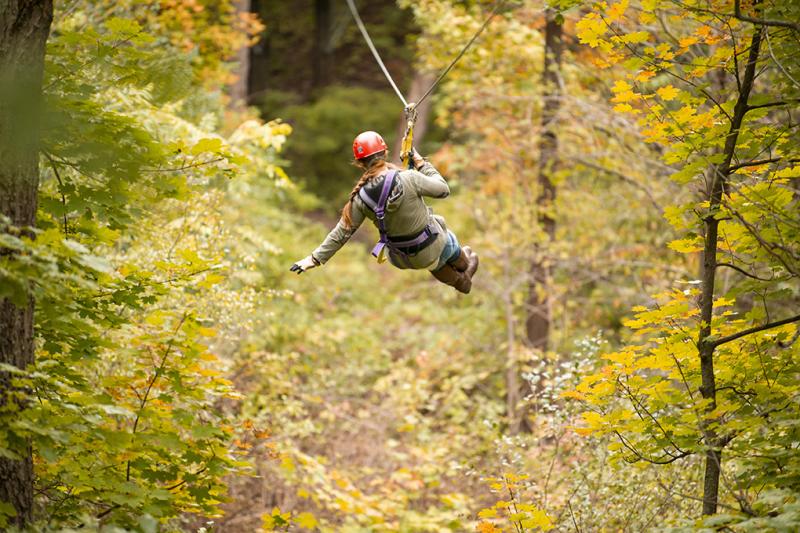 ---
ATTRACTIONS & ENTERTAINMENT
BELFRY MUSIC THEATRE | Back in Time: Huey Lewis & The News Tribute
SAT, NOV 12
Back In Time works to recreate the energy and excitement of a Huey Lewis & The News live performance. We guarantee you'll be singing along with every song as we take you on a trip through the 80's. A top notch show bringing together all the hits from Huey Lewis & the News and the 80's. More > 
FIRESIDE DINNER THEATRE | Irving Berlin's White Christmas
SAT & SUN, NOV 12 & 13
Based on the beloved film, this heartwarming stage adaptation features 17 Irving Berlin songs. Two World War II Army veterans with a successful song-and-dance act follow a duo of beautiful singing sisters to their Christmas show at a Vermont lodge. With a series of romantic mix-ups and a dazzling score including the perennial title song, White Christmas is an uplifting musical especially loved at Christmas. More > 
TRISTAN CRIST MAGIC THEATRE 
SAT, NOV 12 | 5:00pm
Voted the #1 Lake Geneva Thing To Do and show on TripAdvisor, the Tristan Crist Magic Theatre is the area's premiere entertainment option.  Enjoy MAGIC, COMEDY and ILLUSION with award-winning performers. More >

DANCING HORSES THEATRE HOLIDAY SHOW
SAT & SUN, NOV 12 & 13 | 1:00pm & 7:00pm
Experience the beauty of The Dancing Horses, as we take you on a magical journey. Experience the pageantry, and elaborate glitter and rhinestone costumes of The Dancing Horses show. Experience what our guests describe as amazing, breath taking, inspiring – and a must see, one of a kind performance! More >
YERKES OBSERVATORY
SAT, NOV 12 @ 2:00pm | SUN, NOV 13 @ 12pm & 2pm
Yerkes Observatory, the birthplace of modern astrophysics, is an architectural masterpiece on fifty acres of Olmsted-designed ecological splendor. Since 1897, Yerkes has been the home and school to famous astronomers, Nobel prize winners, and renowned scientists. Today, Yerkes is open for public for the first time. More >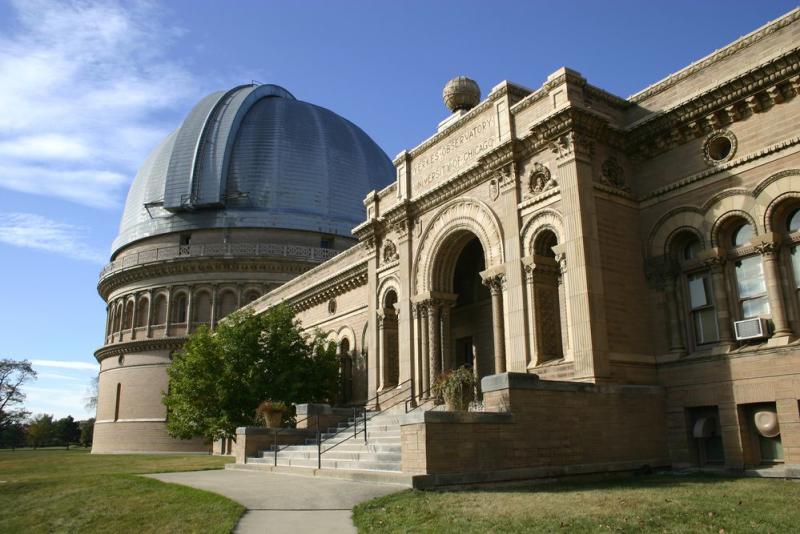 ---
Questions? Our Visitor Information Center team is ready to help! Available daily from 10am to 5pm, you can reach us by:
Phone - call us at (262) 248-4416
Email - send us an email at info@visitlakegeneva.com 
In Person - visit our Information Center at 201 Wrigley Drive, Lake Geneva (MAP)