Area Business Updates
Wisconsin's Safer-at-Home order is no longer in effect as of May 14, 2020. This page is being updated to advise that are now open or will be opening. Please note that some businesses may have new hours or service methods as they put their health and safety measures in place. We recommend checking the business' website or social media pages for the most up to date information.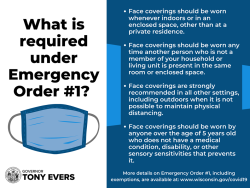 UPDATE: Effective August 1, 2020, the State of Wisconsin has issued an Emergency Order requiring all persons age five and over to wear face coverings (masks) when indoors or in an enclosed space (not including personal residences). Click HERE for more information.  
FOOD & DRINK
Note: restaurants listed below are open or are scheduled to open for inside dining. (*) Denotes outside dining also available. Click HERE for a list of restaurants also offering takeout, curbside pickup and delivery services.

Aeppeltreow Winery - Open
Apple Barn Orchard & Winery - Open
Avant Cycle Cafe - Open 
Baker House – Open
Barrique Bistro & Wine Bar *– Open
The Bottle Shop* - Open
Champs Sports Bar & Grill* – Open
Chuck's Lakeshore Inn - Open
Crafted Pizza & Tap at The Ridge - Open 
Duck Inn – Open
Evergreen Country Club Dining – Open
Fire 2 Fork – Open
Gino's East*- Open
Gordy's Boat House* - Open
The Grandview Restaurant at The Geneva Inn - Open
Hawk's View Golf Club Dining – Open
Hunt Club Steakhouse - Open
Jimmy John's - Open
Next Door Pub & Pizzeria – Open
Oakfire* – Open
Pedal & Cup - Open 
Pier 290* – Open
Popeye's on Lake Geneva* - Open
Simple Cafe - Open
Sopra* – Open
Speedo's Harborside Café* – Open for outdoor dining
Sprecher's - Open
Staller Estate Winery - Open
Studio Winery – Open
Tuscan Tavern & Grill*– Open
turf. kitchen + tap - Open 
The Waterfront at The Abbey Resort* - Open
LODGING
Abbey Resort - Open
Baker House - Open 
Bella Vista Suites - Open
Big Foot Beach State Park Campground - Open
Comfort Suites Lake Geneva East - Open
Delavan Lake Resort - Open
Endless Summer Nites of Lake Geneva - Open
Fairfield Inn & Suites, Lake Geneva - Open
French Country Inn - Open
Grand Geneva Resort - Open
Harbor Shores on Lake Geneva - Open  
Holiday Inn Club Vacations at Grand Geneva - Open
Humble B & B - Open
Lake Geneva Motel - Open
Lake Lawn Resort - Open
Lazy Cloud Lodge - Open 
Maxwell Mansion - Open
Mill Creek Hotel - Open
Seven Oaks Bed & Breakfast - Open
The Cove of Lake Geneva - Open
The Geneva Inn on Geneva Lake - Open
The Ridge Hotel - Open
Timber Ridge Lodge & Waterpark - Open
Ye Olde Manor House Bed & Breakfast - Open
RETAIL
Allison Wonderland - Open 
Angelus Home & Garden  - Open
Avant Cycle Cafe - Open
Beef Jerky Outlet – Open
The Bottle Shop - Open 
Brick & Mortar Home & Outdoor - Open
C.R. Goodfinds - Open
The Candle Mercantile - Open
The Cheese Box - Open
Clear Water Outdoor - Open
Constant Cravings - Open
Cornerstone Shop & Gallery - Open
Discover CBD - Open
Elegant Farmer - Open
Fontana Home - Open
Galerie Matisse - Open
Gallery 223 - Geneva Lake Arts Foundation - Open
Geneva Gifts - Open
Gordy's Lakefront Marine - Open
Green Grocer - Open 
Haberdapper - Open
Hannah's by the Lake - Open
JAYNE - Open
Kilwin's Lake Geneva - Open
Lake Geneva Country Meats - Open
Le Cookery - Open 
Lorelei Bittner's Bakery - Open
My Sister and Me Vintage Goods & Gifts - Open
Something Sweet - Open
Summer Made - Open
The Olive Oil Shop - Open
The Opal Man - Closed
The Pet Gourmet - Flagship Store – Open
Something Sweet - Open 
Twelfth & Brown - Open
GOLF COURSES
Abbey Springs - Open 
Evergreen Country Club - Open
Geneva National Golf Club - Open
Grand Geneva Golf - Open
Hawk's View Golf Club - Open
Majestic Oaks Golf Course - Open
SALONS & SPAS
Avani Spa at The Abbey Resort - Open
Calladora Spa at Lake Lawn Resort - Open
Clear Water Salon & Spa (Lake Geneva) - Open
Clear Water Salon & Day Spa (Williams Bay) - Open
WELL Spa + Salon at Grand Geneva Resort & Spa - Open
ATTRACTIONS & ENTERTAINMENT
Black Point Estate & Gardens - Open
Dancing Horses Theatre - Open
East Troy Railroad Museum - Open
Emagine Theater Lake Geneva - Temporarily closed
Geneva Lake Museum - Open
Geneva Lakes Family YMCA - Open (by reservation)
Lake Geneva Balloon Co. - Open
Lake Geneva Canopy Tours - Open
Lake Geneva Clue Room - Open
Lake Geneva Cruise Line - Open 
Lake Geneva Ghost Walks - Open
Lake Geneva Public Library - Open (curbside pickup also available)
Lake Geneva School of Cooking - Open
Nailed It DIY Elkhorn - Open
Royal Oak Farm Apple Orchard - Open
Safari Lake Geneva - Open
Timber Ridge Lodge & Waterpark - Open
Tristan Crist Magic Theater - Open
HEALTH & WELLNESS
Athletico Physical Therapy - Open
Discover CBD - Open
 
HOME & PERSONAL SERVICES
Alden's Kennels Inc. - Open
Clyde Brothers Construction & Home Improvements – Open
Dirty Dogs Grooming Salon & Pet Supplies - Open
Dreiske Moving & Storage - Open
Keefe Real Estate - Open
Komfort Heating & Cooling, Inc. - Open
McCormack + Etten / Architects LLP – Open