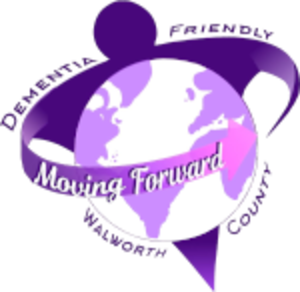 DEMENTIA FRIENDLY COMMUNITY INITIATIVE - WALWORTH COUNTY
Elkhorn, WI
Website | Phone: (262) 320-7325
Providing education on communications with Alzheimer's and dementia.  Providing bicycle outings to those that are isolated in their lodgings.
Mission:  The stories tell our mission. It is two-fold. The first is to educate our community on how to best communicate with those individuals with Alzheimer's and dementia to avoid conflict situations. To know how to treat them with dignity and respect. To help ensure that they live the best lives that they can. Second is providing experiences that make a difference in their lives with our free bike rides. When we ask why they like to ride we get different answers but one that keeps coming up is, "because we can". After hearing that several times I asked, "what do you mean 'because you can?'" They tell me, "This place is great, good staff, good food, very clean. But they forget all we have is four walls to look at. On the bikes we get the sun, flowers, birds, and those horses out in the field. The rides are better than when we were kids, we don't have to watch where we're going, look for potholes, the traffic, or anything else. We simply get to enjoy the fresh air and the wind in our hair. We get to remember things we did when we were young." 
Community Resources:  We have trained police, first responders, civil employees, businesses, churches and groups on how to best communicate with people with Alzheimer's and dementia.  A special program is Cycling without Age, where we reach out to senior apartments, nursing homes and assisted living and provide outings to their residents that have been isolated, allowing them the opportunity to enjoy nature at its best.
Most Urgent Need:  We need to promote the expansion of our program, let the community at large know that these 120+ events we are offering this year is open to all at no charge and get more volunteers to pilot our bikes.  We also need to obtain indoor storage space for our bikes over the winter months.

---