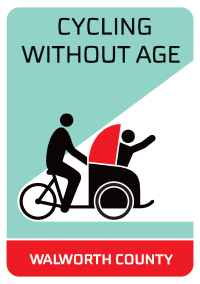 DEMENTIA FRIENDLY COMMUNITY INITIATIVE - WALWORTH COUNTY
Elkhorn, WI
Website | Phone: (262) 320-7325
Provide educational programs providing free education that helps improve the lives of those living with Alzheimer's and dementia as well as their caregivers.
Mission: We train people how to build dementia friendly communities.  By meeting with local businesses, churches, libraries, police and fire departments and others, we present helpful strategies to transform their locations into places where caregivers and dementia impacted people feel more comfortable. We increase community awareness through education and resource sharing, fostering respect, compassion, and support for anyone impacted by dementia throughout Walworth County. We will work to identify, cultivate, and continually support champions in local communities to enable and equip leaders to develop strategies to achieve dementia friendly communities; Increase community awareness through education and by sharing resources; Provide inclusive programs and activities and Foster respect, compassion, and support through community outreach.
Community Resources: Our education program has trained over 5,000 individuals (so far) to recognize people with dementia and Alzheimer's. We have trained police, fire, first responders, business, faith communities, and organization through-out Walworth County. For example, if a police officer pulls someone over and recognizes that person has dementia, they can get them home safely. A business now knows how to handle someone that at first glance looks like they might be shoplifting, but is not! It all helps with developing respect, understanding and support of everyone in the community especially to those who have provided so much to our history.   
Most Urgent Need: Our newest program is called Cycling Without Age. Cycling Without Age brings joy and vitality to non-driving, older adults, those with Alzheimer, dementia, differing abilities, and those that are lonely and isolated; with a trishaw, a three -wheel, electric pedal-assist cargo bike, that carries one to two passengers, at no charge. The bikes are safe, equipped with seatbelts and driven by a trained and certified volunteer pilot. Typical rides are 30 to 45 minutes depending on location, comfort and destination. It is all about getting out to enjoy the fresh air and getting younger people involved, not only to drive the bikes, but to have conversations, develop relationships, learn from, and the elderly will have someone to listen to them. We create a world together, in which the access to active citizenship creates happiness among our community members by providing them with an opportunity to remain an active part of society and the local community. We do that by giving them wind in their hair, and the right to experience the city and nature up close from bicycles and by giving them an opportunity to tell their story. That way we build bridges between generations and we reinforce trust, respect, and the social glue in our society. We need volunteers for scheduling and promotion as well as volunteers to transport the trishaws in our trailer. We also need financial support to cover the operating costs of the program!