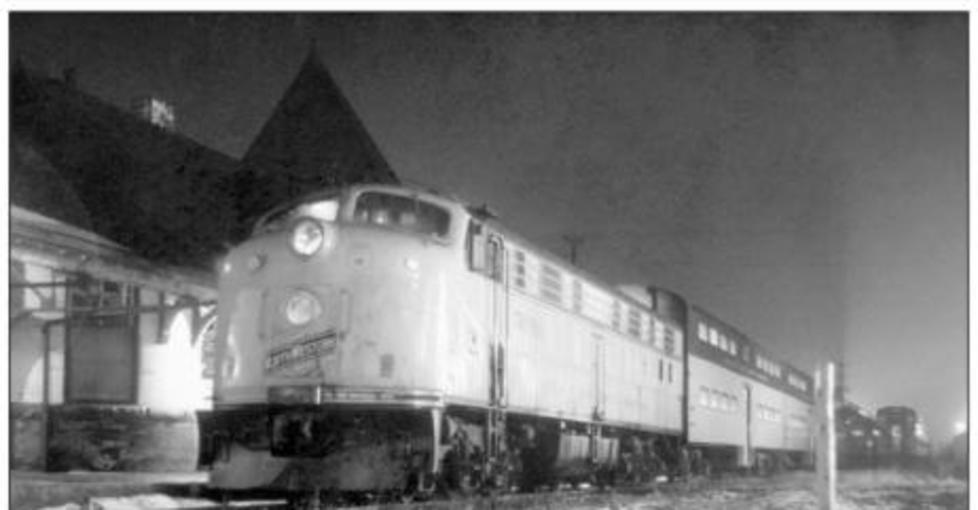 Photo Credit: https://books.google.com/books Chicago North Western Railroad Lake Geneva
ALL ABOARD FOR LAKE GENEVA!
1871: The two most significant events that helped propagate what Lake Geneva is today, were the first train service to enter the area and the Great Chicago Fire on Oct. 8 – Oct. 10, 1871.  Both ironically took place the very same year, exactly three months apart. On July 20, 1871, the first locomotive entered into Lake Geneva, WI stopping at the now historic Lake Geneva Depot railway site located on downtown's Sage St.


1850:  The first train service to enter into Lake Geneva was from Elgin, Illinois making it a quick and easy route to reach the lake via the Chicago & North Western Railway famously named The Lake Geneva Express. Cars consisted of first-class coaches, buffet smoking cars and parlor cars.

3 Chicago Routes to Lake Geneva, WI
ELGIN, IL : Chicago & North Western Railway


CRYSTAL LAKE, IL: Wisconsin Division

HARVARD, IL: Chicago & North Western Line: Connecting to Fontana, WI: Chicago, Harvard & Geneva Lake Railway Electric Line
1880: The famous Chicago Northwestern Railroad spur between Lake Geneva and Williams Bay came in the 1880's.  The Geneva Lake Trains Service consisted of the Chicago, Harvard & Geneva Lake Railway Company.  It was extended from downtown to Williams Bay in 1888.

1899: The Chicago, Harvard & Geneva Lake Railway Electric Line was completed in 1899. It connected the Chicago, North Western and Milwaukee Road for Fontana, WI.  All railway lines were terminated on August 11, 1975, exactly 125 years after the first engine entered into Lake Geneva's downtown depot in 1871.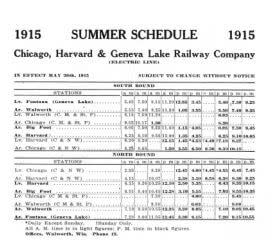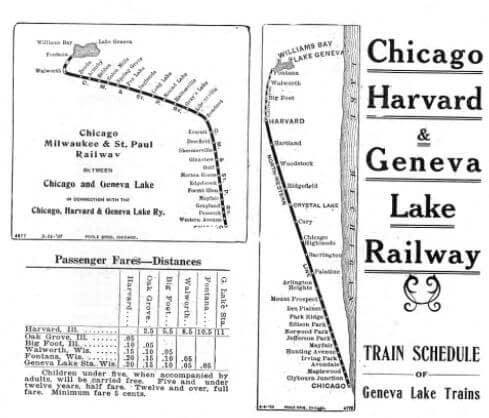 Photo Credit: www.naotc.org
1932: The Chicago, Harvard & Geneva Lake Railway line was only in operation for a total of 32 years as it was abandoned in 1932. While in use, wealthy Chicago natives would escape to their lake homes on Geneva Lake via this famous railway line year round. During this era, many of Chicago's wealthiest in 1932-1935 the train fares were 10 to 15 cents per person and only five cents for children or students. While travel within Chicago's city limits at the time would only cost five cents per person to any one point in the city, via the Chicago Elevated Railroad system circa 1918.
The three most famous train depots in the Lake Geneva Region consisted of the Chicago & Northwestern main line at the Lake Geneva Depot Station in downtown Lake Geneva, the Railway Station and Docks at Williams Bay on Geneva Lake. What is now known as Williams Bay Beach.  The depot was located, lakefront for commuters to dock their boats at municipal pier, hop aboard a steam boat for downtown, or board the train for Chicago.  Lastly the Como Train Station, which was once a boxcar, located in the Town of Geneva seated on Como Lake.

Photo Credit: wisconsinhistory.org

SKI HILL ON THE LAKE:

1957:  William "Billy" Grunow built the ski hill when he was 27 years old.  He owned it until March 7, 1988, when a fire destroyed the chalet and closed the hill. During its 31 years, many Chicago natives would flock to the lake for ski instructions and a fun filled day tobogganing down the hill at a discounted rate of $10. It was a unique experience at Majestic, being one of the very first ski hills to allow snowboarding and anything goes type of attitude. Unfortunately in 1988 after a not so exciting winter and an unexpected fire, the Majestic never reopened. Additionally, the competition from Wilmot, Alpine Valley and Americana (Playboy) led to the decision to close its doors for good. The ski hills remains are still intact and are visible from Geneva Lake, offering some of the best views around.
Photo Credit: https://skimap.org
LAKE GENEVA'S FAMOUS PAST: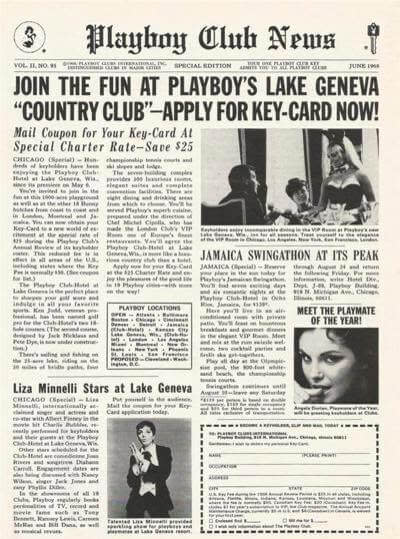 1968:  Playboy founder and President Hugh Hefner, who just recently passed away on Sept. 28, 2017, arrived at the site of the future Playboy Club-Hotel in Lake Geneva by helicopter for the grand groundbreaking of the new resort opened on May 6, 1968. Hefner set off dynamite to signal the official groundbreaking. Local dignitaries enjoyed a gala celebration under a tent while skydivers dropped onto the property, one of whom carried an Olympic-style torch and a Playboy flag to plant in the ground. 
The Lake Geneva Playboy Club Hotel, served as a luxury escape for Midwest travelers. The resort brought a touch of glamour to the small lakeside community including famous acts like Liza Minnelli (as seen above in the Playboy Club News article), Sonny and Cher, Bob Hope, and Tony Bennett.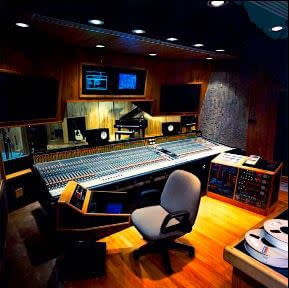 But that's not all! Most are not aware that a famous recording studio was born in 1978 inside The Playboy Country Club grounds famously named Shade Tree Recording Studio where John Cougar Mellencamp recorded. Until March 24, 1982, when Hefner sold the hotel and recording studio to Chicago based Americana Hotels Corp. and the resort was renamed The Americana Inn. The Lake Geneva Playboy Club-Hotel reportedly sold for $11.95 million, according the The Chicago Tribune.  It was renamed Sound Summit in 1984 -1986 when famous acts like Survivor and Cheap Trick recorded there, and once again renamed to Royal Recorders, which is where T'Pau, Guns and Roses, Bon Jovi, Adrian Belew, Robert Plant of Led Zeppelin, Enuf Z'nuf, Crash Test Dummies, Nine Inch Nails, Live, the Red Hot Chili Peppers, and Top Gun Soundtrack was created along with many more famous artists that came through its doors.  The studio was sold again in 1992, and the name was one last time changed to Music Head Studios before officially closing its doors for good in 1995.

Today the renovated modern feel was revived by Milwaukee-based Marcus Corporation making this historic resort what it is known today, as a family-friendly, year-round vacation destination titled the Grand Geneva Resort & Spa. Featuring 355 luxurious guest rooms, three gourmet restaurants, an outdoor fireplace lounge, championship golf courses, and a Scandinavian day spa titled the WELL Spa. Today the Timber Ridge Lodge & Waterpark was added in 2001 including 225 rooms, a water park, gift shop, fitness center and on-site restaurant. Just recently Grand Geneva added the Holiday Inn Club Vacation Rentals that include spacious hotel-suite, condo-style 1- and 2-bedroom villas from 531 to 1,314 square feet. Along with their newly remodeled three-bedroom villas complete with kitchen and king-sized bed and the larger deluxe villa with a cozy fireplace and jacuzzi.
Seeking more information about Grand Geneva's interesting past? Check out their "Playboy History with a Twist" event going on now. Learn about the artists that performed and recorded at the Playboy Club and mix some of their favorite drinks at Grand Geneva Resort & Spa. http://ow.ly/kk8i30g7QWU
Works Cited:
https://books.google.com/books Chicago North Western Railroad Lake Geneva
http://articles.chicagotribune.com/1994-03-14/business/9403140141_1_marcus-hotels-grand-geneva-resort-million-renovation
http://www.bestoflakegeneva.com/content/news-lake-geneva%E2%80%99s-shade-tree-recording-studio