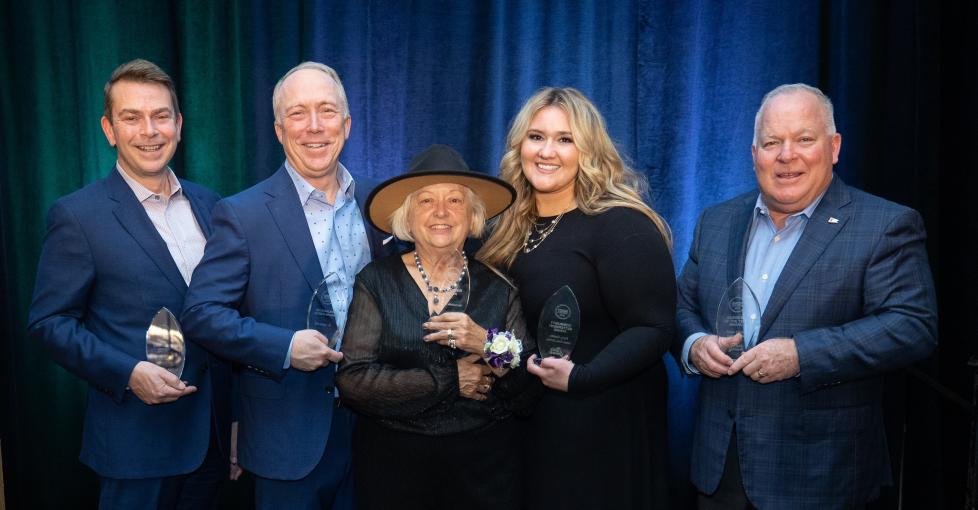 Meet the Class of 2023, who share some very engaging personality traits, with high energy, humble disposition, and an incredible sense of joy among them. Shown above (left to right): Skip Harless, Grand Geneva Resort & Spa; Bill Gage, Jr., Gage Marine Corporation; Bernadette Russow, Dementia Friendly Community Initiative; Kelly Gerlitz, Lake Geneva LifeWay; FJ Frazier, Gage Marine Corporation.
Business of the Year Award: Gage Marine Corporation
This award is presented to a business or organization that exemplifies excellence in business culture and embodies social responsibility by giving back to the local community.
For locals and visitors alike, Gage Marine is a beacon of the Lake Geneva area and pied piper for the joys of lake life. But more than that, it is a shining example of how a belief in the pillars of community, commerce, and charity working together can accomplish so much. As owner Bill Gage, Jr. noted, "We live those words, community, commerce, and charity, and we show by example."
Between the Lake Geneva Cruise Line, Pier 290 restaurant, and Gage Marine boat sales and services, you could say this is a business model that reaches people wherever they are in their lives. "We have wake surfing for the younger generation, lake tours where we share the history of the area, good Wisconsin comfort food and ice cold drinks are served in our restaurant, we host weddings, and we have a Santa Cruise where Santa knows every child's name," said Bill. "We have an obligation to share our special location with people."
There's something else that Gage Marine shares and that's much-needed resources. The company took the occasion of their 150th anniversary this year and turned celebration into a giving windfall for the community, donating a total of $150,00 to 15 different local organizations. "That giving during our anniversary year has been so humbling, there are so many needs in the community that people don't see, so we'll use the 150th as a springboard to continue driving awareness of community needs," shared Bill.
While Gage Marine has grown over the years, Bill was quick to point out that it remains a family business with a culture of stewardship forged by his parents and grandparents. "We have many employees who have been with us for a long time and I believe they stick around because of that culture of making others feel valued and the chance to leave this place a little better than how we found it."    
"The idea of service and sharing feels very Wisconsin to me," noted Bill. "We feel good by making others feel good."
Rising Star Award:  Bernadette Russow
This award is presented to a person, organization, or business who, in five years or less in their respective field, has made a substantial impact in their profession.
Bernadette Russow never received an award before. When asked what she thought about this award as her inaugural win, she laughed and said, "Dusty rising star, maybe!" That self-effacing quality has surely endeared her to the thousands of individuals, businesses, organizations, and volunteers who have come to know her through her work in launching the Dementia Friendly Community Initiative back in 2016. Along with providing dementia-friendly training to police, first responders, religious organizations, and businesses, the Initiative also helps people locate dementia resources. Respect, compassion, and support are offered every step of the way, with the goal of reducing isolation and improving the quality of life for Alzheimer's patients and their caregivers. The need is urgent and growing, as Alzheimer's diagnoses in Walworth County are expected to double by 2040.
The "rising star" part of her Impact Award is for the program she started three years ago, Cycling Without Age. Volunteer "pilots" pedal bikes called tri-shaws that are outfitted with seating for two in the front so that riders can feel the wind in their hair, see the sights, and smell the flowers. The idea of going for a ride, which sounds so simple on the surface, has profound benefits. It's an opportunity for residents of area homes who have dementia or Alzheimer's to escape isolation and boredom and to remember the good times.
When asked about the program's early success, Bernadette shared some astonishing numbers. "The first year we did 200 rides, the second year 600, and this year we're already at 1,400 and counting," she said. Bernadette noted the bikes were purchased with the help of donations and that she's waiting on delivery of four more bikes any day now to keep up with demand. The rides start in April and go to the end of October, weather permitting.
Bernadette made the point that the visual of volunteers and riders making their way through the community creates awareness. "People honk their horns and wave, and the more bikes we have, the more the community will want to know what's going on and will want to get involved."
Bernadette, who with the help of her husband cared for her own father through dementia, mentions how those with Alzheimer's "have done so much for us" and how this bike program is a way to give back. "It shows residents and visitors that we value people with dementia as members of our community."
Hospitality Award: Skip Harless
This award is presented to a person, business or organization who exemplifies outstanding customer service, care, and hospitality.
Skip Harless has a big title, Managing Director of the Grand Geneva Resort & Spa, a property which is as far from a run-of-the-mill hotel as you can get. It has suites and villas, special event spaces, numerous dining experiences, a world-class spa and salon, spacious fitness center, golf courses, even a ski hill. The resort complex is sprawling at 1,300 acres, with the land arguably its most beautiful feature. At peak the Grand Geneva employs 1,200. Yet when you ask Skip to describe his job, he'll tell you he manages by walking around.
"The whole reason I got into this profession is the energy I get from associates and guests, the excitement of people coming here for special reasons," said Skip. "I believe in servant leadership, listening to everyone and sharing ideas on what we can do better, and I just love when I feel like I've made someone's day." He praised the work of the associates, his term for employees, who take great care to deliver a wonderful experience.
Now here's the interesting backstory. Skip didn't start out in the hospitality industry. "In college I was in a performing arts program with an emphasis on directing," he shared. "As a director your job is to bring out the best in people, to help them understand vision and motivation, and that perfectly translated to a career in hospitality." Also consider he's from west Texas. "I never thought I would live this far north, but my wife is from Michigan," he said with a laugh. "We love the Lake Geneva region and people in my industry work for years to have a shot at taking the helm at such a spectacular resort as the Grand Geneva."
Skip went on to say he's just getting started in Lake Geneva when it comes to being a good community partner. "I would rather jump up, participate, be part of the action, and be willing to help because I'd want someone to do that for me too," he said. "I know I can do so much more."
Community Betterment Award: Lakes Area LifeWay
This award is presented to a non-profit organization which enhances and improves the quality of life in the Lake Geneva region.
When asked the mission of Lakes Area LifeWay, founder, CEO, and Lake Geneva native Kelly Gerlitz said it's simple, it's "connection." When she started the organization two years ago, it was with a goal to provide people with chances for enrichment, to help people invest in themselves, in their mind, body, and spirit. "To achieve that, we needed to build a bridge between local business leaders and non-profit groups in new, fun, and refreshing ways," said Kelly. She went on to say she's been amazed at the deep relationships that have already been formed and the resources that have been shared in creating programs like their summer camp for children with special needs which brought together specialists in the field and events like their wildly successful Mr. Lake Geneva Pageant which has already raised tens of thousands of dollars for causes including the fully accessible Never Say Never Playground and United Way programs selected by the pageant contestants themselves.
So how is Lakes Area LifeWay different from other charitable groups? "We're not targeted toward just one group, LifeWay is for everyone, it's multi-generational and multi-denominational," explained Kelly. She elaborated, "Wherever you are at, we want to have a program for you."
On a scale of 1-10, Kelly's energy and enthusiasm for her work is an 11. "We're helping to share resources, to raise money and awareness, and we're creating connection by giving back and serving one another." There's that beautiful word "connection" again.
Outstanding Citizen Award: Bill Gage, Jr.
The Outstanding Citizen award is presented to person who represents the Lake Geneva region at its very best, consistently making a positive difference.
A few minutes with Bill Gage, Jr., third-generation owner of Gage Marine, and there is no mistaking his passion for doing good is genuine, his values grounded, and his energy for life off the charts. Those traits not only define a good citizen, they also earned him the title of Outstanding Citizen for 2023. As Bill put it in acknowledging the award, "If we can help others and ourselves be 1% better, then we create a great citizenship." Bill likes to focus on the long view and legacy. "I want to leave something lasting and wonderful." That something "wonderful" would be making people happy by helping them connect with each other over great experiences – he says he's a host by nature – with those experiences, in turn, creating great memories. "Connecting people is a powerful elixir." He also speaks of inclusion, finding agreement where there is disagreement, and caring not for credit but for getting something positive done and done well. "When you do the right thing, you are never left wondering." Seems Bill had a wonderful example in his mother, Maggie Gage, who won the Outstanding Citizen award last year, marking the first time a mother and son have both won the award. 
Along with his work running the Gage Marine family of businesses which include the iconic boat tours, a restaurant, and marine sales and service, Bill makes sure that philanthropy has a place on his calendar too. "My family will tell you that I believe there are 30 hours in every day," he chuckled. His giving pursuits are many, from making sure local food banks are stocked to contributing to water safety, lake quality, and land conservancy.
Finally, let's add humble to Bill's list of personality traits. "I find it shocking that a boat guy is named citizen of the year," he said.