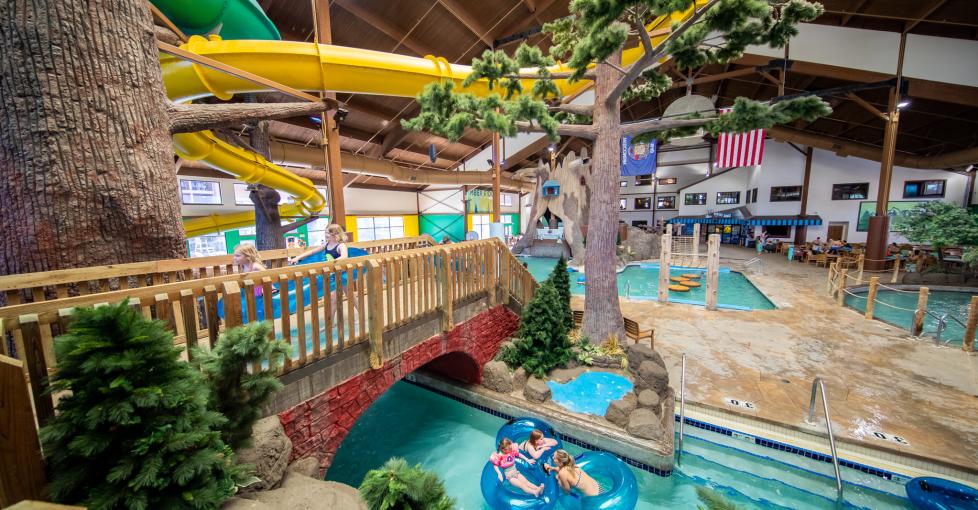 Are you getting the family travel bug? Spring break is right around the corner and the best part of visiting the Lake Geneva area during spring is that there is something fun to experience for all ages with both indoor and outdoor adventures! Check out our must dos while visiting us!
 
SPLASH AND STAY
Where: Timber Ridge Water Park | Area Lodging
Nothing says a fun break like visiting Lake Geneva's very own water park. Enjoy 35-foot-high slides, unwind in their lazy river, swim in warm water pools, and let the littles splash around to enjoy slides, swings, and water tables. Passes are included with your overnight stay, or you can plan a "daycation" experience for your family.
If wanting to find a great place to unwind with an indoor pool, the Lake Geneva area has so many options to choose from! And the best part of staying at one of our area hotels and resorts are the amenities and built-in entertainment. Take a trip to the arcade, sign up for a paint and sip, rent a bike, or join in on one of the many tailored indoor/outdoor activities that will create long lasting memories for the whole family. 

OUTDOOR FUN
Where: Horseback Riding at Wild 3L Ranch | RHC Paintball Fields | Lake Geneva Ziplines & Adventures
Spring is the perfect time to get back outside and try something new. Lake Geneva area has so many ways to capture the fun of the great outdoors. Explore Kettle Moraine State Park on horseback with guided tours fit for every experience level. Wild 3L Ranch offers a full range of adventures including lessons, guided short and long trails, sunset and moonlit rides, overnight trips, and more.
If a competitive activity sounds like a blast, taking an excursion out to RHC Paintball Fields will be sure to impress. With several themed fields like the Doomsday or Gold Rush, these obstacles and play time options create the ultimate fun-yet-messy experience. Best part is you can bring your own equipment or rent whatever you need.
Or perhaps seeing the great outdoors sounds more interesting above the treetops?! Experience Lake Geneva Ziplines & Adventures where you can take your family to explore up to nine unique lines on a guided tour and join their high ropes course to tackle 16 fun and challenging obstacles 30 feet in the air! LEARN MORE>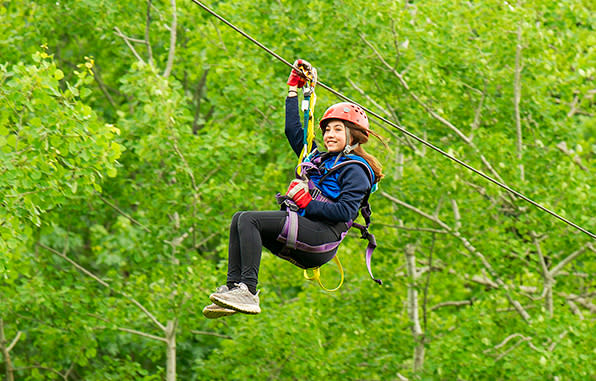 FAMILY BONDING ACTIVITIES
Where: Lake Geneva Clue Room | The Lake Geneva School of Cooking
What better way to get closer with your loved ones than to plan an immersive excursion?  Sign up for a real challenge at the Lake Geneva Clue Room where your group will have just 60 minutes to be your own detectives unlocking the codes to solve the puzzle and escape! With several themed rooms and difficulty levels you can keep coming back for a new experience. Or try your hands at becoming Julia Child and sign up for a family night of cooking. Chef John at Lake Geneva School of Cooking offers a variety of culinary themed meals with no expertise necessary. Learn to slice, dice, and taste all the ingredients of a gourmet meal. Fun for the whole family and a way to bond over a new skill!

EXPLORE HISTORY
Where: Geneva Lake Museum | East Troy Train Museum & Delavan Train Show | Dungeon Hobby Shop Museum  
Want to offer fun educational learning for your family? With Lake Geneva being a popular tourist destination since the 1800's, it comes to no surprise that there would be so much history to explore. Stop into the Geneva Lake Museum in the heart of our downtown to catch a glimpse of what life was like on Main Street from 1830-1930. You'll be able to peek into historic stores, homes, and even its school room while learning about ice harvesting, local boating, and more.
For the train lovers in your life, a short scenic drive from Lake Geneva will bring you to the East Troy Electric Railroad Museum. Opening their train lines annually in April, this is a great way to see the beautiful Kettle Moraine countryside, tour restored trolleys and coaches, and visit the depot museum's rail treasures. If visiting this March check out the 2022 Delavan Train Show arriving in historic Delavan on March 19th and 20th. This is a free event where visitors can enjoy operating some of the trains on the layouts and participating in one of the many engaging scavenger hunts!  
And finally, if you have a gamer enthusiast, you must stop into the Dungeon Hobby Shop Museum! This museum and shop pays homage to the birthplace of the popular tabletop fantasy role-playing game Dungeons and Dragons. Equal parts hobby shop, gaming space, and museum this destination will be a sure one-of-a-kind experience.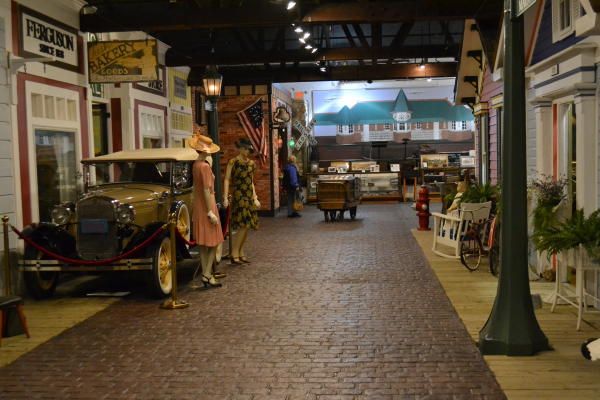 CATCH A SHOW
Where: The Fireside Dinner Theatre | Tristan Crist Magic Theatre | The Dancing Horses Theatre
Experiencing the magic of live theater is a great way to spend your spring break with the family! The Lake Geneva area offers some of the best performances and unique offerings. This Spring, visit The Fireside Dinner Theatre in Fort Atkinson to see its newest production, "The Sound of Music" opening March 3rd. Enjoy a delicious meal, browse their gift shops, and then settle in to watch the Broadway style performance in their theatre-in-the-round. Or for a more unique show stopping performance, check out Lake Geneva's premier magic and illusion venue Tristan Crist Magic Theatre where you will be dazzled by grand scale illusions and thrilling acts. And for the animal lovers in your life The Dancing Horses Theatre will offer a masterful equestrian production with stunning costumes, engaging routines, and even an opportunity for a meet and greet after the show! LEARN MORE>

SHOP DOWNTOWN LAKE GENEVA
Where: Allison Wonderland | May's Gifts | Kilwins
A trip to Lake Geneva would not be complete without strolling through the beautiful downtown near the lake. Downtown is filled with unique shops and boutiques, gorgeous art and antiques, with the perfect spots to grab a coffee or a sweet treat. Make it a fun excursion for the family by visiting the boutique toy store Allison Wonderland where your children will be mesmerized by all the toys, games, and crafts sure to spark the imagination, or swing into a gift shop like May's Gifts to find that perfect keepsake and unique find, then pop on in to our local Kilwins. You'll be tempted by the smells of this confectionary before you even step foot inside. Watch the masters demonstrate their fudge making skills, taste their house made kettle and caramel corns, and shop for beautifully handmade chocolates and candies. LEARN MORE>