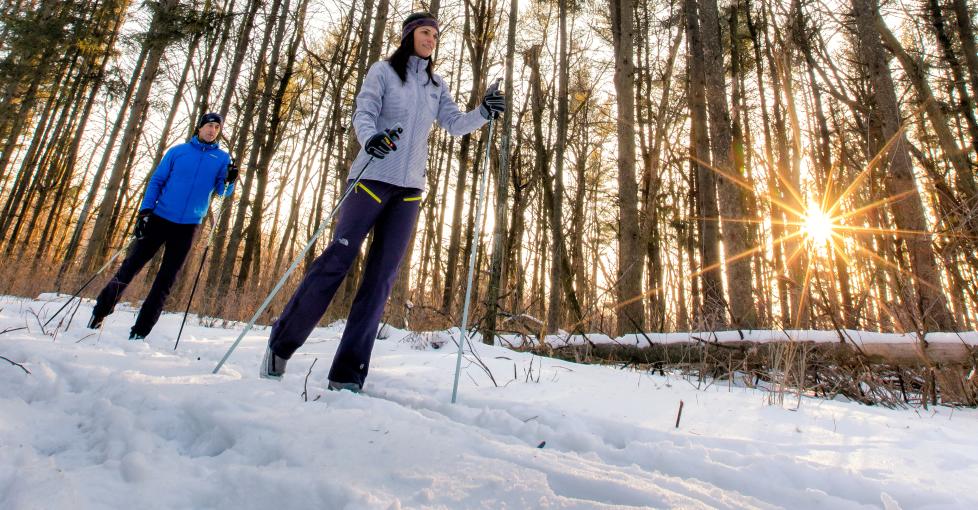 Winter makes Lake Geneva an unforgettable destination for creating lasting memories. Escape to our snowy wonderland where you'll find outdoor adventures with stunning views, destinations to unwind and pamper yourself, and some of the best indoor hot spots sure to entertain! Check out our top 10 list of things to do to make Lake Geneva your favorite winter getaway.
#1 Skiing, Snowboarding & Tubing
Where: The Mountain Top at Grand Geneva Resort | Wilmot Mountain
Wisconsin is known as the Midwest's skiing and snowboarding destination in winter and Lake Geneva is lucky to have, not one but two, noteworthy skill hills to check out.

Wilmot Mountain is part of Vail Resort's EPIC experience with 25 named runs, 11 lifts, and expansive terrain parks with a variety of rails, bumps, jumps, and jibs for boarders and freestylers. If skiing or snowboarding isn't your jam, Wilmot Mountain also offers snow tubing where the only experience needed is knowing how to have fun! This 1,000-foot, 22-lane park is the perfect spot for a family adventure with great spots to warm up, grab a bite, and still see the action.

The Mountain Top at Grand Geneva Resort is the perfect destination for all your downhill skiing needs. With 20 runs, six lifts, and a six-acre terrain park this resort is meant to be enjoyed by all ages and skill sets. Rentals are available and if looking to introduce the whole family to downhill skiing or snowboarding check out The Mountain Top's Burton Riglet Park for easy riding and certified instructors on hand.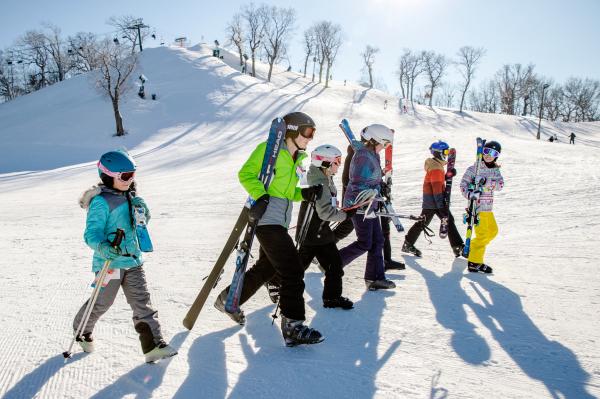 #2 Cross-Country Skiing
Where: Big Foot Beach State Park | Grand Geneva Resort | Lake Lawn Resort
Lake Geneva boasts stunning scenery all year round. What better way to soak up nature during our spectacular snowfalls than by grabbing your cross-country skis and visiting one of our many groomed trails. Big Foot Beach State Park offers acres of open country terrain while Grand Geneva Resort and Lake Lawn Resort both have tailored trails on their properties with great spots to rest and warm up near a fire. Cross - country skiing equipment can be rented on site at Grand Geneva and Lake Lawn Resorts, or at Clear Water Outdoor in Downtown Lake Geneva.
#3 Ice Skating
Where: The Abbey Resort | Grand Geneva Resort | Lake Lawn Resort | The Ridge Hotel | Turtle Lake Tap & Grill | Williams Bay Ice Rink at Edgewater Park
No outdoor winter trip would be complete without ice skating! Glide across one of our lakeside areas or custom-built rinks surrounded by twinkling lights, snow dusted trees, and of course the best spots to grab a hot cocoa. Skate rentals are available at the listed resorts but bring your own to William's Bay Ice Rink and Turtle Lake. Fun fact: a hot cocoa bar is set up every Saturday & Sunday at Turtle Lake Tap & Grill for families to enjoy while skating at Turtle Lake's rink.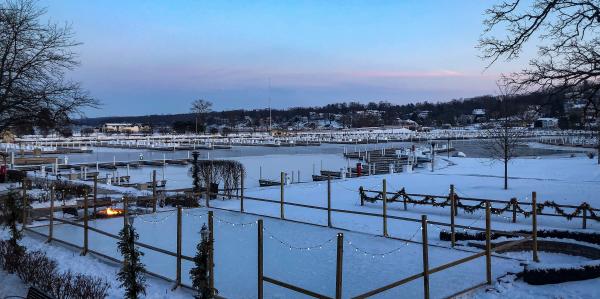 #4 Snowshoeing & Winter Hiking
Where: Big Foot Beach State Park | Four Seasons Nature Preserve | Grand Geneva Resort | Kishwauketoe Nature Conservancy | Linn Nature Park | Lake Geneva Ziplines & Adventures | The Ridge Hotel
The Lake Geneva area has so many opportunities to hike in parks and nature areas, along the shoreline, and within different hotel property trails. Add in snowshoeing and this sport is such a blast for any hiking enthusiast that finds themselves snowed in. Rent a pair of snowshoes at Clear Water Outdoor to hit one of our parks where you can explore and create your own trails. Or venture out to these beautiful resorts to see a more untouched part of their magnificent properties.  Rentals are available at all the hotels listed. And when weather conditions are cooperative, Lake Geneva Zip Line tours have over 12 miles of wooded trails to explore with one of their day passes!
#5 Ziplining
Where: Lake Geneva Ziplines & Adventures
Looking for an exceptional adventure to experience winter in Lake Geneva? Look no further than Lake Geneva Ziplines & Adventures. Guests can go ziplining on guided tours through nine of their unique lines for a sky-high adrenaline rush. Add their high ropes course to tackle 16 fun and challenging obstacles upwards of 30 feet in the air with terrific views of our winter wonderland.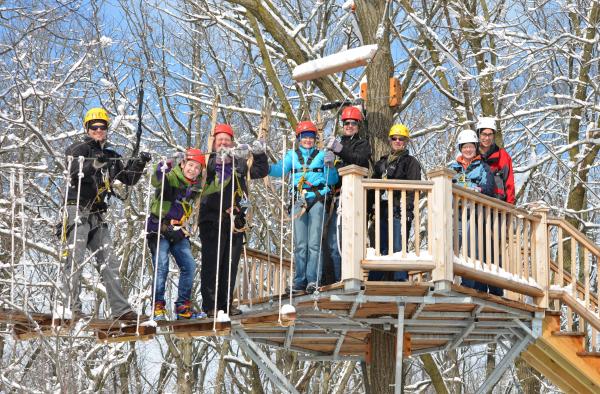 #6 Sledding
Where: The Mountain Top at Grand Geneva Resort | The Ridge Hotel | Delavan: Rudy Lange Sledding Hill
We could not forget this classic winter fun activity! Soak in the views of our snow laden hills around the area while enjoying a family friendly outing. All locations are lit in the evening and open to the public. Some fees apply for Grand Geneva Resort and The Ridge Hotel; sled rentals are also available at these resorts. Delavan sledding hills are free to attend and require your own sled.
#7 Ice Fishing
Where: Lake Geneva Fishing Guide Service | Geneva Lake Bait & Tackle Inc.
Your stay in Lake Geneva offers the perfect opportunity to try your hand at ice fishing. We have professional fishing guides that can take you to Geneva Lake, Delavan Lake, Lake Como and other surrounding lakes for the best options of catching more fish. These one stop shops offer licensing info, rentals, fishing equipment, and taxidermy.
#8 Ice Castles
Where: Geneva National Resort & Club
We certainly could not leave this unique experience off the list! The Ice Castles winter attraction is part of a five-city national installation to experience an award-winning frozen attraction. Built using hundreds of thousands of icicles to carve out sculptures, tunnels, slides, and more this ticketed attraction is the coolest ticket in town. Ice Castles is open as the weather permits, and more times and dates pop up until the end of the season. Check the Ice Castles website and Facebook page often for ticket availability.
#9 Indoor Hot Spots
Where: Tristan Crist Magic Theatre | Lake Geneva Clue Room | The Dancing Horses Theatre | Lake Geneva School of Cooking | Timber Ridge Lodge & Waterpark
When it comes to warming up after a day of snowy adventure in Lake Geneva, there are plenty of indoor adventures too. Enjoy a one-of-a-kind show at Tristan Crist Magic Theatre or The Dancing Horses Theatre, offering fun for the whole family. Or build your own memories in an immersive way like a cooking class at Lake Geneva School of Cooking. And put your problem-solving skills to the test in one of the daring escape rooms at Lake Geneva Clue Room.  Also, did you know the Timber Ridge Lodge has an indoor waterpark?! Enjoy 35-foot-high slides, unwind in their lazy river and warm pools, and let the littles splash around to enjoy slides, swings, and water tables.
Learn more >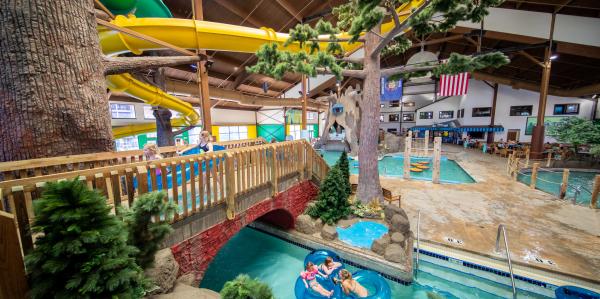 #10 Spa Pampering
Where: Various Lake Geneva Area Locations
Lake Geneva is not just for the outdoors! It is the destination for wellness and pampering. Enjoy one of the many services that our local spas offer after a day on the slopes or maybe book an all-day package indulging in their saunas, spa treatments, and pools (often while overlooking our stunning snowy backdrop)! You'll leave feeling refreshed and rejuvenated.
Whatever you decide to do for your winter getaway know that Lake Geneva is the destination for fun all year-round. We can't wait to see you here!