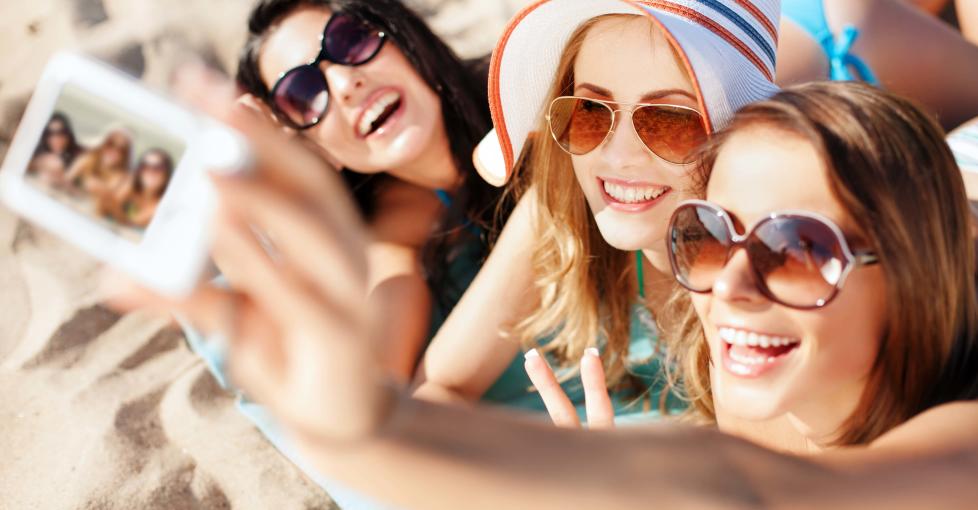 We don't care about the reason for your girls' trip. It could be for a birthday, bachelorette party, or just a chance to escape the daily grind and treat yourself. Whatever the motivation may be, there are plenty of reasons to choose Lake Geneva as the place for you and your gal pals to getaway and have some fun. You may want to plan a trip to coincide with the Annual Women's Weekend, one of the biggest events of the year in Lake Geneva. This three-day event is mix of relaxation, fun activities, wellness sessions, shopping, good food, and drinks. Pick from our variety of workshops, wellness events, and social activities like a Boat Cruise with music and cocktails, and the Kickoff Party at the Riviera. Whether you're visiting for the Annual Women's Weekend or any other weekend throughout the year, here are some ideas for the top things to do on a girls' trip to Lake Geneva, Wisconsin.
Get pampered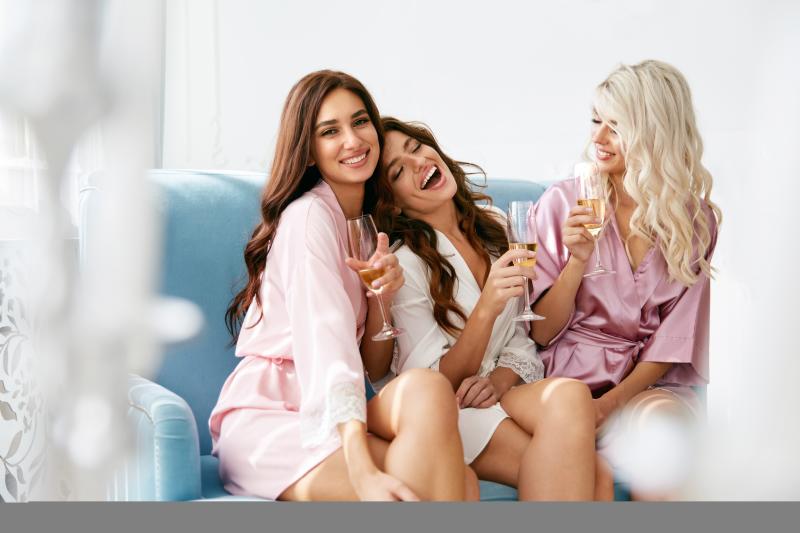 The Lake Geneva area is home to a number of resorts and independent spas staffed with certified massage therapists, aestheticians, stylists and more. For massage, several resort spas, like Well Spa & Salon or Calladora Spa, are used to accommodating large groups of girls for Swedish massage, neuromuscular therapy, deep tissue, and lymphatic techniques. For water therapy, head over to The Abbey Resort and book an appointment at Avani Spa, which is known for its private pool, whirlpool, steam room, inhalation room and newly remodeled showers. Additionally, the spa offers massage, body and facial treatments, hair styling and makeup. Other massage therapy centers in the area include Heartland Spa (Bella Vista Suites), Healing Muscle Therapies, and Loosen Up! LTD.  Another fun pampering activity to plan for is group pedicures and manicures. A local spot worth considering with space for groups is the Salon & Spa at the Ridge Hotel. They also have other treatments like body wraps, facials and massage. Other places to do a group pedicure are Clear Waters Salon & Day Spa, Creative X-Pressions Salon and Spa and Cute Nails.
Pop the champagne on a boat ride on the lake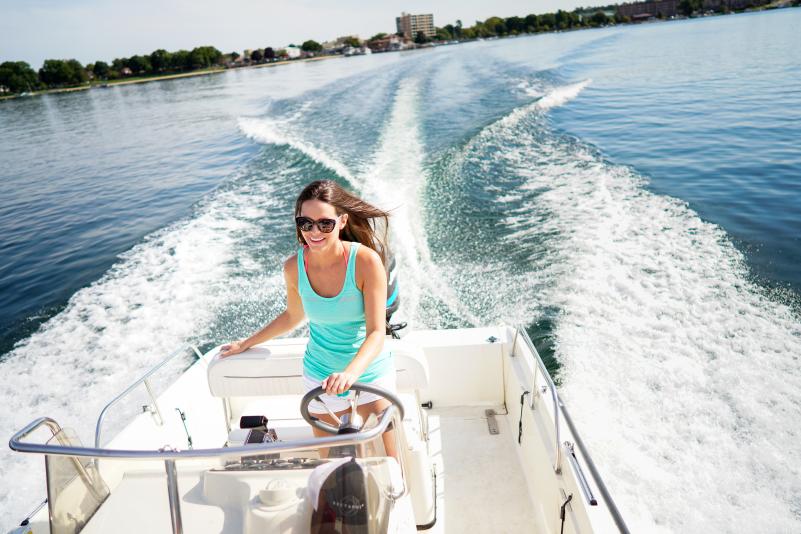 As the weather warms up, consider renting a pontoon boat to explore beautiful Lake Geneva. Pontoon boats are made to accommodate up to 12 passengers, making it ideal for a girls' day out. Marina Bay Boat Rentals, Inc. on Wrigley Drive has deluxe pontoon boats for rental that can be chartered upon request, giving you the freedom to pop the champagne and wine for a fun afternoon soaking up the sun. Action Marine, Inc. is another place to rent pontoon boats with certified captains to charter your boat.
Have dinner at a waterfront restaurant  
A girl's got to eat, and a few spots in Lake Geneva offer views as good as the food. PIER 290 in Williams Bay prides itself on its farm-to-table cuisine, featuring local dishes like Wisconsin White Cheddar Soup, the Fish Fry Sandwich (popular on Fridays), and the Alden Hills Farm Chicken Pot Pie. The restaurant has an impressive list of wine, beer and drink selections for you and your gal pals. Request a table with water views. In downtown Lake Geneva, you'll find lakeside views at both Popeye's and Oakfire. Or take a trip to The Abbey Resort and enjoy the view at The Waterfront Restaurant & Bar.
Enjoy a cocktail in a cool spot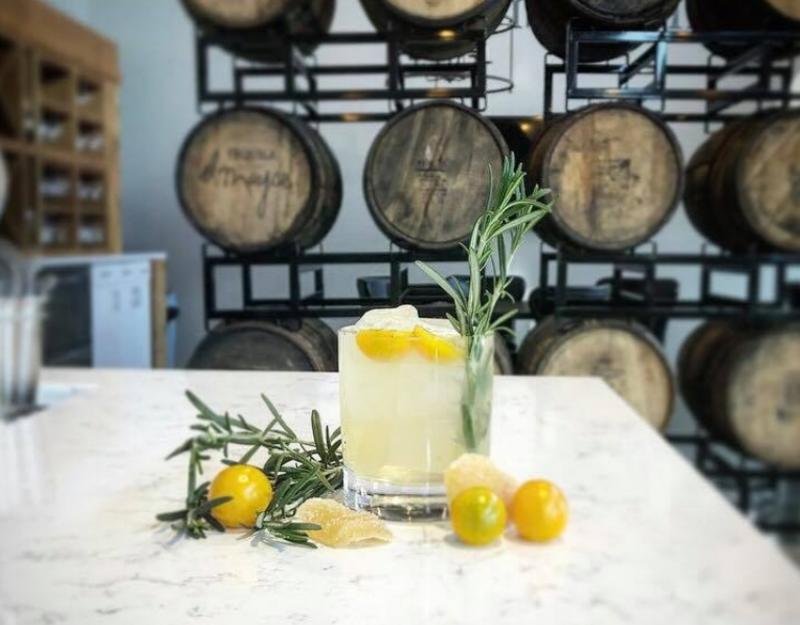 The Baker House is a boutique hotel on Wrigley Drive outfitted with a series of fun, themed bars including the Ringmaster's Roost (carnival and saloon-like cocktail bar), Lakefront Garden Lounge, and The Veranda (with a Victorian wrap-around porch). At the sister hotel, Maxwell Mansion, girls that stay overnight may be invited into a secretive Speakeasy bar located right inside, where you can enjoy sinfully delicious drinks, moonshine barrel decor and vintage photographs.
Explore the Shore Path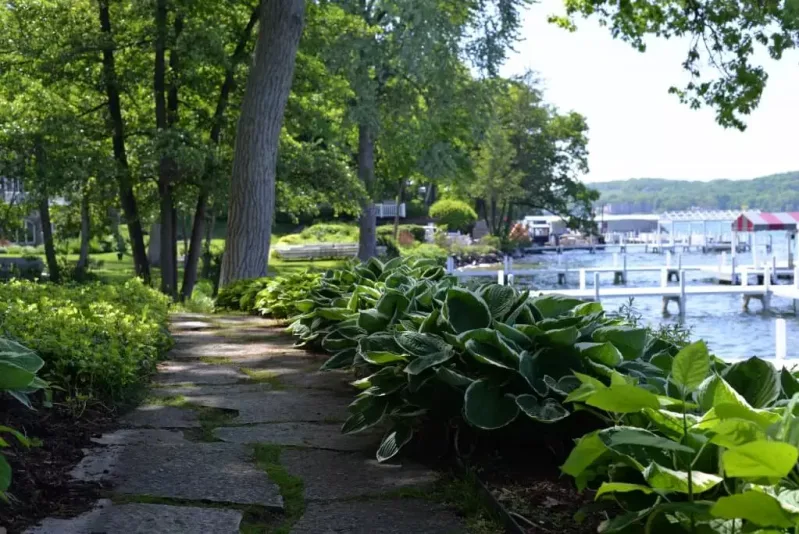 If your friends are into the outdoors, Geneva Lake Shore Path is a 21-mile route along the lake, taking you past gorgeous gardens, designer boat houses, and mansions (some owned by the famous Wrigley family). Stop by the Geneva Lake Visitor Center, Cornerstone Shop, McCullough's, or Geneva Gifts to purchase the Walk, Talk & Gawk map to learn more about the hidden gems around the lake. Pro tip: Hike halfway through the Shore Path and take a boat ride back to the starting point from the Lake Geneva Cruise Line. On the boat ride back, a tour guide will narrate about the historical houses and landmarks nearby.
Take a ride on the wild side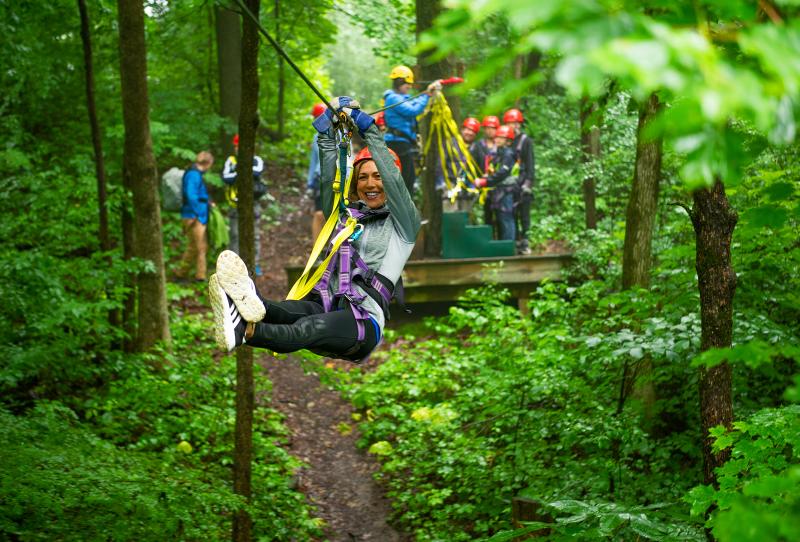 Lake Geneva Canopy Tours is a fun spot if you like a little adrenaline for your girls' day out. With eight different zip lines, five sky bridges, three spiral stairways and a floating double helix stairway, Lake Geneva Canopy Tours is considered one of the most fun things to do in the area. It's located in a 100-acre wilderness area, and participants are given brief lessons before tackling some of the longest zip lines in the area—dangling 841 feet above in the air. Additionally, the site has a high-ropes attraction, which consists of 16 different obstacles where ladies can climb through several excursions up to 32 feet above ground. This allows groups to test their ability, agility, strength and balance.
Take a yoga break
From Clear Water Outdoor's Snow Yoga in the winter or SUP (stand-up paddleboard) Yoga in the summer to year-long classes available at Geneva Lakes YMCA or Heartland Spa & Fitness Studio, enjoy a moment of breathing, stretching and namaste with the girls.
Be entertained

There are several entertainment venues for evening and late-night fun in Lake Geneva. Rosewood is a one-of-a-kind musical theater known for displaying talented local acts. Dining and music packages are available, with farm-to-table cuisine. For a unique and intimate theatrical experience, the Tristan Crist Magic Theatre features a truly unbelievable 75-minute show full of illusion, comedy and fun. The Young Auditorium at the University of Wisconsin - Whitewater is another local theater featuring artists from all over the world, including ballet, classical theatre and events for children. Ladies that are looking for a dinner theater will want to consider the Fireside Dinner Theatre, where you can enjoy Broadway musicals like "Peter Pan" and "Sister Act" while dining on menu items like Chilean sea bass and steaks.  In addition, many of the hotels in Lake Geneva feature live music. For something really unique - gather the girls together for an interactive entertainment experience - plan a group cooking class with Chef John Bogan, at the Lake Geneva School of Cooking or sit back and experience the beauty of The Dancing Horses as they take you on a magical journey, this one of a kind show is fantasy with a mix of whimsical performances. Check VISIT Lake Geneva's Calendar of Events for listings.
Go for a wine tasting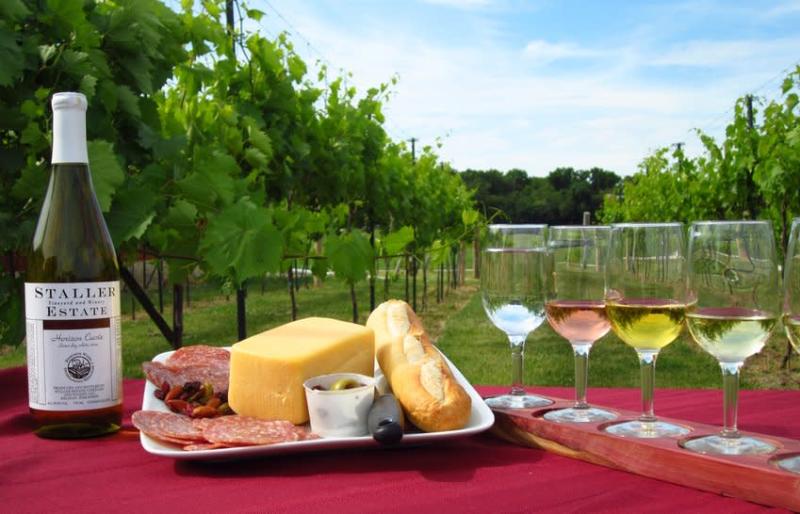 Believe it or not, Lake Geneva is home to some of the region's best wineries, including Studio Winery, which features its own art gallery, recording studio and wine tasting rooms. Every Saturday, the winery hosts live music for guests to enjoy while lounging on one of its many outdoor seats and sipping on one of its latest varieties. Staller Estate Vineyard & Winery in nearby Delavan is another fantastic place to sample local wine and cheese plates. Complimentary tours of the factory and vineyard are given to groups with advance request. Other places to consider visiting are Apple Barn Orchard & Winery (where ladies can also go apple picking), AeppelTreow Winery, and Geneva Lake Brewing Company.
Walk, browse and shop the downtown district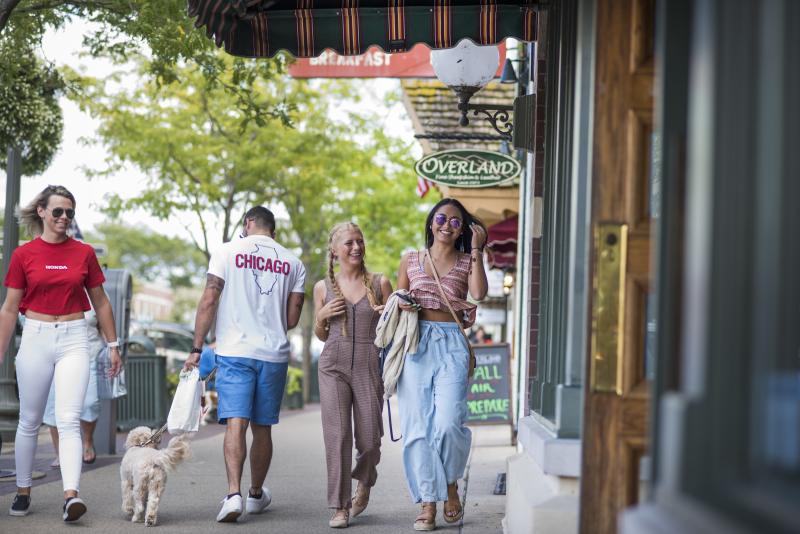 Enjoy a leisurely stroll down the charming streets of Lake Geneva, and you just might find that one-of-a-kind home, clothing or art purchase.  Make a girls' stop at Delaney Street Mercantile, Cornerstone Shop & Gallery or Brick & Mortar Home, where you will find an array of art and home decor. Looking for that perfect new selection for your wardrobe? Downtown offers multiple shopping experiences from ShoShoo for the dedicated shoe enthusiast, to E Street Denim for all your denim needs.