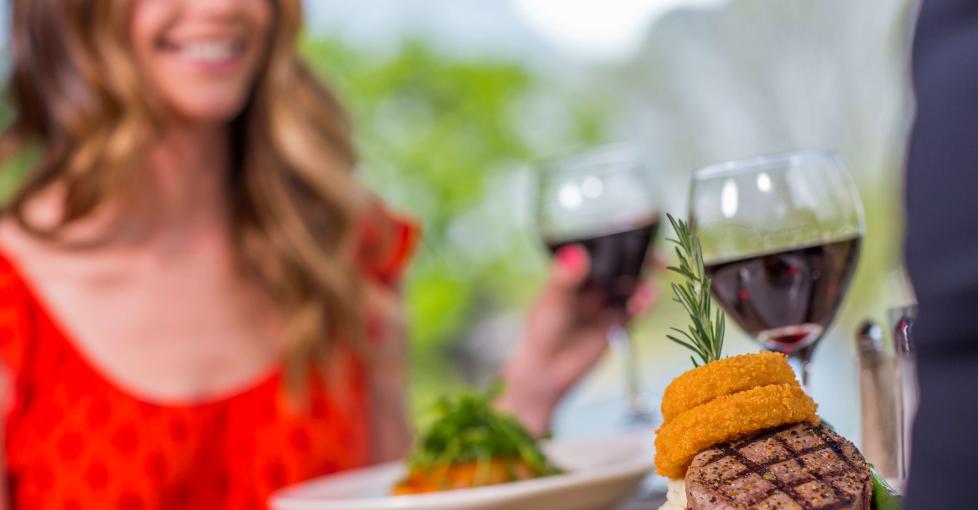 Lake Geneva may be famous for its bountiful array of local shops and legendary golf courses. However, every true foodie knows that Lake Geneva is abounding with wonderful eateries and fine dining establishments. Showcasing its beautiful horizons, lush fall foliage and expansive countryside, making way for breathtaking views of stunning lake shores from downtown Lake Geneva, Fontana and back to Williams Bay.
Savor in the robust flavors of Italy at the area's most popular Italian restaurants available for romantic date nights. Truly authentic Italian cuisine served in a romantic setting, amid spectacular views of Wisconsin's picturesque countryside available at Grand Geneva's romantic bistro, Ristorante Brissago.  Basque in the beautiful grounds over an evening of fine dining amidst a candlelit dinner for two. Sip on a glass of fine wine, and savor in authentic Italian cuisine prepared with the freshest ingredients. Escape and select from a menu of regionally made pastas, cheeses, prosciutto, olive oils, desserts, and a wonderful selection of Italian wines.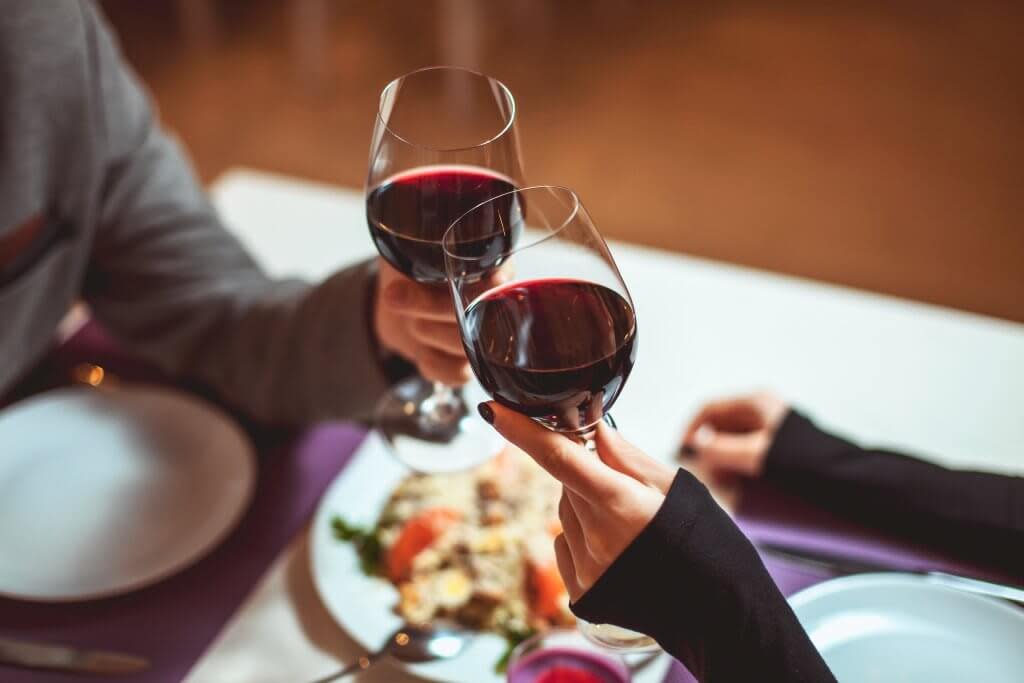 Looking to dine lakeside? Make your way downtown Lake Geneva near Riviera Pier's Oakfire Restaurant one of the many pizzerias in the area.  Find a seating arrangement peering over Geneva Lake, and enjoy the heights on the balcony of the area's newly renovated venue. Arrange a group outing to shop at the local storefronts, and enjoy breakfast, lunch or dinner on their patio. Taste the many flavors of Naples, Italy with wood-fire Napoletana style pizza when you travel here next, or indulge in a tasty dessert of Tortino, Tiramisu, Gelato, or Pizza Con Nutella, which includes stuffed pizza with sliced bananas, chocolate, strawberries, and of course lots of Nutella!
Experience everything available downtown and reserve a romantic night out at Sopra.  An American Bistro featuring fine wines, grilled blackened hanger steaks, pan seared duck, grilled New Zealand lamb chops, and pan roasted airline chicken breast. Including wide variations of seafood choices, such as bucatini- tiger shrimp, squid ink linguini, pan seared sea scallop mussels, and house smoke loch duart salmon, including fettucine, linguini, rigatoni, gnocchi, and angel hair pastas paired with a variety of vegetables, sauces and delectable meat selections. Sopra also boasts an extensive selection of micro-brew beers, a fine wine list and a full selection of spirits, including specialty house martinis.
 
Travel a few minutes down the road from Lake Geneva for dinner at one of three municipalities on Geneva Lake. Make your way westward from the city, along the shoreline of Williams Bay, to a quiet upscale Italian steakhouse called Cafe Calamari. Indulge in the freshest seafood, and pick from your choice of varied pasta dishes, chicken & shrimp gamberetti, seafood diavolo, Prince Edward Island mussels, shrimp calamari, and king crab simmered in a fennel infused pomodoro sauce over linguine. 
You haven't fully experienced Lake Geneva until you have unwined and dined at Pier 290's famous lakefront restaurant. Kick up your feet and enjoy a refreshing cocktail by the water. With plenty of casual seating both inside and out, offering the best ambience to sip and relax with your feet in the sand. Enjoy a variety of seafood choices ranging from fresh oysters, shrimp, swordfish, ahi tuna, crab cakes, lobster, and savory salmon. Providing the season's best and freshest food to insure quality taste and satisfaction, while also serving Wisconsin's grass-fed ribeye and tenderloin cuts prepared to your liking.
Cruise on into The Abbey Resort's Marina and park your boat along the docks for a delectable meal of classic American food. Share a bite to eat at The Waterfront Restaurant's patio harbor, or delight in a more intimate dinner at, the only resort on the southern shores of Geneva Lake's, 240° West restaurant. Dabble in wine and food pairings, while enjoying the beautiful panoramic harbor views of the Abbey Marina in Fontana, WI. Indulge in a delightful menu reflecting farm-to-table dishes like strip steak and Chilean sea bass, while enjoying the cheerfulness of a large stone fireplace, live entertainment, prime rib buffets, and Sunday morning harbor-side brunches with the company of fellow antique and classic boats parked in the bay.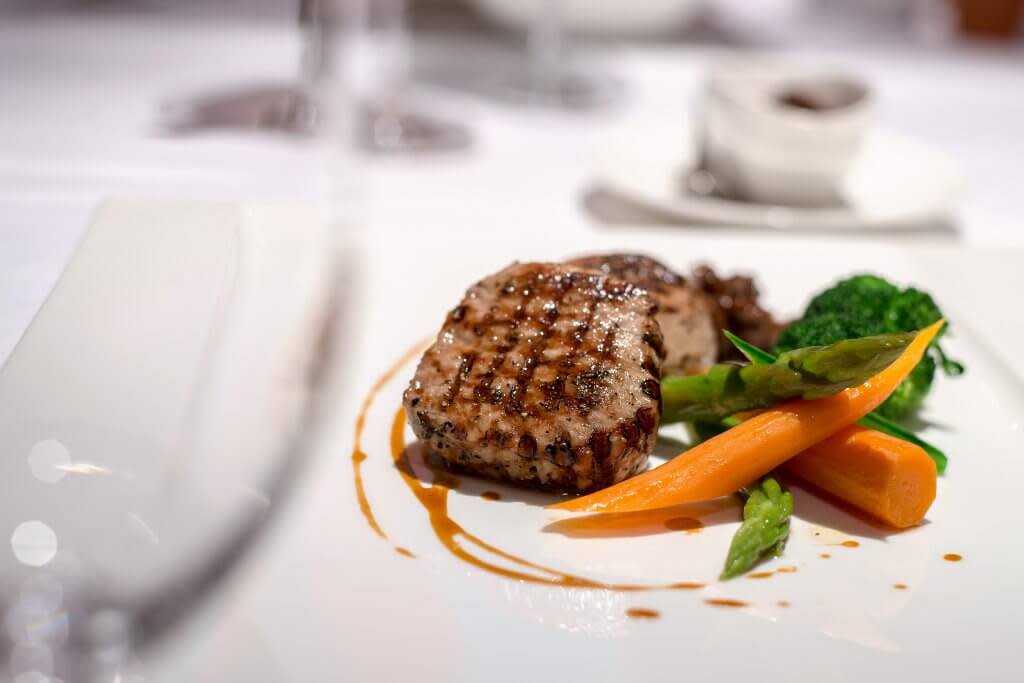 Exchange your scenery and escape to neighboring Como Lake, a sister lake to Geneva Lake. Located just off of Highway 50 a few minutes down the road from Lake Geneva.  Indulge in a three-course lunch or dinner at some of Lake Geneva's local top-tier restaurants — including The Ridge Hotel's Crafted Americana, a creative take on handcrafted American food, and neighboring Geneva National's Hunt Club Steakhouse, home to 54 holes of legendary golf with courses designed by Arnold Palmer, Gary Player and Lee Trevino. A must-dine destination for any foodie! Enjoy delicious hand cut Midwest corn-fed steaks grilled with shallot herb butter, calamari, crab cakes, steamed mussels, and New Zealand king salmon.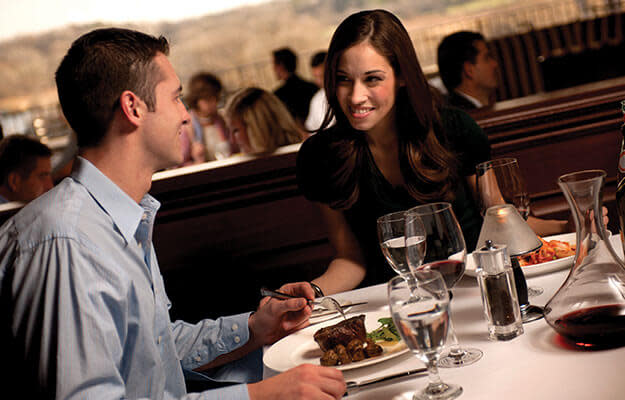 Just a few minutes away you can experience The Brute golf course, a stunning 7,300-yard American classic or The Highlands, a picturesque landscape of scenic hills at Grand Geneva Resort & Spa. After a weekend of golf reserve a private dining experience at their premier upscale steakhouse, the Geneva ChopHouse. Choose from an assortment of hand-selected, custom-seasoned, and prepared to perfection in an open-hearth grill.  Enjoy award winning wine, cultivated and strategically chosen to complement your choice of beef.  From cabernet and filet, to sirloin and syrah, each pairing is a masterpiece, expertly crafted to satisfy. Stellar seafood, chops and top-notch cocktails, along with family-style sides and delectable desserts complete their menu.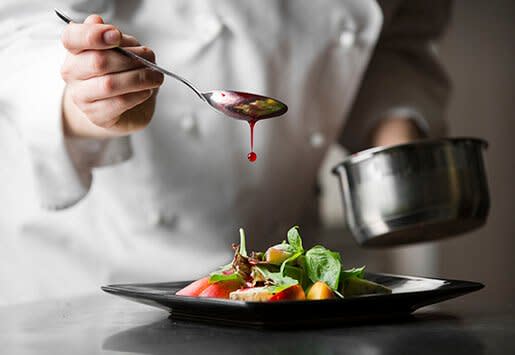 Reserve weekend stay at Frontier Restaurant, Lake Lawn Resort's premier venue overlooking Delavan Lake if you are seeking a more private venue.  After a round at their Majestic Oaks Golf Course, the Midwest's premier golf course known for its beautiful views and 250 acres, masterfully re-engineered by renowned architect Dick Nugent of Kemper Lakes. Frontier offers delightful menus consisting of both seafood and gourmet American heartland cuisine.
The Lake Geneva School of Cooking is located in the historic parsonage connected to the Geneva Village Shops. Offering entertaining, culinary classes for the cooking enthusiast, providing hands-on preparation and dinner demonstrations by Chef John who teaches, novice or gourmet, professional cooking techniques. After a mimosa and cinnamon beignet reception, the group will go on a walking tour and hand-pick the freshest ingredients from Lake Geneva's Farmers Market to create an impressive three course menu based upon what's in-season and enjoy a bountiful selection of locally-grown fruits and vegetables using only the finest ingredients to create fabulous appetizers, entrées and desserts.
Lake Geneva has every genre covered, and all restaurants, diners and cafes are within a short walk or car ride away. With over 40 area eateries to choose from offering every type of delicious menu option, from Mexican, seafood, steak houses, pizzerias and pasta houses, to fresh salads, and exotic cuisine, Lake Geneva has every dining option possible to keep you full and satisfied! Take the time to explore the many dining choices found here. 
Now that your mouth is watering it's time to start planning and make sure you don't miss everything available. Click here today. Overnight packages are available for three nights, two nights, or Sunday night only and include overnight accommodations. For more information click here.