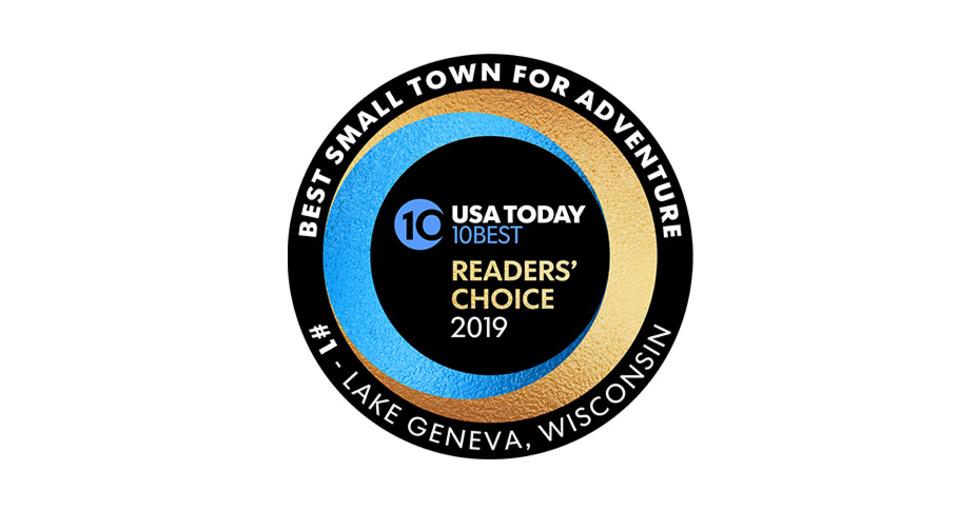 Here's a case of the proverbial "one big popularity contest" gone right. Lake Geneva, Wis. was just voted the country's "Best Small Town for Adventure" in the latest "10Best" poll from USA TODAY. The city with prime shoreline and wide open spaces is an outdoor enthusiasts dream come true and, surprise, it's not on the coasts but rather in southern Wisconsin. Fans of Lake Geneva put the destination at the top of the list, besting cities in New York, Wyoming, Utah, Florida and Michigan, among others.  Adventure-seekers can log on the Outdoors tab of VisitLakeGeneva.com to see why the city nabbed the top spot.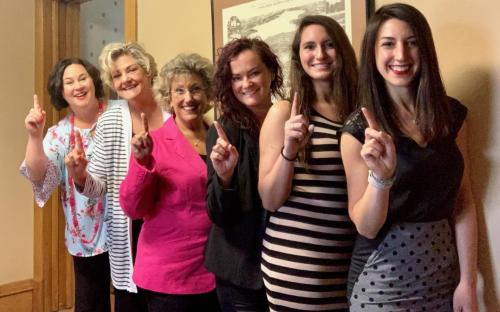 "We had our fingers crossed with the range of adventures here – on water, on land and in the air – that Lake Geneva would get Top 10 standing, but to win this one outright, that's a big 'wow' for all of us," said Stephanie Klett, president and CEO of VISIT Lake Geneva, the community's Chamber of Commerce and official Visitor & Convention Bureau.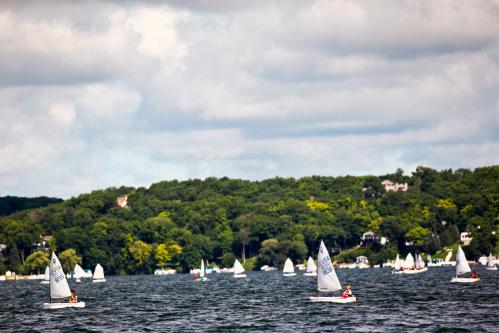 Klett was referring to adventures including paddling, water skiing and sailing on Lake Geneva, plus tackling all 21 miles of the shore path that completely encircles the lake and allows visitors to traverse the yards of some of the most magnificent mansions in the country. For those testing out their sea legs, Geneva Lake Sailing School is a good place to start. Also supporting the theme of the list, there's the Adventure Center at Grand Geneva, a favorite among hikers and mountain bikers located at the top of a ski hill where you can also hone your archery skills. Zippers flock to Lake Geneva Canopy Tours like moths to a flame, with high ropes excursions thrown in for good measure. Those with no fear of heights gravitate to hot air balloon rides from Lake Geneva Balloon Co. and skydiving with an assist from the Sky Knights sport parachute club. Golfers will confirm the Geneva National courses designed by Arnold Palmer, Gary Player and Lee Trevino are each an adventure unto themselves. There's also The Brute at Grand Geneva Resort, with a name that says it all, and The Highlands course originally designed by Jack Nicklaus and Pete Dye.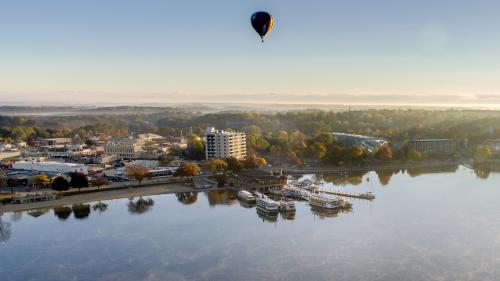 The 10Best lists start out with nominations from a panel of experts who partner with USA TODAY editors to pick 20 nominees. The top 10 winners are determined by popular vote. For this list, each nominated destination had to have a population of few than 25,000, yet still be big on outdoor adventure.
"This is inspiration to get outside and enjoy our little corner of the world," said Klett. "If I don't answer my cell, it means I'm taking my own advice and am out experiencing a happy adventure of my own," chuckled Klett.
About VISIT Lake Geneva
VISIT Lake Geneva, the community's Chamber of Commerce and official Visitor & Convention Bureau, works to share the wonders of Lake Geneva, Wisconsin with travelers from far and wide in search of natural beauty with a feel of the seaside, a place where family traditions can be made, and genuine warmth that makes them feel welcome time and time again.  The central storyline of Lake Geneva, admired as the "Newport of the Midwest," revolves around pristine Geneva Lake, the historic mansions that circle it, and the many resorts, restaurants and boutiques that give the community a seacoast-style appeal all its own. For more, log on to www.VisitLakeGeneva.com.
# # #
VISIT LAKE GENEVA · 201 Wrigley Drive · Lake Geneva, WI 53147
800.345.1020 · www.VisitLakeGeneva.com