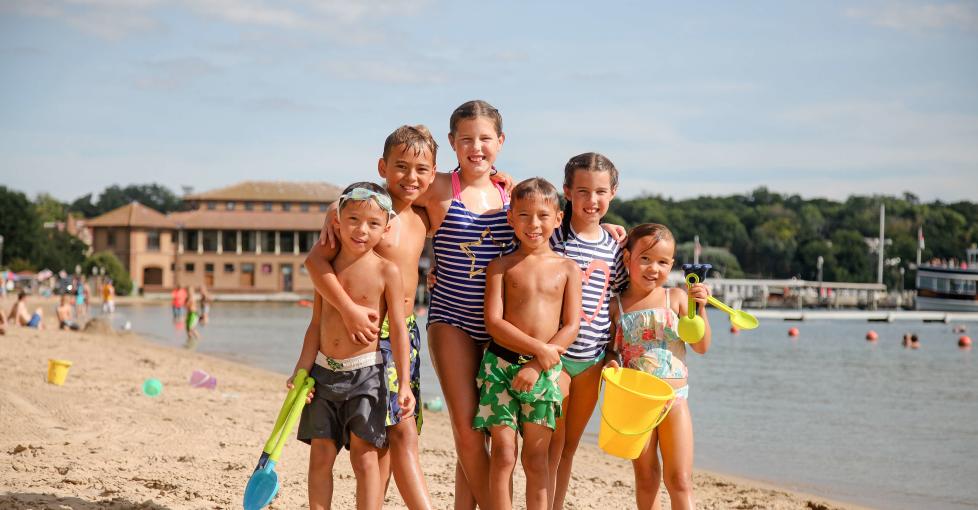 Water Sports
Ready to set sail? Calling all water enthusiasts! It's time to get out on the lake and see what everyone is raving about! Come experience first hand what made this area so famous! This expansive body of water, is perfect for boating, tubing, paddle boarding, jet skiing, sailing, fishing and the list goes on. So where to begin?  
The Abbey Resort guests may take part in water-skiing school or a parasailing adventure across the beautiful waters of Geneva Lake. Gordy's Marine has a rental office at the Abbey, but they also offer a ski/wakeboard/surf school providing a team of highly qualified, experienced and energetic instructors using only the latest and greatest water sports gear from their Fontana location. 
Lake Lawn Resort Guests can visit the activity center to rent pontoon boats for casual cruising, speed boats for tubing and water skiing, jet skis, kayaks, paddle boards and other water sports equipment available for access on Delavan Lake.
Gage Marine A premier marina located directly on the lake in Williams Bay. From boat sales and service to their popular In/Out Valet and Boat Club. Gage Marine has been getting people out on the water since 1957. Also offered are private ski/surf/wake lessons or join in on the weekly summer camps offering the same lessons in a group setting. SUP and kayaks are also available for rent. 
Elmer's Offers two amazing locations in downtown Lake Geneva to meet all of your watersports needs. Featuring Yahama Wave runners, Nautic Star Deck Boats, Pontoons, Luxury speed boats and a private charter Catamaran!
Clear Water Outdoor Located in the heart of downtown Lake Geneva, offers paddle lessons or group social paddles on beautiful Geneva Lake!
For a more in-depth look into all the water activities available click here.  Every adventure spent on Geneva Lake, land, air, or water is something that your family is sure to enjoy.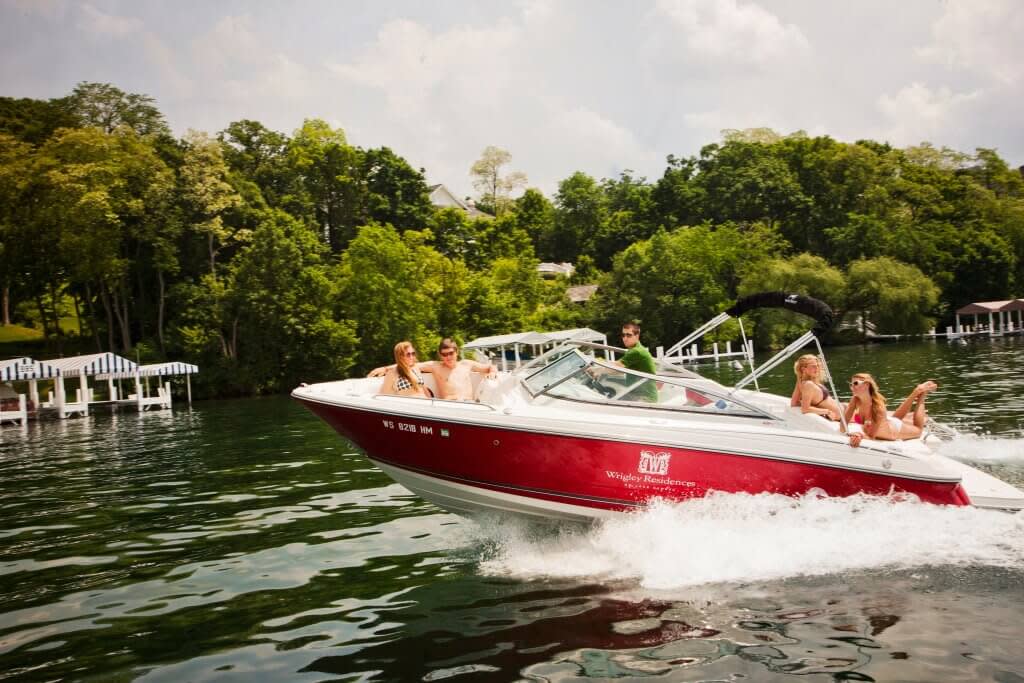 Grab A Boat
You have not truly experienced summer if you haven't ventured with your family by boat and allotted a few days on Geneva Lake or Delavan Lake. Unwind in the sun and rent a boat or jet ski for some family bonding time this year. There are several areas for rentals here. Enjoy your more adventurous side; tubing or jet skiing.
 
Jerry's Majestic Marine Offers a variety of services for all water enthusiasts from their Fontana lakefront rental location, tour the lake in style on a luxury pontoon or zip around on a Yamaha waverunner. 

Marina Bay Boat Rentals Located directly downtown on the shores of Geneva Lake across from the Harbor Shores Hotel.  Featuring award winning inboard/outboard speed boats available in 18′, 20′ and 22′ lengths. Bennington Deluxe 12 passenger pontoon boats, and 4 Stroke VX1100 Yamaha wave runners. Tubing is also available seven days a week, and charters are provided upon request. 
Gordy's Marine has a rental office at the Abbey with 20-foot and 22-foot Cobalt Blue Bowriders, seating 6 and 8 respectively, for hourly, half-day and full day rentals.
There are several different types of boats available depending on the type of experience your family is seeking. If a more low key experience is preferred for the less adventurous types, then a guided boat tour would be in order for your group. These tours range from ice cream socials, dinner cruises, museum tours, sunset cocktail and wine cruises and the ever popular luncheon tour aboard the Grand Belle, providing a delicious lunch and narrated tour of the entire lake. There are two lakes that provide these tours. One is on Geneva Lake provided by The Lake Geneva Cruise Line or Elmer's Catamaran, and the other is on Delavan Lake at Lake Lawn Resort. So make sure you book a cruise, rental or all of the above for the complete Lake Geneva area experience.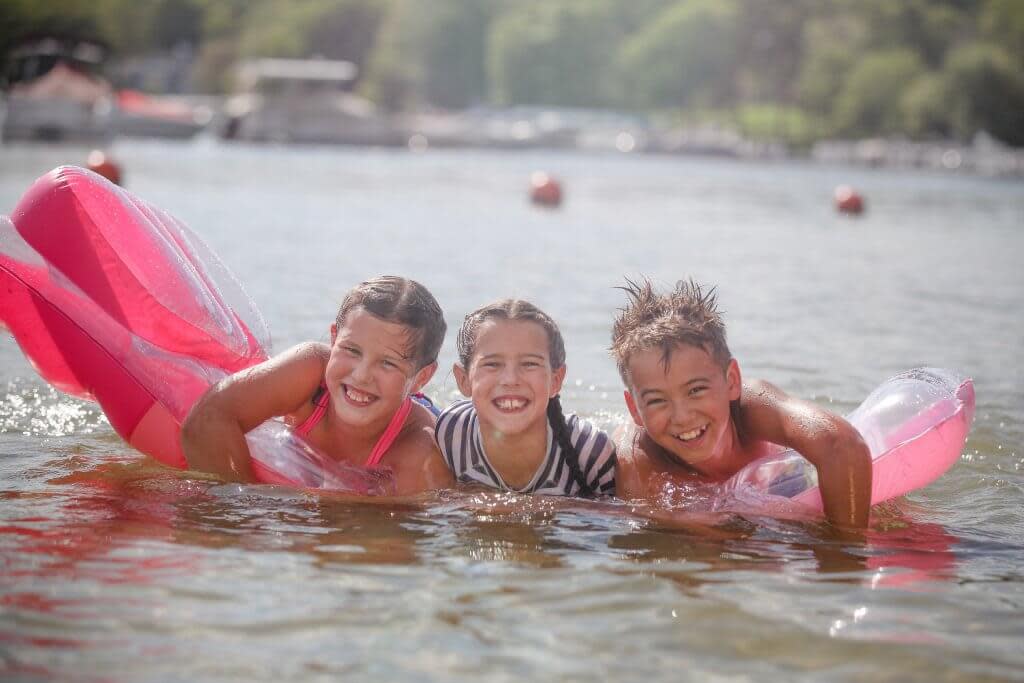 Beach Time!
Grab the kiddos for an amazing time at the beach, or beach(es) that is. Once you have cruised the entire lake by boat, your family will be thrilled to relax in the sun on one of the numerous sandy beaches encircling the shorelines.  There are four public beaches available to choose from here. Build a sand castle, float in the cool blue waters, sunbathe, swim, or pack a picnic to enjoy the surrounding greenery that encapsulates the Riviera, Williams Bay, Fontana or Big Foot Beaches.  If your family loves being at the heart of it all, then Riviera Beach is the perfect choice. This prime location is walking distance from area shopping, restaurants and concessions. Perfect for boat watching at Riviera Pier and a picnic at nearby Library Park, where your family can escape the sun for a moment to enjoy breathtaking views over a quiet lunch.  If you're looking for a less populated area to relax, then adventure a few minutes outside of Lake Geneva, to the cape-side town of Williams Bay. Luxuriate in the many sites of local boaters entering launches and beautiful lines of topiary that outline the shore path. There is plenty of space for your family to enjoy a day well spent on the shores of Williams Bay. Prefer shade over sun? Then the forests that follow at Big Foot Beach State Park are the perfect option for fishing and picnics. Looking for family friendly eateries without the high volume traffic, then follow along the Western shores leading to Fontana Beach where a hidden picturesque family-friendly destination is awaiting. With ample parking, changing rooms and concessions available this is a quaint spot to camp at all day. Not to mention, a prime boating location as locals enter The Abbey Resort's Marina to dock for lunch and dinner.  
Fishing Fun!
Geneva Lake is considered one of the best fisheries in Wisconsin and boasts a two-state record fish. For all of the beginner and professional fisherman, Tom Billing and his group of professional Wisconsin-licensed guides, will give you a tour of the best fishing spots on Geneva Lake. With more than 40 years of experience in the fine sport of fishing and the history of the people who live on this beautiful lake. Whether here on business or pleasure, they will provide you with a fishing trip of a lifetime. All tackle and equipment furnished. Fish out of our new 21-foot Lund boats or 24-foot Pontoons for family fishing adventures, bachelor parties and small corporate outings. For winter fun, they offer ice fishing with heated shacks and all equipment included.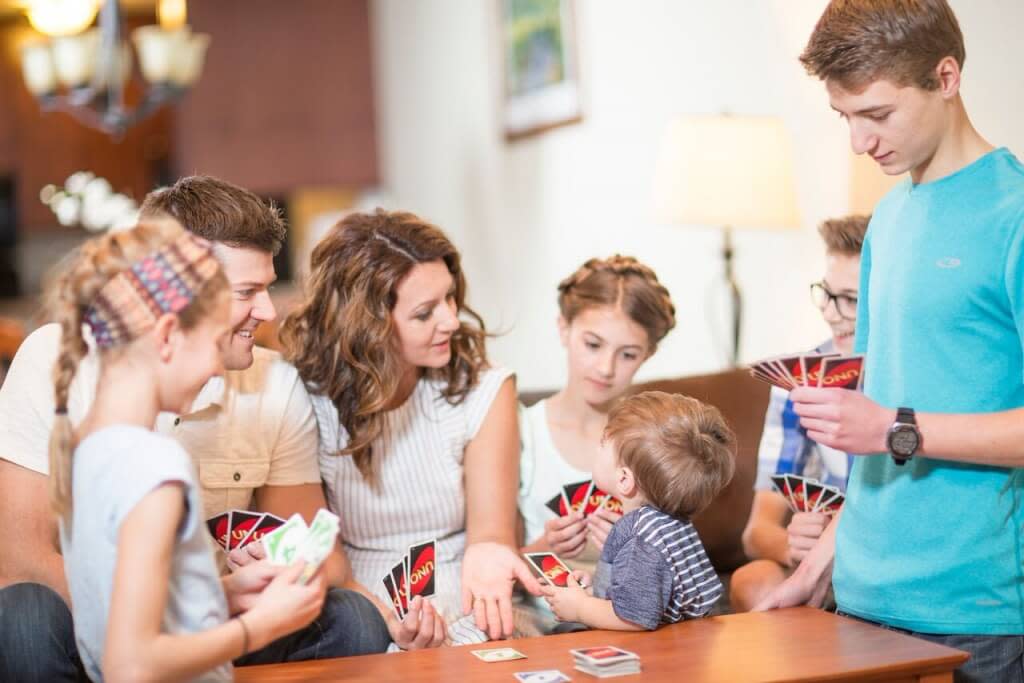 Rest & Relaxation
Getaway and relax with your family. You don't always have to be on the water to get the full lake experience.  For fellow land dwellers, Lake Geneva offers a wide variety of hotels and resorts right on its shores, allowing spectacular views.  Most notably is the luxurious Abbey Resort, in Fontana, which boasts a breathtaking setting on 90 acres of beautifully manicured grounds, multiple pools, two full-service restaurants, coffee bar, cocktail lounge, meeting space, direct access to the Fontana beach and marina slips. Located within The Abbey Resort, Avani is the largest full-service spa in Lake Geneva providing fitness and wellness amenities including massages, aromatherapy, facials, wraps, saunas, a full-service salon, and an atrium pool complex. For a more historic time reserve a stay downtown Lake Geneva at a historic hotel. The Baker House 1885 holds traditional tea parties, themed murder mystery Clue dinners, and elegant toasts on their front garden overlooking the lake.  Seeking a more traditional hotel? Then Bella Vista Suites and Harbor Shores on Lake Geneva, are perfect options for larger families being only a few steps from the beach and Riviera Pier.  The Cove of Lake Geneva, is another full-service hotel, offering numerous pools, suites, a restaurant with direct access and parking downtown. Still want a lake view without the busy downtown vibe? Then escape to the picturesque countryside at The Ridge Hotel or Lake Lawn Resort for a quaint visit without the crowds. Just a short drive away The Ridge overlooks beautiful Lake Como, and Lake Lawn Resort rests on the shores of Delavan Lake. Both are great full-service hotels offering numerous pools, restaurants, activities, salons and spas, without skipping a beat.